View our current and past gallery exhibitions below.
Mobile Arts Council coordinates monthly exhibitions in its gallery space at 318 Dauphin St., mostly emphasizing work by professional and amateur artists who live (or have lived) in the Mobile Bay area. Shows focus on work by students, emerging artists, artists not represented in a gallery, and/or established regional artists. The gallery features three exhibition spaces: the Skinny Gallery, the Danielle Juzan Gallery, and the Small Room. Exhibitions are usually displayed from the first Monday of the month through the last Friday. The public is invited to meet the artists from 6 until 9 PM on the second Friday of each month during the LoDa ArtWalk. The offices are open Monday through Friday, 9 AM to 5 PM and usually on Saturday mornings when the Market in the Park is active. Artists may submit a proposal for consideration.
To sponsor an exhibition, please see our Sponsorship Information.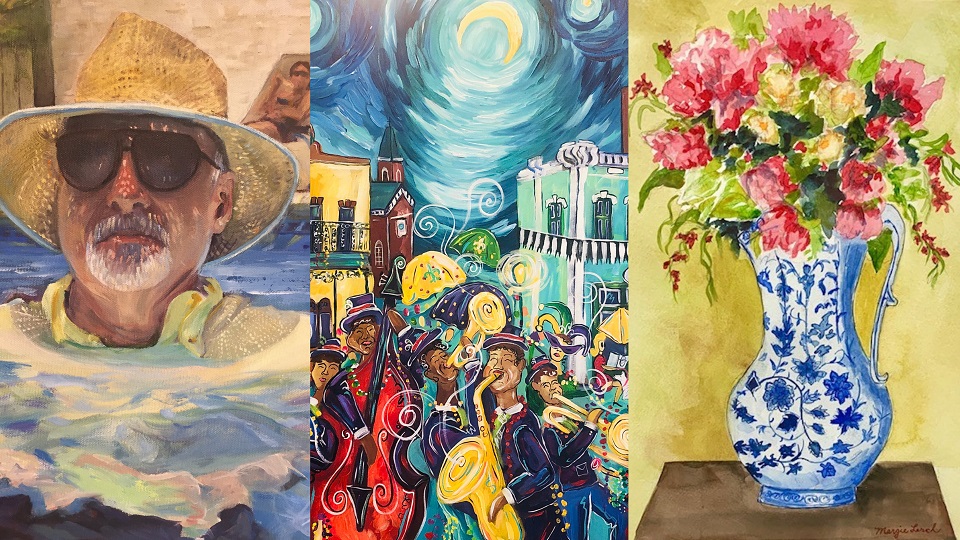 Dates: June 6 – 28
This June at MAC, see the third annual "Hat Show" featuring various Mobile artists, a collection of scenic Mobile paintings from Ginger Woechan, and an exhibition of work created by artists at the Connie Hudson Senior Center.
Hat-loving local artist Karen McGahagin has once again rounded up a motley collection of hat art from artists all over the Mobile area. This constitutes the third official annual Hat Show at MAC organized by McGahagin. The theme for this year's show is "The People of Mobile," and 18 local artists are providing hat-themed work for the occasion. Come see their work in the Daniel Juzan Gallery.
Local painter Ginger Woechan – often known as GIN.WOE – is known for her colorful, whimsical representation of Mobile scenery. In this exhibition she showcases not only her well-known exuberant painting style, but also a more serious, abstract side of her artistic self, creating moody landscapes with a brush and palette knife. Woechan's work has been in galleries and festivals along the Gulf Coast, and this June it will be hanging in the Small Room at MAC.
In the Skinny Gallery this month is a representation of work created by students at the Connie Hudson Senior Community Center. The Senior Center offers classes in drawing, watercolor, oil, and acrylic to seniors who have a passion for art or just want to try something new. The show at MAC is a chance for these 24+ artists to show us their hard work. Subject matter ranges from wildlife to landscapes to still life.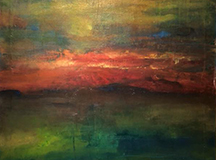 Dates: March 1-31, 2018

Painting by Melissa Dumas Diegan
The back half of the Skinny Gallery is devoted to a joint exhibition by local artists Melissa and Richard Diegan. Melissa Diegan is a painter whose colorful, abstract works reflect her own sense of spirituality and love of intuitive process in art. Alongside her paintings are the expressive assemblage pieces of Richard Diegan II, who writes of his work, "A composition of found items are included in my work which include wood furniture, plumbing and electrical parts, musical instruments, car parts, circuit boards, tools, historic items […] In all art, the whole must be greater than the sum of the parts, but in assemblage the challenge is more difficult since the parts have their own identities and implications." See the Diegan's works throughout the month of March during our gallery hours, between 9 AM – 5 PM on weekdays. Meet the artists on ArtWalk night, March 9, between 6 – 9 PM.
The Artys is an annual awards program that celebrates the important contributions that individuals, groups, and businesses make to the Mobile cultural community. Finalists have been announced in the remaining nine award categories, with winners to be announced live at the event.
Artys attendees will enjoy a night of celebration, complete with food, drinks and entertainment in many forms. A jazz trio comprised of John Milham, Chris Spies, and Chris Severin will play, with performances by Mobile Opera and Joe Jefferson Players throughout the ceremony.