View our current and past gallery exhibitions below.
Mobile Arts Council coordinates monthly exhibitions in its satellite gallery space at 6 South Joachim Street, mostly emphasizing work by professional and amateur artists who live (or have lived) in the Mobile Bay area. Shows focus on work by students, emerging artists, artists not represented in a gallery, and/or established regional artists. Exhibitions are usually displayed from the first Monday of the month through the last Friday. The public is invited to meet the artists from 6 until 9 PM on the second Friday of each month during the LoDa ArtWalk. The gallery is open Monday through Friday from 10 AM to 4 PM. Artists may submit a proposal for consideration.
To sponsor an exhibition, please see our Sponsorship Information.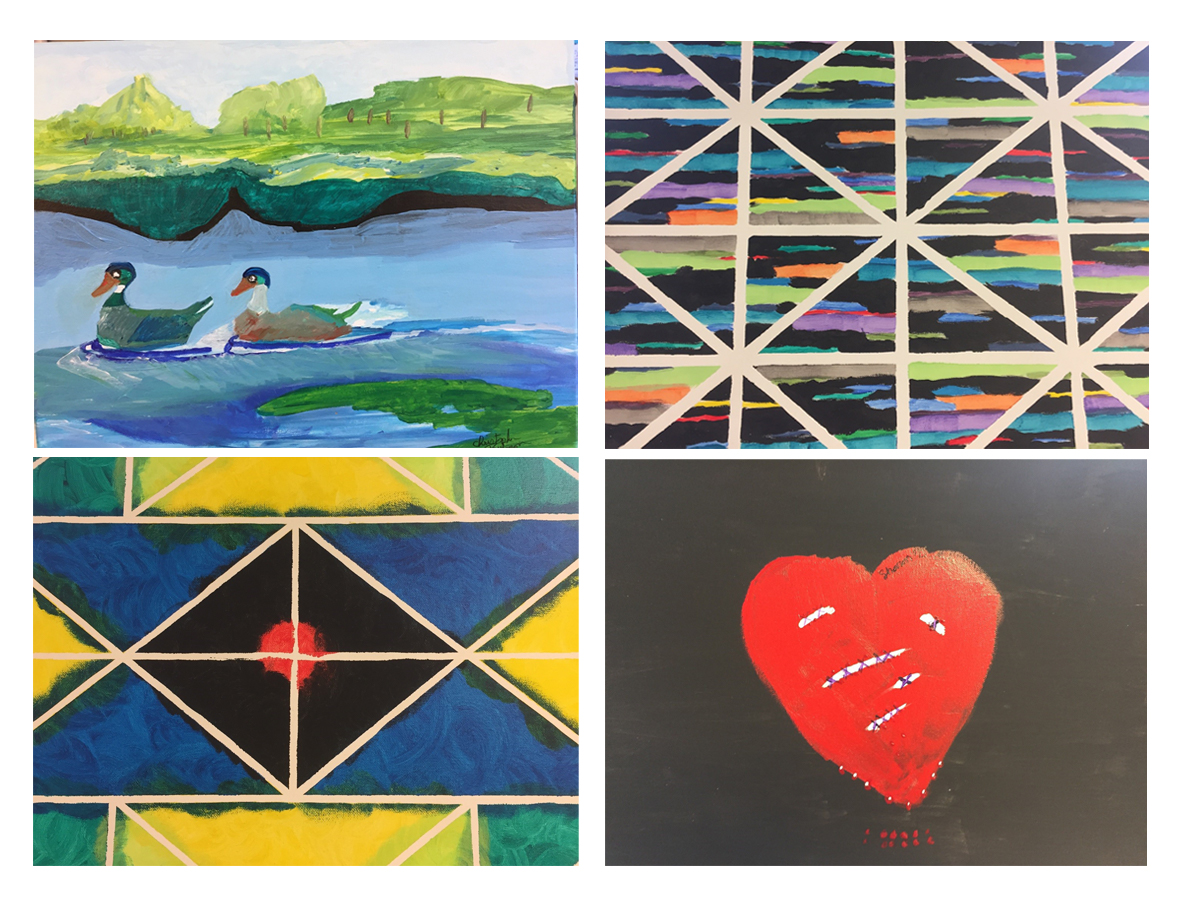 This October, see Mobile Art Association Annual Fall Show, Guy Marcinkowski's environmental abstractions exhibition titled Super Natural, and a collection of paintings by SOMI Club members.
Mobile Art Association is an organization of working artists, students, and supporters of the visual arts. Annually, they exhibit a juried and judged Annual Fall Show. The show is open to both their members and non-members. The 2019 judge will be Bill Thompson. There are multiple cash prizes including $500 for Best in Show, $250 for second place, and $100 for the third place winner. The Exhibit Chair is Nancy Barry. The Exhibit Co-Chairs are Trey Oliver and Roxann Dyess.
Super Nature, the Environmental Abstractions exhibition, is a 2 year personal journey of Guy Marcinkowski reinventing the conventional ideas of landscape and seascape art. For this exhibit, Guy worked with different substrates, such as tin, drift wood, ply wood, cotton sheets, and canvas. Each substrate reacted differently to the applied mediums seeming to paint themselves.
Guy has never been a landscape fan. He was always attracted to stylized figurative portraits and graphic abstract art. Wanting to push himself, he poured over books of artists whom he perceived to be the best at the craft of landscape painting. Ultimately, this endeavor changed the way he views the environment.
SOMI stands for Survivors of Mental Illness. The club consists of a diverse group of people who live with mental illness. They come together to socialize, relax and participate in activities such painting and adult coloring. Sixteen members will be showing an eclectic collection of painting this October.
Gallery hours at Room 1927 are 10 a.m. to 4 p.m. on Tuesdays – Fridays. The exhibitions will hang from October 3rd through the 29th , with a special reception from 6 p.m. to 9 p.m. on Friday, October 11th, LoDa ArtWalk night.
"Five" is a juried exhibition of work by students at the area's five colleges and universities, sponsored every other year by the Mobile Arts Council (MAC). The 2020 exhibition will be displayed in the MAC's Gallery @ Room 1927 (6 South Joachim Street) from Friday, April 3 through Wednesday, April 29, with a reception and awards presentation during the LoDa ArtWalk on Friday, April 10.
The exhibition is open to any student – not only students studying art – enrolled during any part of the 2019 -2020 academic year at Bishop State Community College, Coastal Alabama Community College, Spring Hill College, the University of Mobile or the University of South Alabama.You may submit up to three pieces in any medium/style, created while enrolled in your current school.
To be eligible, complete this online entry form by 4 PM, Friday, February 28. There is a $20 fee for up to three entries,which includes a free MAC Artist Membership ($35 value). You will be notified of the juried decisions by Monday, March 23. Six prizes will be awarded: First, Second, and Third Place; and three Honorable Mentions. Prizes will include cash, as well as other items.
If your work is selected, you must drop off pieces at the 6 South Joachim Street between Tuesday, March 29 and Wednesday, April 1 (10 AM – 4 PM). Works must be equipped to hang, labeled, and ready for display; if you use a mat, it must be white. All entries must remain on display until Wednesday, April 29 and be picked up on Thursday, April 30 (10 AM – 4 PM). If a piece is sold, MAC will add sales tax (10%) and take a 20% commission and mail you a check at the conclusion of the month. For further information, contact Amber Swain at aswain@mobilearts.org or 251-432-9796.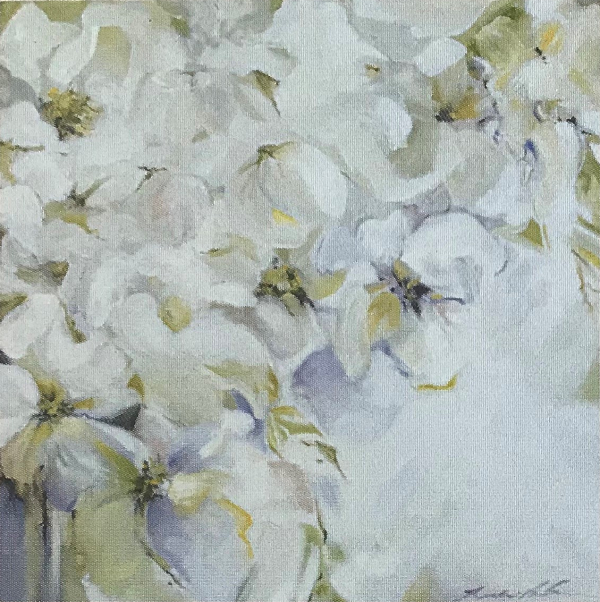 Artists Erin Revere, Benita McNider, and Leslie Baumhower will be exhibiting December 5th to the 20th in MAC's Gallery at the Saenger's Room 1927.
Erin takes inspiration from the ever-present contrasts of dark verses light and up verses down that fills the world. She finds balance on a canvas and creates the feeling of being whole again. Creating makes the chaos in life make sense, allowing her to surrender to the unpredictable messy composition and make a way back to an organized vision that presents itself in a collection of paintings titled, "The Contrast."
Together, artists Benita McNider and Leslie Baumhower will exhibit "Eclectic." Eclectic includes a collection of abstracts, atmospheric seascapes, and paintings of musicians in abstracts and portrait form.
Gallery hours at Room 1927 will be 10 a.m. – 4 p.m. on Tuesdays – Fridays. The exhibitions will hang from December 5th through the 20th, with a special reception from 6 p.m. to 9 p.m. on December 13th, LoDa ArtWalk night. The gallery will be closed for the Holidays, December 23rd through January 1st.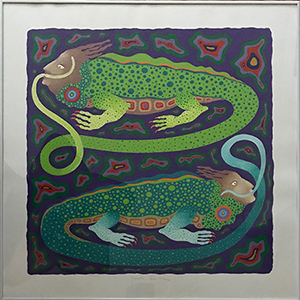 Dates: March 1-31, 2018

"Iguanians" by Joseph Smith
"HUMANIMAL" is a mixed-media exhibition of sculptures and paintings by Joseph Smith. His exhibition focuses on the relationship of humankind and animals, drawing parallels to the similarities in their characteristics. "Developing and expanding humankind is increasingly separating themselves from the animal world. Having spent many years rescuing injured wildlife, dogs from kill shelters and puppy mills, raising cattle and horses, and coming in close contact with many other species in what I call Animalia, I have been fortunate to have been able to notice that each and every animal I have ever touched has possessed its own distinct and unique personality apart from its species defined characteristics and instincts. My desire to acknowledge and learn more about personality as it related to species, I wondered about the possibilities of humans interacting to such a degree as to become a mindful part of the animal. Creating human figures with animal heads, more importantly minds, became further explored by forming human heads/minds on animal figures. If either of these were possible in the abstract sense and allowing the viewer to reflect on this concept, I believe a closer bond can be formed between humankind and the multitudes of animal species that have closely evolved together." – Joseph Smith Smith resides in Lillian, Alabama by way of Oklahoma, California, Connecticut, and the South of France. He studied painting and sculpture at the California College of Art and received a Bachelor of Fine Arts degree from the Art Center College of Design. An experienced stone and wood carver, welder, ceramicist and stone fabricator his sculptures, drawings and paintings have been shown in galleries in New York, Washington DC, Massachusetts, Pennsylvania, Connecticut, California, Florida and New Mexico in the U.S. in Avignon, Les Baux de Provence, St. Remy de Provence, Remoulin and St. Sabastien in the South of France, Geneva and Zurich in Switzerland and Cologne, Germany. He has taught classes and workshops in sculpture techniques, drawing and painting. His works have been viewed in Art News, Art Forum, reviewed in The Washington Post and numerous local journals and newspapers in the U.S. as well as Southern France. He has won several awards for his work at juried exhibitions both here and in France. See Smith's works throughout the month of March during our gallery hours, between 9 AM – 5 PM on weekdays. Meet the artists on ArtWalk night, March 9, between 6 – 9 PM.
The Artys is an annual awards program that celebrates the important contributions that individuals, groups, and businesses make to the Mobile cultural community. Finalists have been announced in the remaining nine award categories, with winners to be announced live at the event.
Artys attendees will enjoy a night of celebration, complete with food, drinks and entertainment in many forms. A jazz trio comprised of John Milham, Chris Spies, and Chris Severin will play, with performances by Mobile Opera and Joe Jefferson Players throughout the ceremony.