Each month, our community gallery features new exhibitions of original works created by local and regional artists in our Gallery @ Room 1927, located at 6 South Joachim Street (next door to the Saenger Theatre). The gallery is open Wednesday through Friday from 10 a.m. to 4 p.m. Any artists are eligible and may submit a proposal for consideration. Exhibitions are usually displayed from the first Monday of the month through the last Friday.
Now, those exhibitions can be viewed here online, in addition to unique arts and crafts created by MAC's artist members that are available for purchase. The new MAC Virtual Gallery serves our mission by providing patrons the opportunity to support local artists of all mediums and skill levels from beyond the walls of the Gallery @ Room 1927. Be sure to visit monthly for new art pieces, tickets to MAC events, and so much more!
Your patronage of the arts grows Mobile's collective cultural footprint in a number of ways. It allows MAC to continue hosting exhibitions and artist workshops, award grants to artists and arts organizations, and provide experiences that celebrate the historically heterogeneous culture that makes Mobile so vibrant!
Join us on the second Friday of each month during LoDa ArtWalk for our exhibition receptions. Meet the artists, see their work in person, and create a personal connection with what is on display. Our gallery is open to the public Wednesdays - Fridays from 10 a.m. to 4 p.m. Masks and social distancing are required.
To sponsor an exhibition, please see our Sponsorship Information.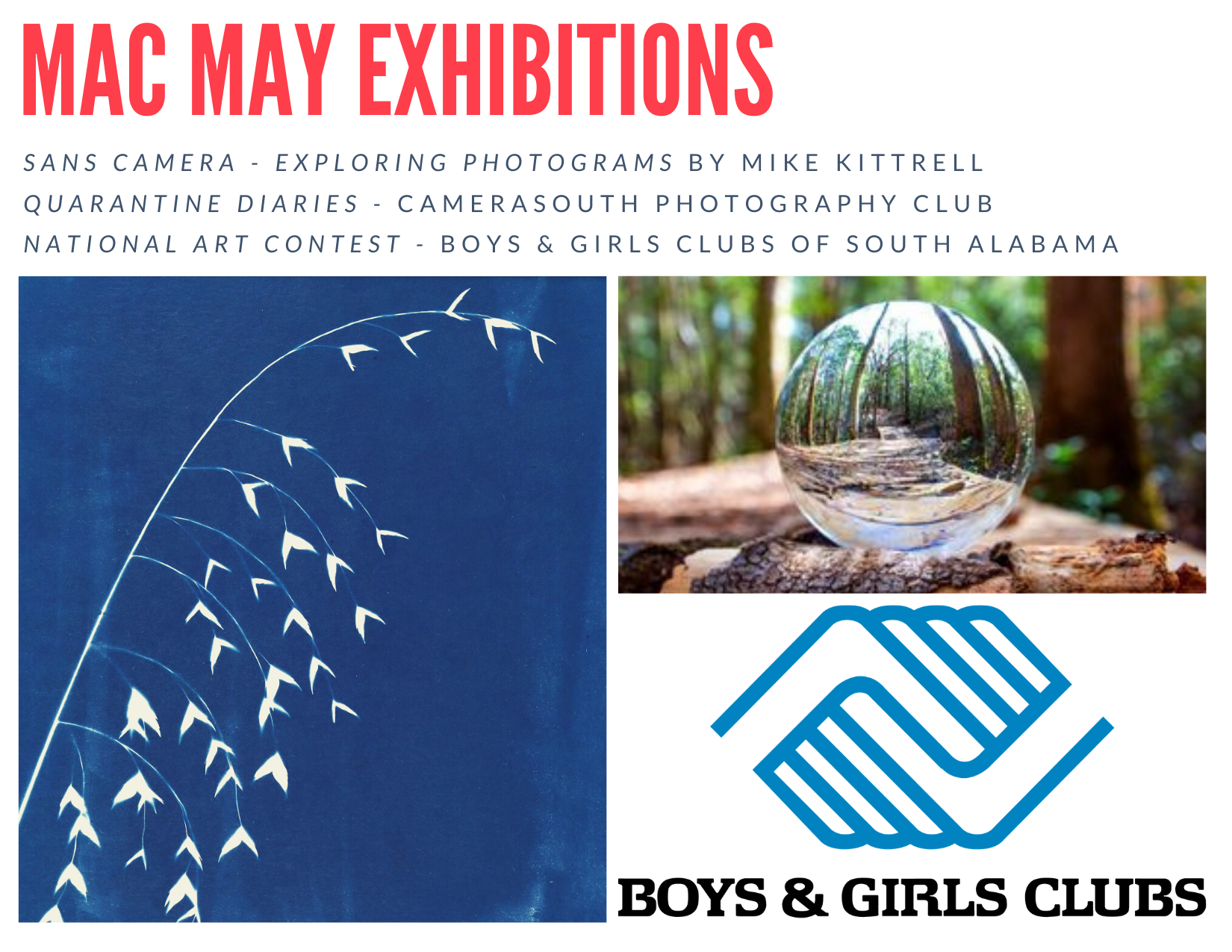 In conjunction with National Photography Month, the Mobile Arts Council Gallery will be hosting three photography exhibitions this May. These exhibitions will hang in the Mobile Arts Council Gallery from May 5th through May 28th, 2021. See it in person throughout the month or on LoDa ArtWalk night, Friday May 14th! A date for the closing reception honoring these artists will be announced at a later time. The MAC Gallery is open Wed-Fri, from 10 a.m. to 4 p.m.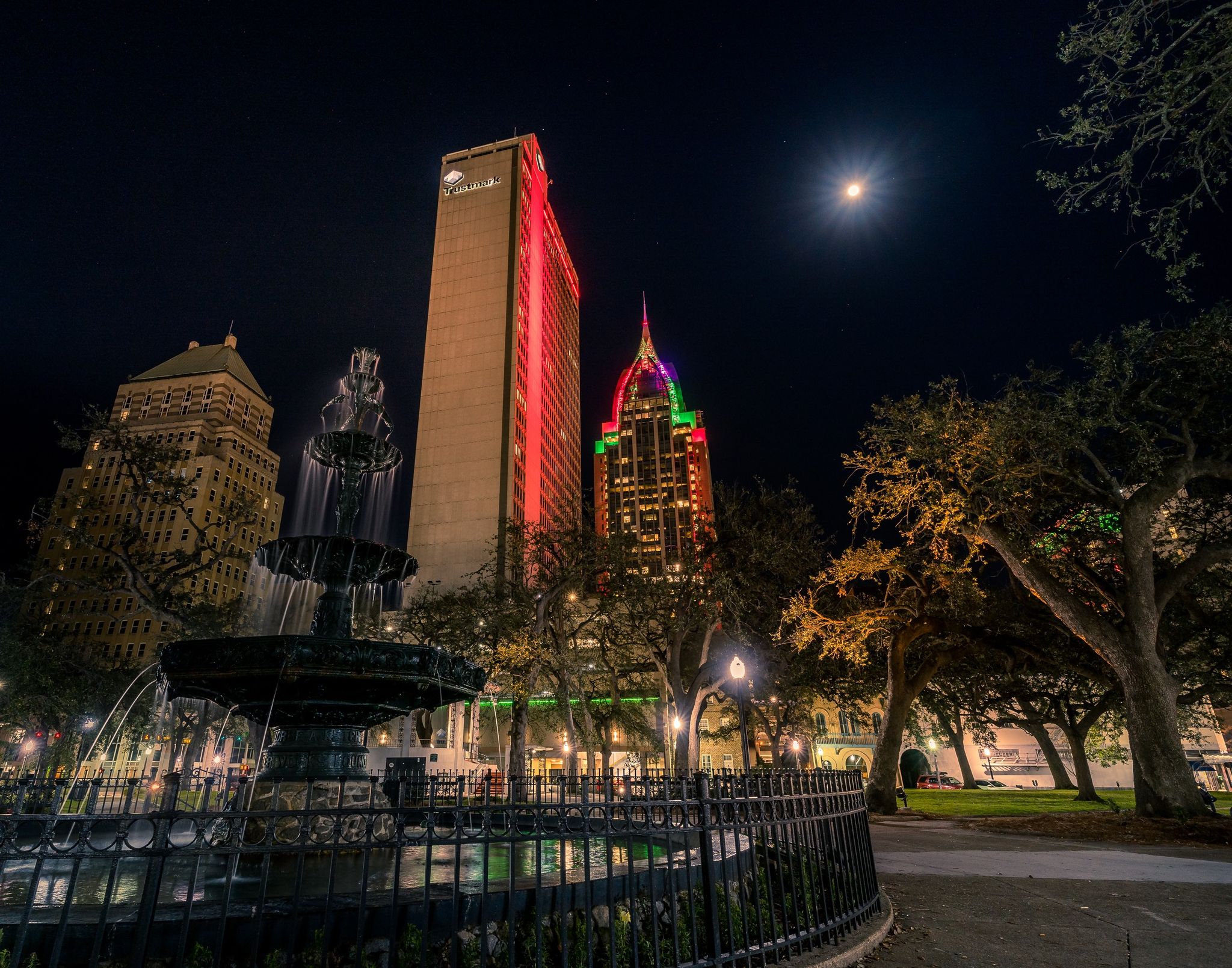 Quarantine Diaries
Quarantine Diaries will be a group exhibition from photographers with the Camera South Photography Club. Each featured image was taken of Mobile since the start of quarantine. The exhibition explores both the constant changes and screeching halt that the pandemic has brought to us all.
Camera South is a camera club in Mobile, Alabama and works to provide a platform for people interested in photography. Both professionals and beginners can share ideas, ask questions and have fun with photography.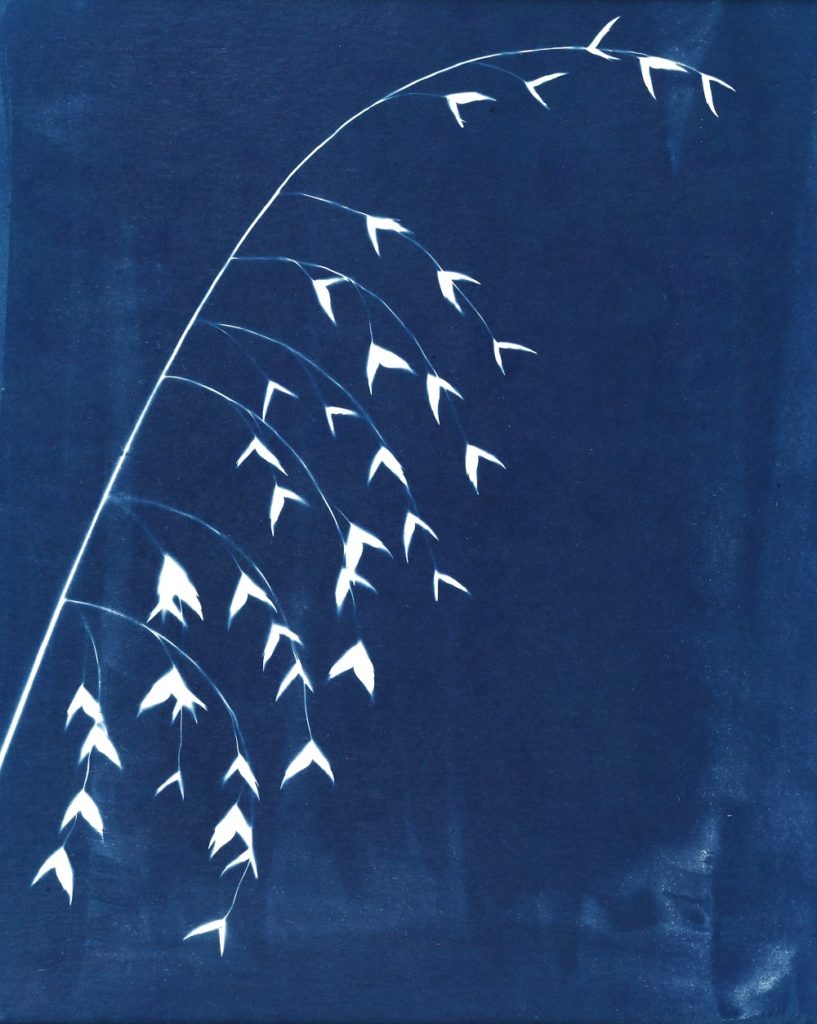 Sans Camera – Exploring Photograms
Mike Kittrell's Sans Camera – Exploring Photograms features camera-less photograms of botanical, industrial and household objects using the antique cyanotype photo process from the early 1840s. Objects depicted in the exhibit were placed in direct contact with watercolor paper hand-coated with iron-based photosensitive chemistry and were exposed using direct sunlight or a UV box. Cyanotype chemistry can be applied to a variety of mediums including paper, fabric, wood, glass and ceramics. Traditional black and white negatives or enlarged digital negatives can also be printed as cyanotypes when laid directly on the medium.
Mike Kittrell is an freelance editorial photographer based in Mobile. With a career spanning over 30 years, his work has appeared in national and international publications. Non-silver based processes and pinhole photography are two of his photo-related interests.

Boys & Girls Club National Contest
The top selections from the Boys & Girls Clubs of South Alabama's recent art competitions will also be featured in the gallery this May, showcasing original photography and paintings by local students. The winners of this competition will proceed to the Boys & Girls Club's National Fine Arts Exhibit and ImageMakers National Photography Program!
Competing within four age groups and 18 categories, participants in the National Arts Contest complete original works of art that are exhibited locally, regionally and nationally. The annual contest launches with National Arts Education week in September and closes at the end of May.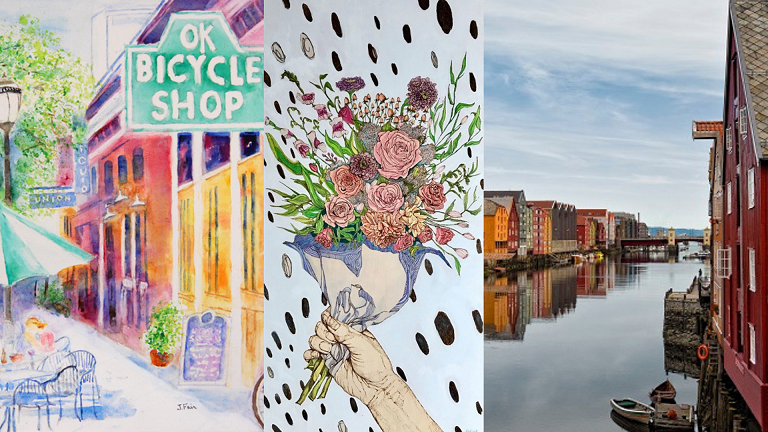 Dates: April 3rd – 29th, 2019
This April, see the artistic side of wood-burning by Kathleen Kirk Stoves, find your favorite local hangout among Jerry Fair's watercolors, and see through the lens of the photographers of Camera South. MAC's exhibitions will hang from April 3rd – 29th, with a special reception from 5 to 9 p.m. on LoDa ArtWalk night, April 12th. Gallery hours are 9 a.m. – 4 p.m. on weekdays.
The word pyrography comes from the Greek: writing with fire. You may have heard it called wood burning, referring to the process by which the artist etches designs into the wood's surface with a heated metal point. This is how South Jersey native Kathleen Kirk Stoves created her most recent collection, "Feels Like Me," in which she highlights how we use our senses to understand, transmit, and enhance our emotions.
If you frequent the Market on the Square, you may recognize Jerry Fair and his watercolors. And if you frequent the city of Mobile, you'll surely recognize many of the street scenes and local landscapes represented in his work. Fair uses watercolors in a loose, evocative style that lends itself to portraying the relaxed Gulf Coast lifestyle. In this exhibit, Fair has included over 20 original pieces and prints of scenes from Mobile and the surrounding areas
In "Through Our Lens," the photographers of Camera South allow us to see the world as they do. Camera South Photography Club is a local group of photographers who come together to develop new skills, exchange ideas and learn about the art of photography. Photographers of all levels of experience are welcome. Participating members include Aggie Little, Carl Fallo, Debbie Jone Kuykendall, E.J. Wright, Eric de Jong, Gwen Ainsworth, Jerry L. Hammon, Jon Jeffress, Michele Zaricor, Mona Tackett-Denton, Mary Kay Hammon, Pat Kearns, Rebecca Parsons, Sue Carney, Tommy Cooper, and Yvonne Fallo.
The Artys is an annual awards program that celebrates the important contributions that individuals, groups, and businesses make to the Mobile cultural community. Finalists have been announced in the remaining nine award categories, with winners to be announced live at the event.
Artys attendees will enjoy a night of celebration, complete with food, drinks and entertainment in many forms. A jazz trio comprised of John Milham, Chris Spies, and Chris Severin will play, with performances by Mobile Opera and Joe Jefferson Players throughout the ceremony.