June Exhibitions: "Miniatures & More" by Roxann Dyess and "Urban Vibes" by PleinAirSouth
This June, MAC's Gallery @ Room 1927 will host two new exhibitions: "Miniatures & More" by Roxann Dyess and "Urban Vibes," a group exhibition by PleinAirSouth. "Miniatures & More" is a retrospective exhibition highlighting the life and legacy of Mobile artist Roxann Dyess, and "Urban Vibes" will showcase views of downtown Mobile by artists affilliated with PleinAirSouth. Both of these exhibitions will be on display in the MAC Gallery from June 4th – June 30th, 2022. A special reception will take place on ArtWalk night, June 10th, from 6 to 9 p.m. Regular gallery hours are Tuesday – Friday, 11 a.m. – 5 p.m., and Saturday, 11 a.m. – 2 p.m.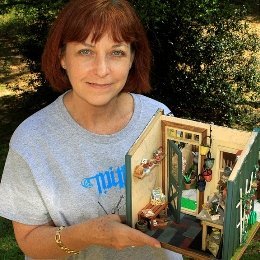 Miniatures & More is a retrospective exhibition highlighting the life and artistic legacy of Roxann Dyess. Born on December 23, 1952, Roxann was and remains an important fixture in the arts scene of Mobile. She was an active member of the Mobile Art Association, Mobile Arts Council, and many other local and national arts organizations. Roxann worked in a variety of mediums including watercolor, oil, acrylic, doll house miniatures, Sumi-e, Zentangle, sculpture, and more. When she was not practicing her art, she worked for the Mobile Probate Court for 30 years before retiring as the County Elections Coordinator. She was also a very active participant with the Distinguished Young Women Program (DYW), formerly Junior Miss, serving as a hostess to the girls who would travel to Mobile for the national competition each summer. Roxann passed away due to complications from leukemia at 5:15 am, Friday, April 23rd, 2021. She died peacefully while holding the hand of her beloved husband, JD Dyess. She is survived by her parents, Bill and Mary Ross; her sister, Robin Ross; and her loving son, Todd Mathers. The Roxann Dyess Has-Been Spirit Award is a scholarship that has been set up for the DYW Program in Roxann's honor. All proceeds from her exhibition will go to continue funding this scholarship. "Her friends were dear and devoted in many areas; church, work, the art world, and truly everyone she met. If you knew her, I share your loss and your grief. If you did not know her, I offer my sorrow for your loss." – JD Dyess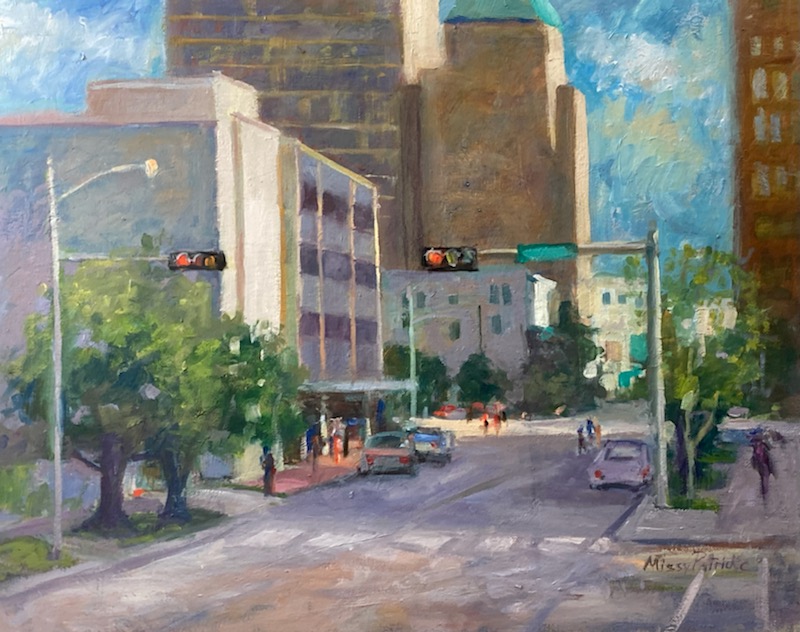 PleinAirSouth is an informal group of local artists in the greater Mobile area who like to paint outside in the plein air tradition, "en plein air".  Any interested artist is invited to follow our Facebook page and participate in scheduled painting events.  Artists may work in any number of different mediums, including watercolor, oil, acrylic, and pastel. Plein air paintings are often completed in a couple of hours. The challenge is to capture the light, colors, and shadows for a fresh look at the subject as the lighting and weather conditions are constantly changing. These quick paintings attempt to capture the spirit of the subject, and may serve as a study for future studio paintings or stand alone as a completed painting. PleinAirSouth artists have painted numerous locations in and around Mobile and the adjacent Gulf coastal areas.  This exhibit focuses on the vibrant areas of downtown Mobile, as well as some of the older, less-explored areas in the urban environment.  The exhibit includes studies completed on site, as well as studio pieces informed by on-site studies. "We hope you can sense the urban vibes when you view these portraits of the heart and soul of the city!" Artists participating in this exhibition include Gail Bramer, Joanne Brandt, Carolyn Greene, Tamara Lindsay, Sharon Martin, Missy Patrick, Melissa Root, and Myrna Salaun.