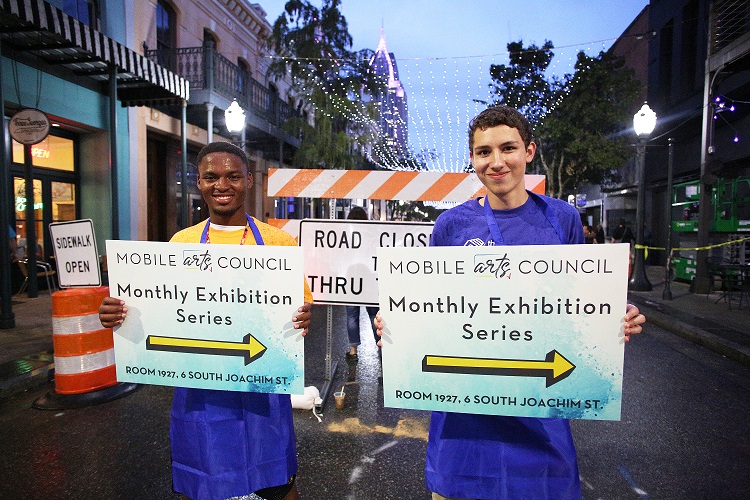 Mobile Arts Council's mission is to enrich the quality of life in the Mobile area through increasing accessibility to the arts and promoting a vibrant cultural community.
MAC was established in 1955 by the Junior League of Mobile and received 501(c)(3) status as a not-for-profit organization in 1962. Since its inception, Mobile Arts Council's work has evolved to fit the needs of the community and its members. In its early days MAC was primarily a funding source for the cultural community. As the organization grew and its grantors became more established and self-sufficient this need was no longer as pressing for artists and art organizations in the Mobile Area. Through strategic planning and organizational assessment MAC began to shift its focus from being a grantor to being an advocate and supporter of the arts.
Today, the organization remains a strong informational center for local culture, helping to facilitate numerous events and opportunities for artists from all backgrounds and mediums to show and perform their work and while gaining exposure along the Gulf Coast. MAC coordinates a variety of initiatives and programs that advocate for the arts and culture in Mobile, provides arts education and inspires collaboration amongst the community to create a thriving arts experience for locals and visitors alike.
Angela Montgomery
Development Director
Angela is a native of Jackson, MS with extensive experience working with nonprofits. She previously served as Programs Director and Executive Director for the Alabama Coastal Foundation, as well as Director of Development and Communications for the Lone Star Film Society/Lone Star International Film Festival. She is happily married to Joey and loves spending time with her horses and dogs.
Lucy Gafford
Executive Director
A native Mobilian, Lucy has been involved with MAC since 2013. She previously served as Programs Director and has now taken the position as Executive Director. Her primary focus in this role is to concentrate on community outreach with Mobile-area artists and arts organizations.  Additionally, she is responsible for coordinating all community programs, including ArtWalk, Market events, public art projects, and more. An accomplished artist herself, Lucy's work can be found all around Mobile, including the Oyster Trail, the USA Moulton Bell Tower, and the ArtGO! trail.
Sydney Cramer
Program & Advocacy Manager
Sydney Cramer is a native of Montgomery, AL, and has lived in Mobile since 2017. She graduated summa cum laude with a B.F.A. in Performance from the University of South Alabama. Starting as an intern in the summer of 2020, Sydney now serves as the Program & Advocacy Manager for MAC. She hopes to give Mobile's artists and creatives the voice they deserve, and continue increasing arts accessibility and visibility throughout Mobile.
Kathleen Kirk Stoves
Education & Outreach Coordinator
Collaborative Site Director, Amp Up Arts
Originally from South Jersey, Kathleen Kirk Stoves has been living as a working artist and arts administrator in Mobile for over ten years. She has completed several murals and community projects throughout our area while maintaining a working studio and teaching classes to both children and adults. Kathleen has a Bachelor's Degree in Studio Art from Spring Hill College, extensive ties to the gulf coast art community, and previous experience working for non-profit organizations coordinating events and volunteers. She has studied and created with a variety of artistic mediums, with a recent focus in painting and pyrography. Kathleen has a passion for Arts Education and strives to provide access to it for all children in the Mobile County area through her work with Mobile Arts Council and Amp Up Arts.
OFFICERS
---
Matt Anderson
President
Kim Sweet
Vice President
Shonnda Smith
Treasurer
Katie Vogtner
Secretary
DIRECTORS
---
Kalenski Adams
Patricia Becker
Oliver Dorgan
Harvie Jordan
Charlie Kelly
Jenny Beam Klein
Laura Ledbetter
Vinny Paragone
Cristina Rogers