View our current and past gallery exhibitions below.
Mobile Arts Council coordinates monthly exhibitions in its satellite gallery space at 6 South Joachim Street, mostly emphasizing work by professional and amateur artists who live (or have lived) in the Mobile Bay area. Shows focus on work by students, emerging artists, artists not represented in a gallery, and/or established regional artists. Exhibitions are usually displayed from the first Monday of the month through the last Friday. The public is invited to meet the artists from 6 until 9 PM on the second Friday of each month during the LoDa ArtWalk. The gallery is open Monday through Friday from 10 AM to 4 PM. Artists may submit a proposal for consideration.
To sponsor an exhibition, please see our Sponsorship Information.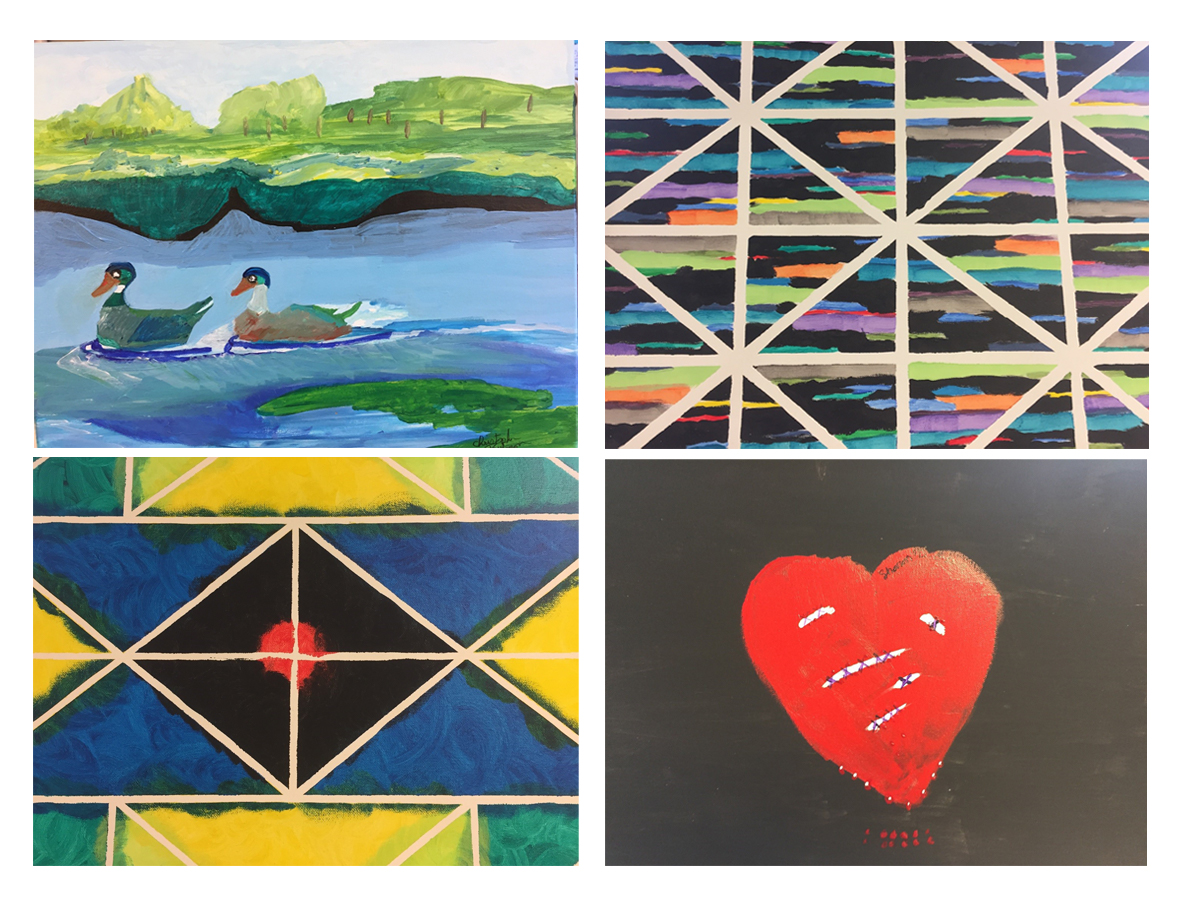 This October, see Mobile Art Association Annual Fall Show, Guy Marcinkowski's environmental abstractions exhibition titled Super Natural, and a collection of paintings by SOMI Club members.
Mobile Art Association is an organization of working artists, students, and supporters of the visual arts. Annually, they exhibit a juried and judged Annual Fall Show. The show is open to both their members and non-members. The 2019 judge will be Bill Thompson. There are multiple cash prizes including $500 for Best in Show, $250 for second place, and $100 for the third place winner. The Exhibit Chair is Nancy Barry. The Exhibit Co-Chairs are Trey Oliver and Roxann Dyess.
Super Nature, the Environmental Abstractions exhibition, is a 2 year personal journey of Guy Marcinkowski reinventing the conventional ideas of landscape and seascape art. For this exhibit, Guy worked with different substrates, such as tin, drift wood, ply wood, cotton sheets, and canvas. Each substrate reacted differently to the applied mediums seeming to paint themselves.
Guy has never been a landscape fan. He was always attracted to stylized figurative portraits and graphic abstract art. Wanting to push himself, he poured over books of artists whom he perceived to be the best at the craft of landscape painting. Ultimately, this endeavor changed the way he views the environment.
SOMI stands for Survivors of Mental Illness. The club consists of a diverse group of people who live with mental illness. They come together to socialize, relax and participate in activities such painting and adult coloring. Sixteen members will be showing an eclectic collection of painting this October.
Gallery hours at Room 1927 are 10 a.m. to 4 p.m. on Tuesdays – Fridays. The exhibitions will hang from October 3rd through the 29th , with a special reception from 6 p.m. to 9 p.m. on Friday, October 11th, LoDa ArtWalk night.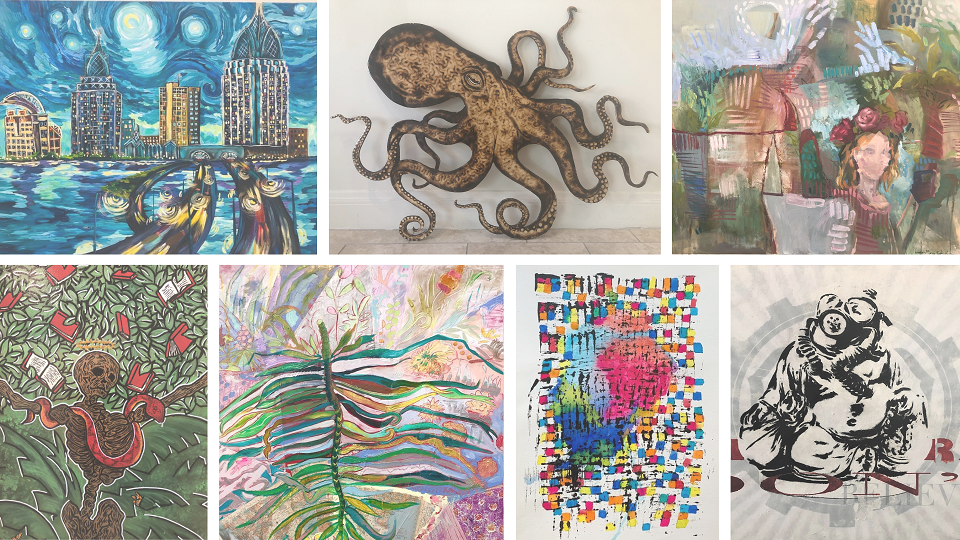 This September, see works by the five artist competitors in this year's Throwdown, a collection of paintings by designer Alma Hoffmann, and the "DON'T Campaign" by local graphic artist Conz8000.
Are you ready for The Throwdown? On September 20th, five local artists will compete to create works of art in just 90 minutes, which will then be auctioned off at the end of the evening. While these artists work, guests will enjoy libations, musical performances, a fantastic silent auction, and delicious eats. This year's event will take place from 6-9 p.m. in the air-conditioned Medal of Honor Aircraft Pavilion at USS ALABAMA Battleship Memorial Park. This year's competing artists – Anna-Marie Babington, Mary Elizabeth Kimbrough, Brandin Stallworth, Patrick Tucker, and Ginger Woechan – will have samples of their work on display at the gallery this month.
Alma Hoffmann is a professor of graphic design at the University of South Alabama. In her exhibit at MAC, Hoffmann falls away from the structure and order of her design career. She seeks to contrast the "mundane" aspects of making art – the tediousness of the daily grind – to the "sublime" moment in which the artist's ideas manifest themselves physically on paper. Hoffman describes what inspires her to create: " From events on the news, a keen awareness of my sense of duality in the present societal context, being a bilingual speaker, living navigating two cultures within me, and the need to say something collide to knit a piece that manifests my being."
A native of Puerto Rico, Hoffmann is a design educator with her own freelance practice, as well as a part of the editorial board at Smashing Magazine. Her book, Sketching as Design Thinking, will be published later this fall.
Conz8000 (a former Throwdown competitor himself) is a local comic book and multimedia artist and educator. His graphic, colorful work is inspired by animation, specifically anime of the 80s and 90s. His September exhibit at MAC is a collection of pieces from his Don't Campaign, a series of guerrilla art pieces meant to provoke questions in the viewer about social and political matters.
Gallery hours at Room 1927 are 10 a.m. to 4 p.m. on Tuesdays – Fridays. The exhibitions will hang from September 4th through 27th, with a special reception from 6 p.m. to 9 p.m. on Friday, September 13th, LoDa ArtWalk night.
The Artys is an annual awards program that celebrates the important contributions that individuals, groups, and businesses make to the Mobile cultural community. Finalists have been announced in the remaining nine award categories, with winners to be announced live at the event.
Artys attendees will enjoy a night of celebration, complete with food, drinks and entertainment in many forms. A jazz trio comprised of John Milham, Chris Spies, and Chris Severin will play, with performances by Mobile Opera and Joe Jefferson Players throughout the ceremony.