View our current and past gallery exhibitions below.
Mobile Arts Council coordinates monthly exhibitions in its gallery space at 318 Dauphin St., mostly emphasizing work by professional and amateur artists who live (or have lived) in the Mobile Bay area. Shows focus on work by students, emerging artists, artists not represented in a gallery, and/or established regional artists. The gallery features three exhibition spaces: the Skinny Gallery, the Danielle Juzan Gallery, and the Small Room. Exhibitions are usually displayed from the first Monday of the month through the last Friday. The public is invited to meet the artists from 6 until 9 PM on the second Friday of each month during the LoDa ArtWalk. The offices are open Monday through Friday, 9 AM to 5 PM and usually on Saturday mornings when the Market in the Park is active. Artists may submit a proposal for consideration.
To sponsor an exhibition, please see our Sponsorship Information.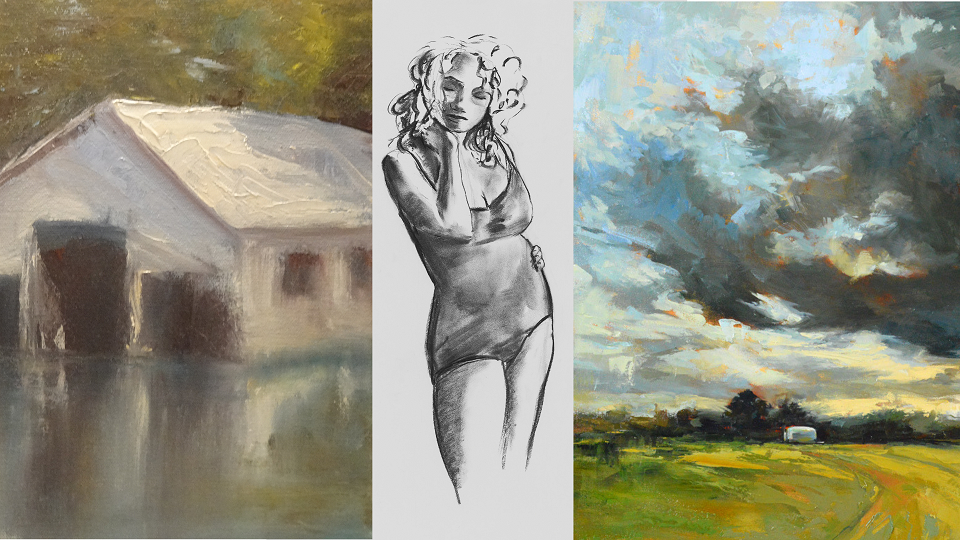 Dates: May 3rd – 30th, 2019
This May at MAC, see a collection of colorful narrative paintings from Cat Pope, a series of striking portraits by Sarah Rutledge Fischer, and an exhibit of Gulf Coast nature in oils and acrylics by Nancy Milford.
Mobile painter Cat Pope uses her brush to tell a story on every canvas. With a painterly style and a focus on nostalgic, pastoral subjects, Pope captures the vibrant soul of the Gulf Coast's past and present. Her May show in MAC's Skinny Gallery focuses on a world of Pope's own creation, which in her words tells a story of "love for place and home, and a dedication to a way of living that values this love." Cat Pope is a native of Clearwater, Florida, and moved to Mobile in 2015. She received her B.A. in Painting from Judson College in 2011. Her work is held in private collections across the US.
The subjects of local artist Sarah Rutledge Fischer's drawings are anything but wallflowers. Her collection of figure drawings in the Danielle Juzan gallery is a celebration of the human form, stripped of clothing and unabashed. Fischer states that, in a state of undress, the individual "bear[s] nothing that can distract us from empathy and connection. They claim their space and invite us to see ourselves reflected in their lines and shadows." A self-taught artist, Fischer lives in Fairhope and has acquired her skill through figure study groups and dedicated practice. She devotes special attention to the human form, and her art represents her belief that "all bodies are good bodies."
Baldwin County native Nancy Milford sees herself as a visual preservationist. Once an engineer, Milford turned to drawing and painting as a way to express her creativity and share her love for the unique natural environment in Lower Alabama. Now she uses her art to preserve the landscapes, flora, and fauna of our coastline, recording memories with the hope that future generations may enjoy our way of life, too. Now a municipal planner in Fairhope, Milford attends classes to build upon her artistic skills and draws her inspiration from naturalist artists like Beatrix Potter and Keith Brockie. Her show in MAC's Small Room this month will feature works in oils and acrylics.
These exhibitions will hang from May 3rd – 30th, with a special reception from 5 to 9 p.m. on LoDa ArtWalk night, May 10th. Gallery hours are 9 a.m. – 4 p.m. on weekdays.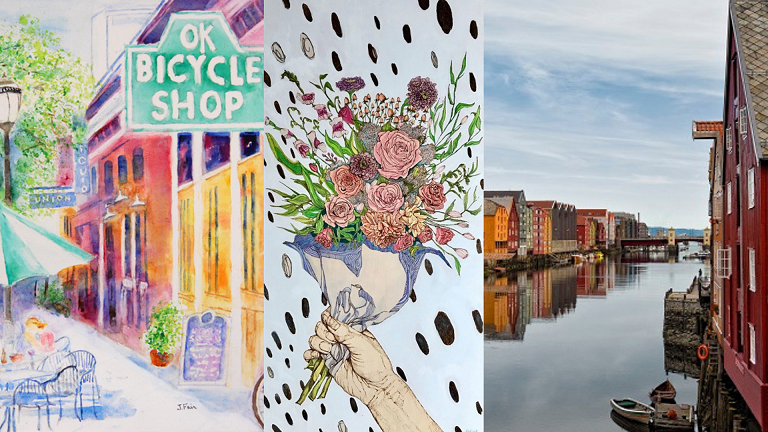 Dates: April 3rd – 29th, 2019
This April, see the artistic side of wood-burning by Kathleen Kirk Stoves, find your favorite local hangout among Jerry Fair's watercolors, and see through the lens of the photographers of Camera South. MAC's exhibitions will hang from April 3rd – 29th, with a special reception from 5 to 9 p.m. on LoDa ArtWalk night, April 12th. Gallery hours are 9 a.m. – 4 p.m. on weekdays.
The word pyrography comes from the Greek: writing with fire. You may have heard it called wood burning, referring to the process by which the artist etches designs into the wood's surface with a heated metal point. This is how South Jersey native Kathleen Kirk Stoves created her most recent collection, "Feels Like Me," in which she highlights how we use our senses to understand, transmit, and enhance our emotions.
If you frequent the Market on the Square, you may recognize Jerry Fair and his watercolors. And if you frequent the city of Mobile, you'll surely recognize many of the street scenes and local landscapes represented in his work. Fair uses watercolors in a loose, evocative style that lends itself to portraying the relaxed Gulf Coast lifestyle. In this exhibit, Fair has included over 20 original pieces and prints of scenes from Mobile and the surrounding areas
In "Through Our Lens," the photographers of Camera South allow us to see the world as they do. Camera South Photography Club is a local group of photographers who come together to develop new skills, exchange ideas and learn about the art of photography. Photographers of all levels of experience are welcome. Participating members include Aggie Little, Carl Fallo, Debbie Jone Kuykendall, E.J. Wright, Eric de Jong, Gwen Ainsworth, Jerry L. Hammon, Jon Jeffress, Michele Zaricor, Mona Tackett-Denton, Mary Kay Hammon, Pat Kearns, Rebecca Parsons, Sue Carney, Tommy Cooper, and Yvonne Fallo.
The Artys is an annual awards program that celebrates the important contributions that individuals, groups, and businesses make to the Mobile cultural community. Finalists have been announced in the remaining nine award categories, with winners to be announced live at the event.
Artys attendees will enjoy a night of celebration, complete with food, drinks and entertainment in many forms. A jazz trio comprised of John Milham, Chris Spies, and Chris Severin will play, with performances by Mobile Opera and Joe Jefferson Players throughout the ceremony.