Each month, our community gallery features new exhibitions of original works created by local and regional artists in our Gallery @ Room 1927, located at 6 South Joachim Street (next door to the Saenger Theatre). The gallery is open Tuesday through Friday from 11 a.m. to 5 p.m. and Saturdays from 11 a.m. to 2 p.m. Any artists are eligible and may submit a proposal for consideration. Exhibitions are usually displayed from the first Wednesday through the last day of each month.
In addition to our traditional gallery, we are now also accepting proposals for quarterly exhibitions in our window display cases, located between Room 1927 and the Saenger Box Office. If you are interested in creating a window installation, email director@mobilearts.org.
Join us on the second Friday of each month during LoDa ArtWalk for our exhibition receptions. Meet the artists, see their work in person, and create a personal connection with what is on display. Our gallery is open to the public Tuesdays - Fridays from 11 a.m. to 5 p.m. Those that are vaccinated are not required to wear masks in the gallery. View our extended Virtual Gallery program, implemented during the 2020 quarantine, online here. View our current and recent exhibitors below!
Our Community Gallery program is made possible thanks to the Daniel Foundation of Alabama and the J.L. Bedsole Foundation. To sponsor an exhibition, please see our Sponsorship Information.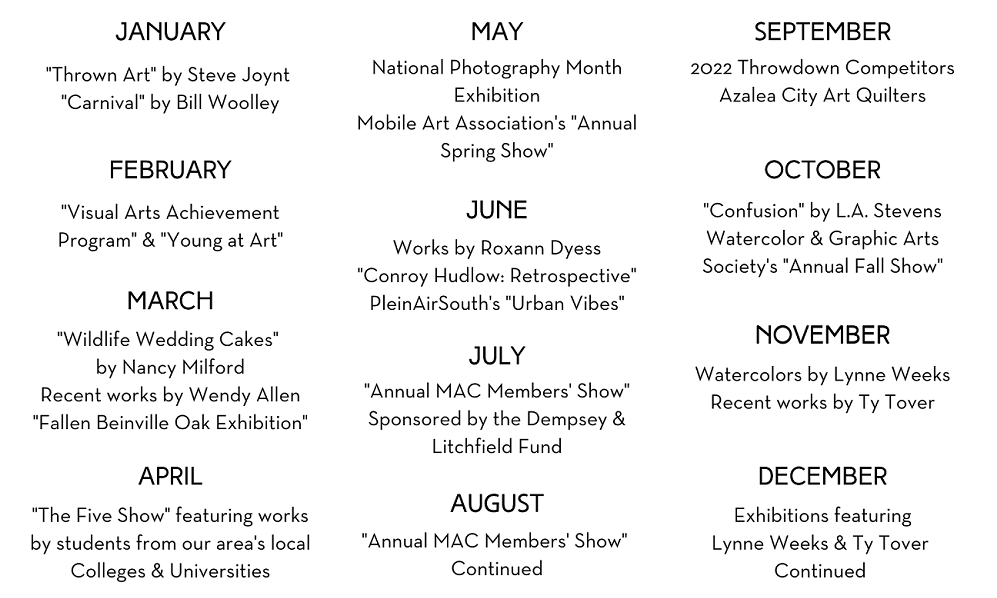 January Exhibitions: "Carnival" by Bill Woolley & "Thrown Art" by Steve Joynt
This January, the Mobile Arts Council's Gallery @ Room 1927 will feature two exhibitions: Carnival by Bill Woolley and Thrown Art by Steve Joynt. Gallery Hours are 11 a.m. to 5 p.m. on Tuesdays – Fridays and 11 a.m. to 2 p.m. on Saturdays. These exhibitions will hang through Friday, January 28th.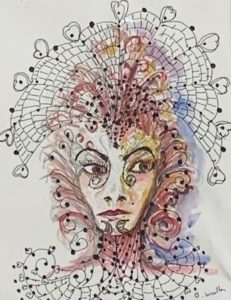 William Matthew Woolley, known to his friends as "Bill," was born and reared in Memphis, Tennessee. Bill started his art career after high school, when he was awarded a scholarship to the Memphis Academy of Art. Bill has maintained his activity within the visual arts world by taking classes at VIA Community Center, being a member of the Mobile Arts Council-- Carnival is his second exhibition with the organization, and most recently designing the window display in honor of Eugene Walter's 100th birthday. Pieces from his first show with MAC are now in the permanent collection at the Louisiana Mardi Gras Museum in New Orleans. Bill's ability to combine reality and fantasy is unique, with glimpses of wonderful humor as well. Carnival explores the wonderous and colorful world of puppets, ballet, court jesters, and more! His watercolor paintings offer a glimpse into Bill's beautifully artistic mind, and his puppet creations, made in partnership with fellow artist, Lynne Weeks, bring about a sense of jollity with their unusual proportions and wonderfully humorous headdresses.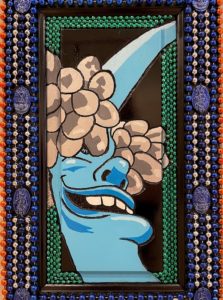 Like so many artists, Steve Joynt showed from an early age that there was art in him. When he was old enough, he took art lessons from an old lady who had a bunch of easels in her basement. Pastels, charcoal, watercolor, oil, he learned them all. By college, however, Steve set his sights on journalism – specifically newspapers – and creating art became something he did once in a great while. In all of that time, Steve felt he'd never actually found his artist's voice, his style, if you will. All of that changed about 20 years ago, when he got the idea to take a partial mannequin he still had from his college days, paint it black, and glue Mardi Gras beads all over it. That's how Thrown Art was born and how Steve came to actually think of himself as an artist for the first time in more than 25 years.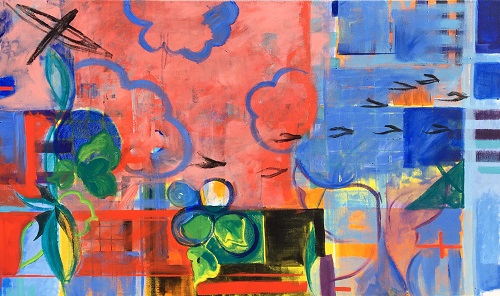 This November and December, the Mobile Arts Council's Gallery @ Room 1927 will feature two exhibitions: The Flora-Bama Paintings by Pixie Alexander and the Bay Area Art Educator's Annual Fall Exhibition. Gallery Hours are 11 a.m. to 5 p.m. on Tuesdays – Fridays and 11 a.m. to 2 p.m. on Saturdays. These exhibitions will hang through Friday, October 29th.
The Flora-Bama Paintings explores the way economic, sociological, and cultural distinctions express themselves in the landscapes that Pixie Alexander knew as a child. Pixie returned to the Gulf Coast in 2012 after 24 years in New York City. Her earliest years were spent studying and practicing art in various forms, with a particular commitment to painting, but when she arrived back in the South, it had been some time since she had kept a studio. Pixie was fresh out of a master's program in urban planning at Columbia University when, upon graduating, felt that her young son needed her more than did the market for that kind of work. She took advantage of the sugar white beaches of the Florida panhandle, rededicated herself to painting, and launched into her first series, "Beach Paintings". After a couple of years and a few road trips, she started her "West Alabama" series and the "Highway 98" series. Eventually, those separate categories were let go, and, as a group, Pixie now refers to them as the "Flora-Bama Paintings". Fresh out of planning school Pixie had a new, heightened awareness of the way economic, sociological, and cultural distinctions expressed themselves in the landscape, and wanted to take this heightened awareness to the landscapes of her childhood while exploring them as a painter. "These paintings are important and special to me, and I am happy to show them on the Gulf Coast, where they were conceived. I thank the Mobile Arts Council and all who come to see them!"
The Bay Area Art Educator's Annual Fall Exhibition will showcase artworks in a variety of mediums by students throughout the greater Mobile area. The Bay Area Art Educators (BAAE) are a regional group of the Alabama Art Education Association comprised of visual art teachers located in Southeast Alabama, primarily in Mobile and Baldwin counties. BAAE upholds and abides by the AAEA mission statement: "AAEA is a professional organization dedicated to the leadership opportunities, advocacy, professional development, and support for all visual arts educators in Alabama." In addition to attending their annual state conference, throughout the year BAAE hosts local meetings and small professional development workshops for the visual arts in our region. Two regional art shows are organized each year in which they feature their students' artwork from their schools and communities. Anyone who teaches, has taught, is interested in teaching art, and/or is an artist and interested in supporting arts education in our communities is invited to join their group and to also join AAEA.
The Artys is an annual awards program that celebrates the important contributions that individuals, groups, and businesses make to the Mobile cultural community. Finalists have been announced in the remaining nine award categories, with winners to be announced live at the event.
Artys attendees will enjoy a night of celebration, complete with food, drinks and entertainment in many forms. A jazz trio comprised of John Milham, Chris Spies, and Chris Severin will play, with performances by Mobile Opera and Joe Jefferson Players throughout the ceremony.