As the spread of COVID-19 shuts down entertainment and gathering spaces, the Mobile Arts Council (MAC) has temporarily closed the gallery to the public and has launched the MAC Virtual Gallery as of Thursday, March 19, 2020.
Each month, our community gallery features new exhibitions of original works created by local and regional artists in our Gallery @ Room 1927, located at 6 South Joachim Street (next door to the Saenger Theatre). The gallery is open Tuesday through Friday from 10 a.m. to 4 p.m. Any artists are eligible and may submit a proposal for consideration. Exhibitions are usually displayed from the first Monday of the month through the last Friday.
Now, those exhibitions can be viewed here online, in addition to unique arts and crafts created by MAC's artist members that are available for purchase. The new MAC Virtual Gallery serves our mission by providing patrons the opportunity to support local artists of all mediums and skill levels from beyond the walls of the Gallery @ Room 1927. Be sure to visit monthly for new art pieces, tickets to MAC events, and so much more!
Your patronage of the arts grows Mobile's collective cultural footprint in a number of ways. It allows MAC to continue hosting exhibitions and artist workshops, award grants to artists and arts organizations, and provide experiences that celebrate the historically heterogeneous culture that makes Mobile so vibrant!
Join us on the second Friday of each month during LoDa ArtWalk for our exhibition receptions. Meet the artists, see their work in person, and create a personal connection with what is on display.
The MAC Virtual Gallery is always open! Click here to view and purchase works from this month's exhibiting artists. Scroll below to view our past exhibitions or to read about what we have on display.
To sponsor an exhibition, please see our Sponsorship Information.
"Five" is a juried exhibition of work by students at the area's five colleges and universities, sponsored every other year by the Mobile Arts Council (MAC). The 2020 exhibition will be displayed in the MAC's Gallery @ Room 1927 (6 South Joachim Street) from Friday, April 3 through Wednesday, April 29, with a reception and awards presentation during the LoDa ArtWalk on Friday, April 17.
The exhibition is open to any student – not only students studying art – enrolled during any part of the 2019 -2020 academic year at Bishop State Community College, Coastal Alabama Community College, Spring Hill College, the University of Mobile or the University of South Alabama.You may submit up to three pieces in any medium/style, created while enrolled in your current school.
To be eligible, complete this online entry form by 4 PM, Friday, February 28. There is a $20 fee for up to three entries,which includes a free MAC Artist Membership ($35 value). You will be notified of the juried decisions by Monday, March 23. Six prizes will be awarded: First, Second, and Third Place; and three Honorable Mentions. Prizes will include cash, as well as other items.
If your work is selected, you must drop off pieces at the 6 South Joachim Street between Tuesday, March 29 and Wednesday, April 1 (10 AM – 4 PM). Works must be equipped to hang, labeled, and ready for display; if you use a mat, it must be white. All entries must remain on display until Wednesday, April 29 and be picked up on Thursday, April 30 (10 AM – 4 PM). If a piece is sold, MAC will add sales tax (10%) and take a 20% commission and mail you a check at the conclusion of the month. For further information, contact Amber Swain at aswain@mobilearts.org or 251-432-9796.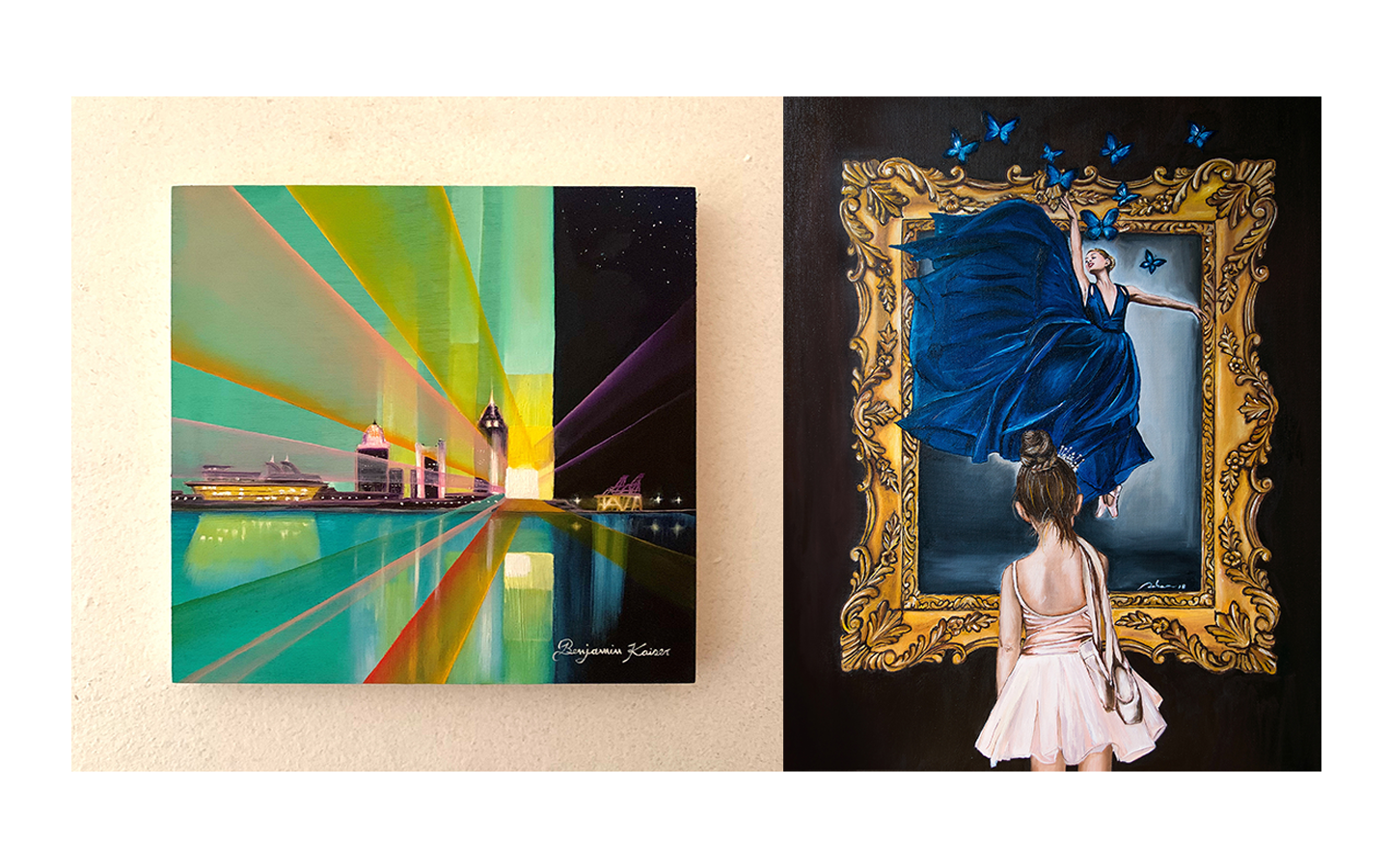 The Mobile Arts Council will feature artists Ben Kaiser and Cat Pope in their new show, "Home and Heritage," and Sahar Alford's exhibition, "Universal Beauty," during the month of March in MAC's Gallery at the Saenger's Room 1927.
According to Kaiser and Pope, artists often look back on their childhoods for inspiration. They think of loved ones. They think of the places where they grew up; places that mean or meant something. They think about where they came from and the people that matter most.
"Home and Heritage," is a show of growth. It is a depiction of pasts and beginnings; of hometowns and explorations; and of colors that take us back to a place we remember. Kaiser and Pope hope that in seeing their work you not only see a part of them, but connect to a piece that resonates with you, too.
Like painting, Alford's love and passion for dance came at a very early age. Her March exhibition is a series of realistic paintings with the theme of "Universal Beauty." The purpose is to capture beauty, strength and dreams of females from around the world through different dance styles and cultures.
Gallery hours at Room 1927 are from 10 a.m. to 4 p.m. on Tuesdays through Fridays. The exhibitions will hang from March 6th through the 30th, with a special reception from 6 to 9 p.m. on Friday, March 13th, LoDa ArtWalk night.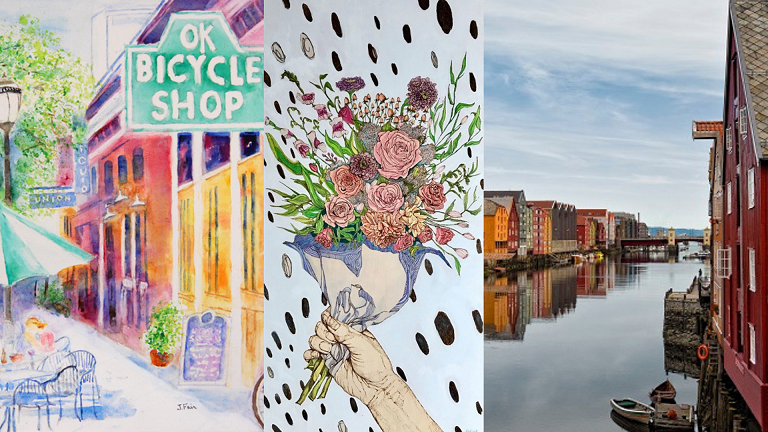 Dates: April 3rd – 29th, 2019
This April, see the artistic side of wood-burning by Kathleen Kirk Stoves, find your favorite local hangout among Jerry Fair's watercolors, and see through the lens of the photographers of Camera South. MAC's exhibitions will hang from April 3rd – 29th, with a special reception from 5 to 9 p.m. on LoDa ArtWalk night, April 12th. Gallery hours are 9 a.m. – 4 p.m. on weekdays.
The word pyrography comes from the Greek: writing with fire. You may have heard it called wood burning, referring to the process by which the artist etches designs into the wood's surface with a heated metal point. This is how South Jersey native Kathleen Kirk Stoves created her most recent collection, "Feels Like Me," in which she highlights how we use our senses to understand, transmit, and enhance our emotions.
If you frequent the Market on the Square, you may recognize Jerry Fair and his watercolors. And if you frequent the city of Mobile, you'll surely recognize many of the street scenes and local landscapes represented in his work. Fair uses watercolors in a loose, evocative style that lends itself to portraying the relaxed Gulf Coast lifestyle. In this exhibit, Fair has included over 20 original pieces and prints of scenes from Mobile and the surrounding areas
In "Through Our Lens," the photographers of Camera South allow us to see the world as they do. Camera South Photography Club is a local group of photographers who come together to develop new skills, exchange ideas and learn about the art of photography. Photographers of all levels of experience are welcome. Participating members include Aggie Little, Carl Fallo, Debbie Jone Kuykendall, E.J. Wright, Eric de Jong, Gwen Ainsworth, Jerry L. Hammon, Jon Jeffress, Michele Zaricor, Mona Tackett-Denton, Mary Kay Hammon, Pat Kearns, Rebecca Parsons, Sue Carney, Tommy Cooper, and Yvonne Fallo.
The Artys is an annual awards program that celebrates the important contributions that individuals, groups, and businesses make to the Mobile cultural community. Finalists have been announced in the remaining nine award categories, with winners to be announced live at the event.
Artys attendees will enjoy a night of celebration, complete with food, drinks and entertainment in many forms. A jazz trio comprised of John Milham, Chris Spies, and Chris Severin will play, with performances by Mobile Opera and Joe Jefferson Players throughout the ceremony.