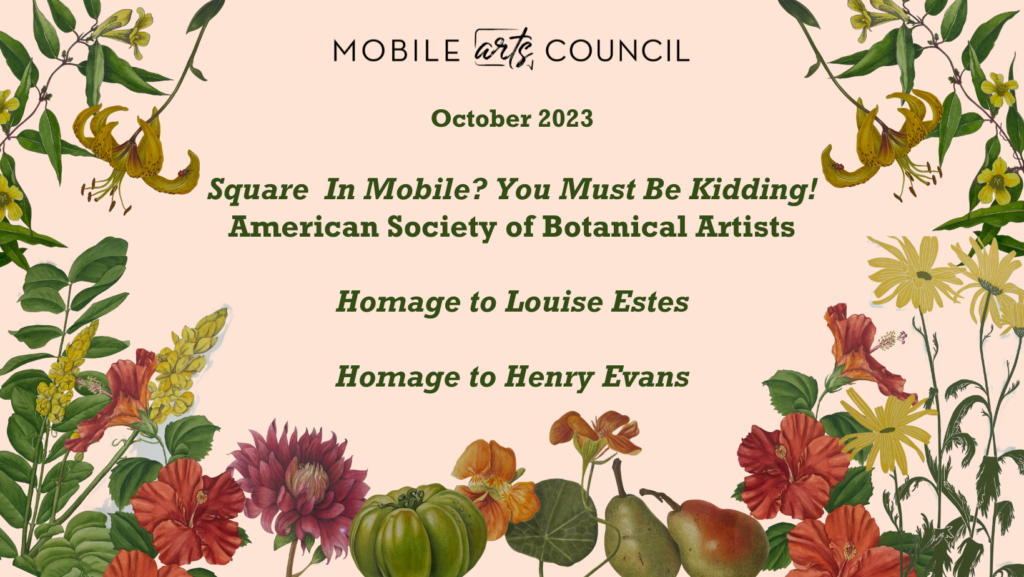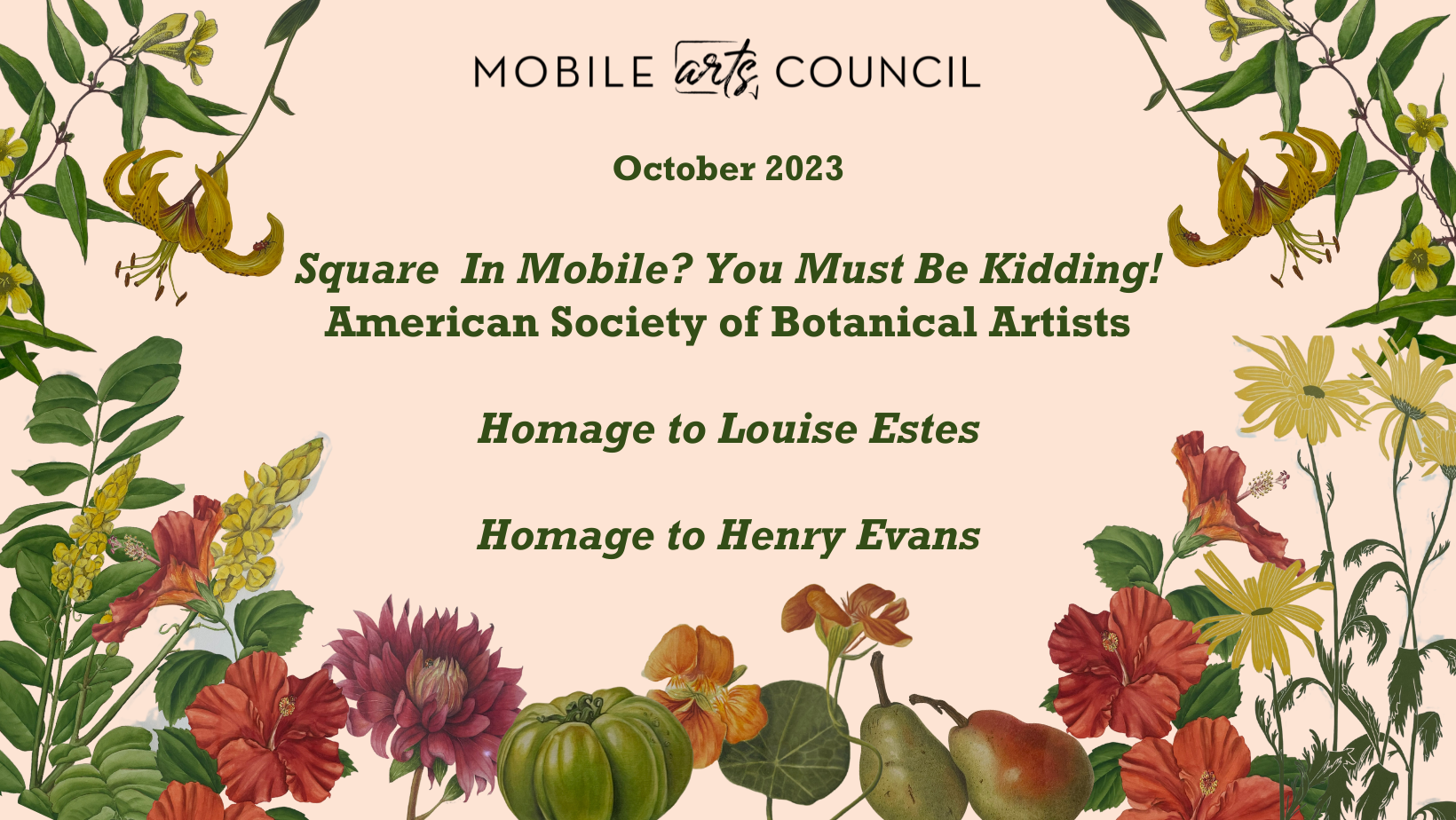 October 2023: American Society of Botanical Artists, Louise Estes, & Henry Evans
This October, MAC features 3 new exhibitions: Square in Mobile? You Must Be Kidding! from the American Society of Botanical Artists, Homage to Louise Estes, and Homage to Henry Evans. These exhibitions feature botanical art in various mediums from local, national, and international artists.
The American Society of Botanical Artists provides a thriving, interactive community dedicated to perpetuating the tradition and contemporary practice of botanical art. Square in Mobile? You Must Be Kidding! is a small works exhibition featuring 66 works from as many artists, and is open to all registered attendees of the 2023 ASBA Conference. Contemporary botanical art grows from long established traditions, integrating the history of art and the sciences of botany, horticulture, medicine and agriculture. Knowing this history adds to their pleasure in viewing botanical art today. As artists their vision is expanded, and skills enhanced by studying the work of their forebears. For observers and collectors, appreciation matures with a greater understanding of the traditions and evolution of the genre.
Louise Estes (1923-2017) was inspired by the beauty she found at Bellingrath Gardens and Home in the 1960's and 70's, where she meticulously recreated her favorite specimens of camellias, roses and other beautiful flowers in naturalistic watercolors. She painted more than 200 Bellingrath-inspired watercolors, many of which are on display at Bellingrath. Several of her works were featured on many of Bellingrath's mailings. From her earliest years, she said, "I always loved to paint," enrolling in art classes whenever she could. At age 16, she won a scholarship to study art in New York City at the Traphagen School of Fashion. In 1959, she and her husband, Bill, moved to Mobile from Opp, Ala. Her son, John, remembered accompanying her on her drives to Bellingrath, where he would explore the Gardens while she selected blooms to paint. "I remember being self-conscious" as his mother picked flowers, he said, even though she had permission to do so. Mrs. Estes's naturalistic watercolors have been exhibited at the National Arboretum (Washington, D.C.), the Arboretum at Cheekwood (Nashville), Callaway Gardens (Pine Mountain, Ga.), Bellingrath Gardens and Home, and many other galleries, as well as by organizations including the Garden Writers of America, Men's Garden Club of America, the American Rose Society, and the American Camellia Society. Two of her camellia watercolors hang in the State Dining Room of the Governor's Mansion in Montgomery. In 2010, a selection of her paintings was exhibited at the Mobile Arts Council. Mrs. Estes's painting of "Iris" was included in the 6th International Exhibition of Botanical Art and Illustration at the Hunt Institute for Botanical Documentation at the Carnegie Mellon University and remains in the permanent collection. In 1986, she was commissioned by the American Rose Foundation for a series of limited edition prints of her paintings of the "Dainty Bess," "Touch of Class," and "Europeana" roses. In 1992, the Mobile Rose Society dedicated its annual Rose Show to her. Mrs. Estes was also named the Official Artist of the World Rose Society and she has had an award-winning rose named for her. Mrs. Estes died on September 28, 2017, at the age of 94.
Henry Evans (1918-1990) began making botanical prints in 1958, depicting some 1400 subjects in 31 years. In that time, he was accorded more than 250 one-man shows in many countries around the word and, almost every state in the union. Admired by art lovers and naturalists alike, Henry's work reveals a style intriguingly personal and botanically faithful, unerring in its feeling for rhythm and design. Self-taught as a printer, botanist and artist he developed a unique style and technique. He drew directly from living subjects, and all subjects were portrayed life-size. He used linoleum as a printing surface and an 1852 Washington Hand Press to make the prints. All of the work was done by hand. All of the materials that were used were of the best quality, and all of the editions were limited. Each linoleum-block print was numbered, dated and signed by the artist. After printing, the blocks were destroyed. Henry Evan's linocuts are found in the great print collections of the Albertina in Vienna, the Library of Congress in Washington, and the New York Public Library, in various museums and libraries across the country, and in a number private collections in America and abroad. Henry Evans wrote and illustrated books and magazine articles, talked before groups both here and abroad on printmaking (including a stint of lectures for the State Department in Europe and the Middle East), and along with his wife Marsha, met the public in their galleries in the Napa Valley and San Francisco. From 1974, Marsha worked on shows and gallery arrangements and did most of the presswork on the prints. Henry selected the subjects, made the drawings, cut out the blocks and mixed the colors. It was, in the best sense, a husband-wife-team. Among numerous publications, the artist's most important books and portfolios include The State of Flowers of the United States (1972); Botanical Prints: With Excerpts From the Artist's Notebook (1977); and California Native Wild Flowers (1985). Some of the more notable exhibitions of Henry Evans's prints have been held at the Hunt Institute for Botanical Documentation in Pittsburgh, the National Arboretum in Washington, Northwestern University at Evanston, The Royal Horticultural Society in London, the Field Museum in Chicago, the Smithsonian Institution in Washington, McGill University in Montreal, the Missouri Botanical Garden in St. Louis, the California Academy of Sciences in San Francisco, and the Los Angeles County Museum.
Special thanks to Dr. Todd Lassaigne, Executive Director of Bellingrath Gardens and Home for the generous loan of Louise Estes original drawings.
Special thanks to Dr. Bill Barrick, Executive Director Emeritus of Bellingrath Gardens and Home for the loan of Louise Estes Camellia prints and Henry Evans prints.
These exhibitions will hang in MAC's Gallery @Room 1927 from October 5th through October 31st, 2023.