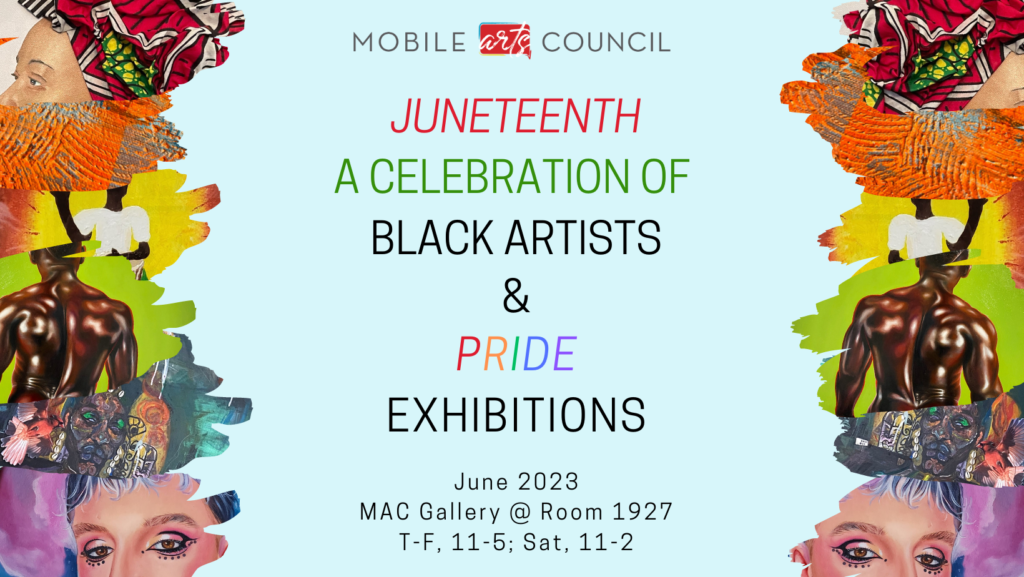 June Exhibitions: Juneteenth: A Celebration of Black Artists & PRIDE
Stop by MAC's Gallery @ Room 1927 from June 6th until June 30th to see the Juneteenth: A Celebration of Black Artists and PRIDE exhibitions, featuring Mobile-area Black and LGTBQ+ artists and allies! Gallery hours are 11 a.m. – 5 p.m. on Tuesdays – Fridays and 11 a.m. – 2 p.m. on Saturdays. We will stay open until 9 p.m. on ArtWalk night, June 9th!
Juneteenth is a federal holiday in the United States commemorating the emancipation of enslaved African Americans. Participating artists include Brandin Stallworth, Charles Washington, Cherrelle Jefferson Smith, Colin Al-Greene, Kay Williams, Leo Ferreira, Linda Angelina Stevens, Margaret Richey, Terri Foster, and Ty Tover.
On June 19, 1865, about two months after the Confederate general Robert E. Lee surrendered at Appomattox, Va., Gordon Granger, a Union general, arrived in Galveston, Texas, to inform enslaved African Americans of their freedom, and that the Civil War had ended. General Granger's announcement put into effect the Emancipation Proclamation, which had been issued nearly two and a half years earlier, on Jan. 1, 1863, by President Abraham Lincoln. The holiday is also called "Juneteenth Independence Day," "Freedom Day" or "Emancipation Day."
Lesbian, Gay, Bisexual, Transgender and Queer (LGBTQ) Pride Month is an annual celebration of the many contributions made by the LGBTQ+ community to history, society, and cultures worldwide. Participating artists include Ben Kaiser, Colin Al-Greene, Charles Washington, Ginger Woechan, Harmony Barnette, Leo Ferreira, Liberty Barnette, Marnée Wiley, Mayssam Iskandar, Rachel Evans, Sarah Rutledge Fischer, Savannah Mercer, Ty Tover, Vanessa Quintana, and Walker Ladd.
In most places, Pride is celebrated throughout June in commemoration of its roots in the Stonewall Riots of June 1969.The Stonewall Uprising was a tipping point for the Gay Liberation Movement in the United States. By the time the Stonewall Riots ended on July 2, 1969, the gay rights movement was no longer a fringe issue largely ignored by politicians and the media, but front-page news internationally. Initially, the last Sunday in June was celebrated as "Gay Pride Day," in the U.S., but the actual day was flexible. In major cities across the nation the "day" soon grew to encompass a month-long series of events. Today, celebrations include pride parades, picnics, parties, workshops, symposia and concerts, and LGBTQ Pride Month events attract millions of participants around the world. Memorials are held during this month for those members of the community who have been lost to hate crimes or HIV/AIDS.
The Mobile Arts Council strives to foster a diverse and accepting culture, and we hope that these exhibitions will highlight many of the wonderful Black and LGBTQ+ artists in the Mobile area.