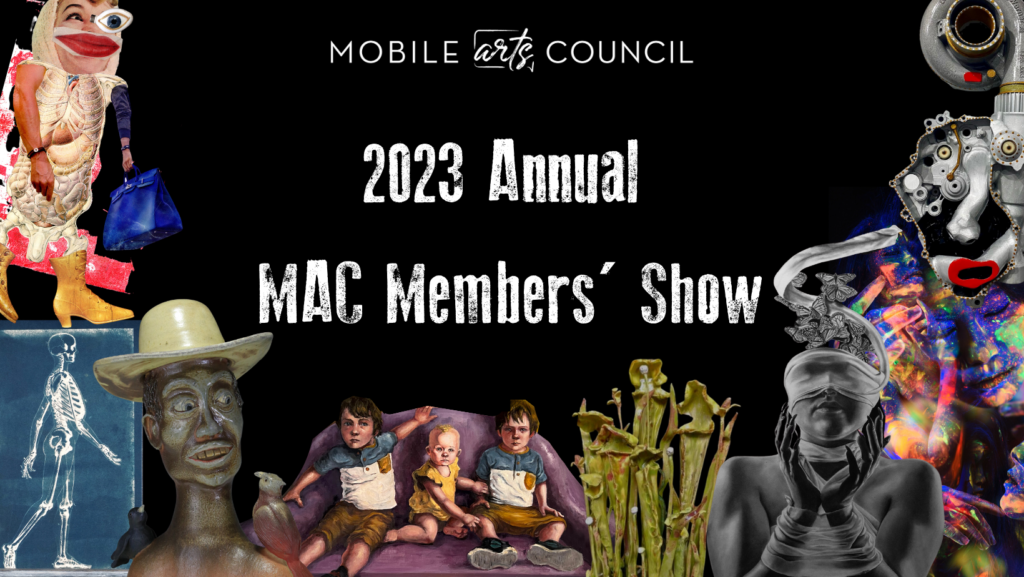 2023 Annual MAC Members' Show
The 2023 Annual MAC Members' Show features 69 artists in a variety of artistic mediums and styles representative of our area. Unlike our typical month-long exhibitions, this show will be featured in our gallery throughout the months of August and September! We will announce the awards, sponsored by the Dempsey & Litchfield Fund, on August 11th during LoDa ArtWalk.
Prizes for the MAC Members' Show will be awarded as follows:
Best in Show – $500
2nd Place – $300
3rd Place – $250
Dempsey & Litchfield Award – painting, photography, or drawing specifically focused on the greater-Mobile area – $200
Members' Choice Award – $150
Honorable Mention – $75
Honorable Mention – $75
Do not forget to cast your vote for the Members' Choice Award! Each MAC Member is eligible for one vote. Voting concludes at midnight on Friday, September 1st. The winner will be announced on Friday, September 8th during LoDa ArtWalk. You MUST have an active Mobile Arts Council membership by September 1st for your vote to be eligible.

This year's judge is Paulette Dove. Paulette received her B.FA. And M.Ed. from Miss. University for Women and William Carey College. Her Education included "Water Media Encounter at Louisiana Tech University, Savannah School of Art and Design, Mary Todd Bean workshop at the Bascom Museum in Highland, N.C. She has taught many years in Biloxi, West Virginia and Mississippi Gulf Coast College. Paulette has also served as an educator at the Ohr-O'Keefe Museum of Art and Walter Anderson Museum of art in the past. Paulette prefers to work mostly in acrylic, mixed media and pottery. Paulette is a native Biloxian and has been painting and exhibiting on the gulf coast for many years. She is a member of the Ocean Springs Art Association the Singing River Art Association, President of the South Mississippi Art League and board member of Mississippi Art Colony. Her work has been displayed throughout the South. She currently works from her "Side Door Studio" located in Biloxi, MS. "…pattern and texture found in my work is meant to evoke images and thought of untold stories. I paint, literally and figurative from past experiences using symbols as central figures to create a common language…"
Participating artists include Amanda Youngblood, Amelia Weeks, Ana Gabriel Rel, Anna Cherry, Barbara Cobb, Barbara Spafford, Brian Tan, Bryant Whelan, Carol Wiggins, Carolyn Joseph, Cherrelle Jefferson Smith, Cheryl Nicholls, Christopher Murray, Crystal Jackson, Curtis Clark, Daniel Domenzain, Debbie Davis, Debi Parnell, Durand Seay, Elizabeth Brooks, Eric Achenbach, Eric Boone, Frank Ledbetter, Frank Vogtner, Freddie Blache, Ginger Woechan, Hazel Pitsios-Luther, Janie Brown Johnson, Jim Laugelli, JoAnn Cox, Joe Sims, Juli Day, Karen McGahagin, Karen House, Kathryn Sims, Kathryn Cariglino, Kathy Sowder, Katie Kaufman, Katie Thompson, Kay Spencer, Kelly Estle, Kimberly Zuckley, Kym Vanover Brown, Laurie Schaerer, Leslie Elmore, Louis Tooker, Lynne Weeks, Marty Graw, Mayssam Iskandar, Micah Mermilliod, Mike Carmichael, Mike Kittrell, Nancy Goodman, Philippe Oszuscik, Phyllis Henson, Ragan Windsor, Renee Wallace, Rudolph Villarreal, Savannah Mercer, Soynika Edwards-Bush, Susan Rouillier, Stephanie Bromley, Stephanie Zaputil, Steven Dark, Tarrell Portman, Tim Vaught, Ty Tover, Vernon Fowlkes, and Walter Dedrick.
The 2023 MAC Members' Show will hang in MAC's Gallery @Room 1927 from August 8th through September 30th.