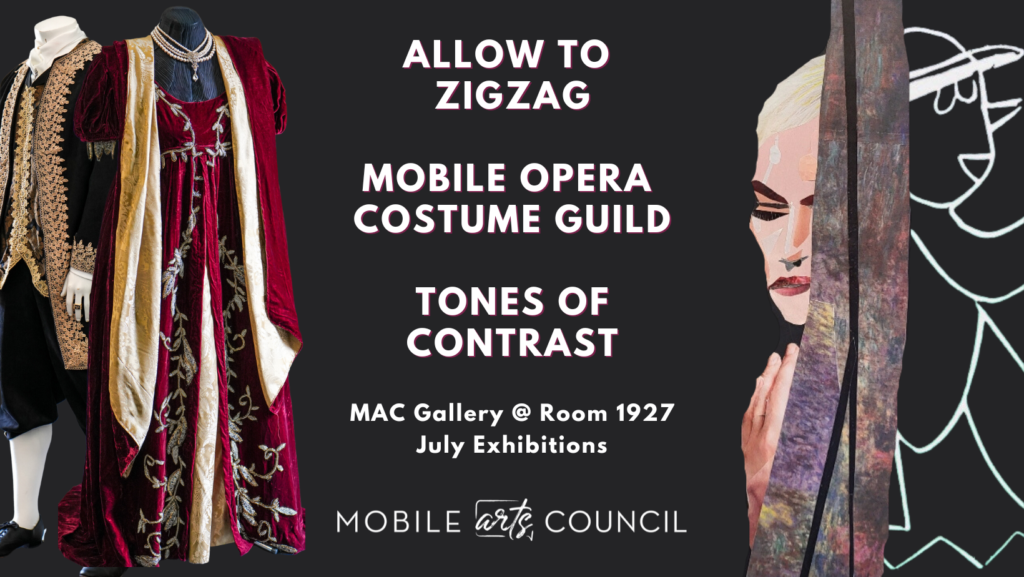 July Exhibitions: Mobile Opera Costume Guild, Deborah and Louis Bassett, & Via Health Class Group Show
Stop by MAC's Gallery @ Room 1927 from July 6th until July 28th to see three new exhibitions: "The Fabric of Opera: Costuming for the Stage," "Allow to Zigzag," and "Tones of Contrast." Gallery hours are 11 a.m. – 5 p.m. on Tuesdays – Fridays and 11 a.m. – 2 p.m. on Saturdays. We will stay open until 9 p.m. on ArtWalk night, July 14th!
"The Fabric of Opera" explores how the Mobile Opera Costume Guild makes magic out of the ordinary. Primarily using donated fabrics, notions, and embellishment, the MOCG creates fabulous costumes. In the hands of the Mobile Opera Costume Guild castoff draperies and extra upholstery fabric become elegant gowns, dashing jackets, capes, aprons, and vests that are a treat for the artists who create them and a delight for the audience that views them. Featuring 20 costumes created by the Costume Guild through the years.
"Allow to Zigzag" features the work of Deborah & Louis Bassett. Deborah is a multidisciplinary and multi-media artist based in Pensacola, Florida. She works with 2D materials, photography, printmaking, and conceptual/performance art. She has studied visual art with professional artists in Boston, MA and Pensacola, FL through group and private instruction and has worked in fine art galleries in Cambridge, MA, Pensacola, FL, and New Orleans, LA. Louis has been making art since he was a toddler and able to hold a paintbrush. He has recently completed third grade and continues to make art, especially fantasy, in addition to writing poetry and screenplays, reading Japanese anime, learning to play the trumpet, and playing sports. Books containing all Allow to Zigzag prints and poems available for purchase.
"Tones of Contrast" gives opportunity for the artists and audience to explore dimension. Faces have significant dimension, and this exercise was to discern and display it by using tonal value from light to dark to interpret and convey "dimension" using recycled paper as primary medium. With the enormous supply of printed matter, it provides a way to recycle creatively what would otherwise be deemed wastepaper. It provides a new tool for artists and viewers to "see dimensional contrast" while embracing an ecologically useful philosophy.