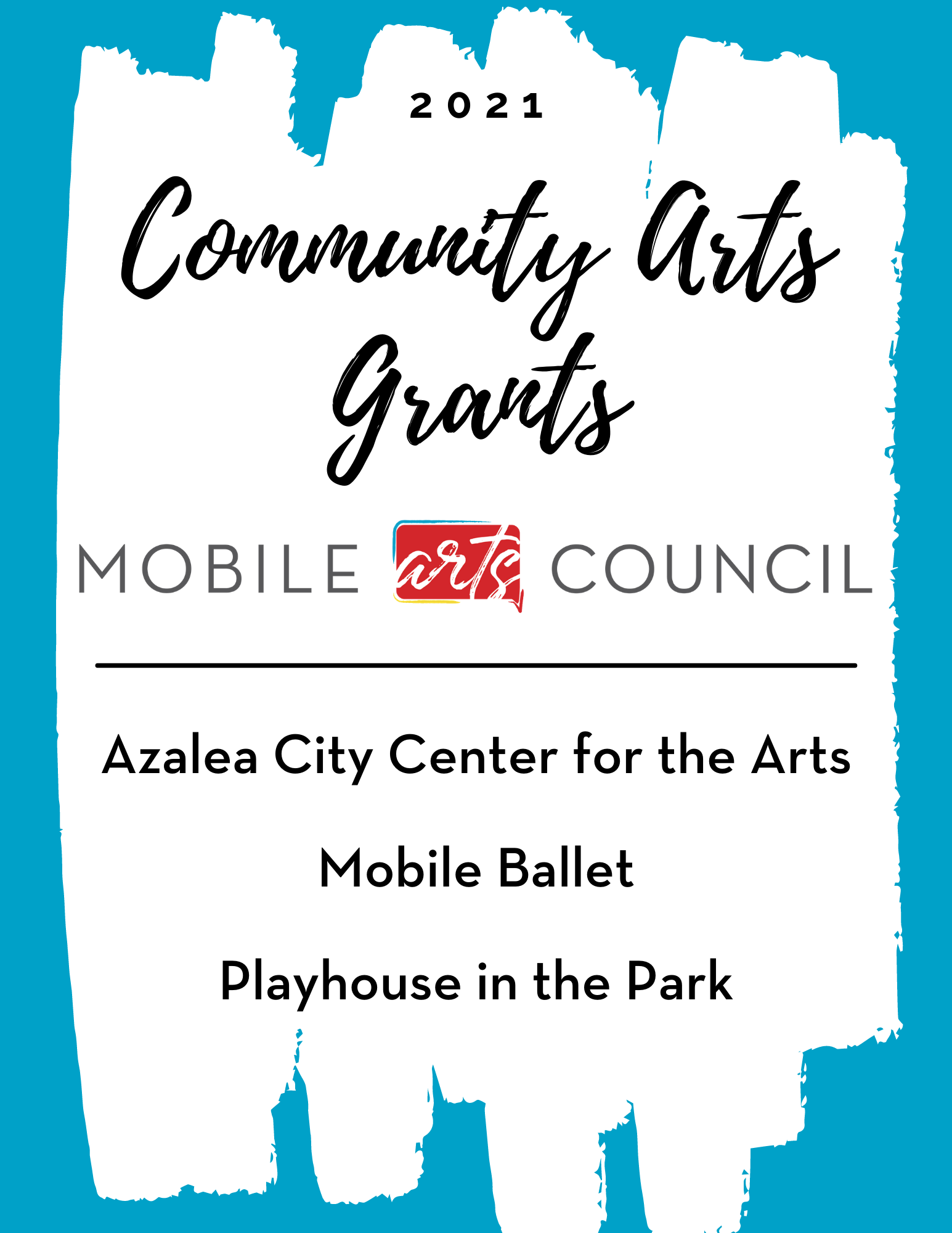 2021 Community Arts Grants Recipients
MAC's 2020 Community Arts Grants Program was delayed due to the abrupt cancellation of our spring fundraiser, the Taco Takedown. Thanks to the support of Representative Adline Clarke, this year's grant distribution was made possible with a focus on education, accessibility, and creating opportunities through the arts.
MAC is proud to present three $1,800 grants to the following organizations: the Azalea City Center for the Arts, Mobile Ballet, and Playhouse in the Park. These funds will be specifically used towards programming which helps build accessibility to the arts in the greater-Mobile area. The 2021 Community Arts Grants will help fund the Azalea City Center for the Art's In-School Educational Concert program, Mobile Ballet's Discover Dance program, and Playhouse in the Park's Theatre Scholarship program. Congratulations to these organizations!
The 2022 Community Arts Grants Program will have a similar focus, and will likely open at the beginning of 2022. Dates currently TBD.
About the Community Arts Grants Program
Mobile Arts Council's origins are rooted in arts granting. MAC was founded by the Junior League of Mobile in 1955 as an informational center and a regranting organization to support the local arts and cultural community. Since that time, MAC has expanded to serve the arts community in several ways that support our mission of art for all!
Projects may include classes, workshops, guest artists, performances, exhibits, professional development, and activities designed to promote accessibility to the arts. The aim of the 2021 Community Arts Grants is to facilitate projects which achieve some or all of the following objectives:
Encourage, support and promote accessibility to the arts.
Enhance the wellbeing of the community through educational activities and pursuits which create artistic opportunities.
A diverse group will collaborate on the project to achieve common goals.
The project or program offers educational opportunities to underserved segments of the population or underprivileged communities with fewer opportunities.
Organizations must use funds towards special projects. This is awarded to certified nonprofit arts organizations that demonstrate a consistent track record of high artistic achievement, public service, and managerial competency. Eligible organizations are expected to have a well-maintained educational outreach program and/or broad-based community involvement.
Applicants must be MAC members. An organization that has already received funding through the Mobile Arts Council in 2019 is not eligible. All sections and fields of the application must be completed with required attachments before submitting, or it will not be considered. Funding must be used within one year after being awarded, followed by a mandatory evaluation report. All applicants must be legal residents of the Mobile or Baldwin County area and must have lived in Alabama for two years prior to the application deadline date and are expected to maintain residency during the grant award year (January 2021 – December 2021).
Frequently Asked Questions
What are the grant categories, and how many will be awarded?
Arts organizations are eligible in any arts medium: crafts, dance, design, fine art, media/photography, music, literature, or theater. Projects must align with one or more of the 2021 Community Arts Grants objectives, listed in the Guidelines. Three $1800 grants will be awarded.

What is the grant application deadline?
The grant submission period opens on November 15th through January 24th at 11:59 p.m. No late entries will be considered.

When is the grant notification date?
All applicants will be notified by the end of January. 100% of funds will be awarded by February.

What should be included in my budget?
Your budget should include an estimate on how you plan to spend your funding. This can include materials, transportation, administrative fees, artist fees, rental costs, and more. If you have a cash or in-kind match for your project, please include this in your budget. A match is not required to apply.
What is to be expected from the Organizational Background document?
Organizational Background and Board Document are required for organization applicants. These documents should be a maximum of two pages. Organization documents should include a list of your board of directors, a listing of recent activities, and a brief history of your organization.
What should I include in my project narrative?
Your project narrative should include a timeline, your list of proposed activities, and your goals in accomplishing your project. All projects must be completed within one year of the award funding to be eligible. Your narrative should align within one or more of the Community Arts Grants objectives listed in the Guidelines.
How should I label my attachments?
All attachments should be labeled your organization name, followed by an underscore and the title. If you do not have a title, use a descriptive word. Example: The Mobile Arts Council's image of a recent mural project would be titled "MobileArtsCouncil_Mural."
What is the evaluation report, and when is it due?
If awarded, you will be required to submit an evaluation report. This will be due when all the funds have been expended or 12 months after granted to update us on the status of your project. This report will help us understand not just how you spent the funds, but its impact on your community. Payout of any future awards will not be considered until this report has been received.
What else is expected from grant recipients?
Recipients of all grants will be publicly acknowledged on our social media accounts, as well as in Mobile's main media sources (newspapers, local news channels, etc.). Recipients may be expected to be photographed upon acceptance of their award to help promote their projects, as well as highlight MAC's contribution. Recipients are expected to acknowledge MAC upon completing their proposed projects.

Community Arts Grants: Timeline
PROPOSAL TIMELINE:
November 14, 2020 – RFP Open.
January 24, 2021 – Application submissions end at midnight.
January/February 2021 – Award winners announced, and grant money distributed in full.

GRANT CYCLE:
February 1, 2021 – January 31, 2022
January 31, 2022 – Grant cycle ends.
February 28, 2022 – Final evaluation report due.