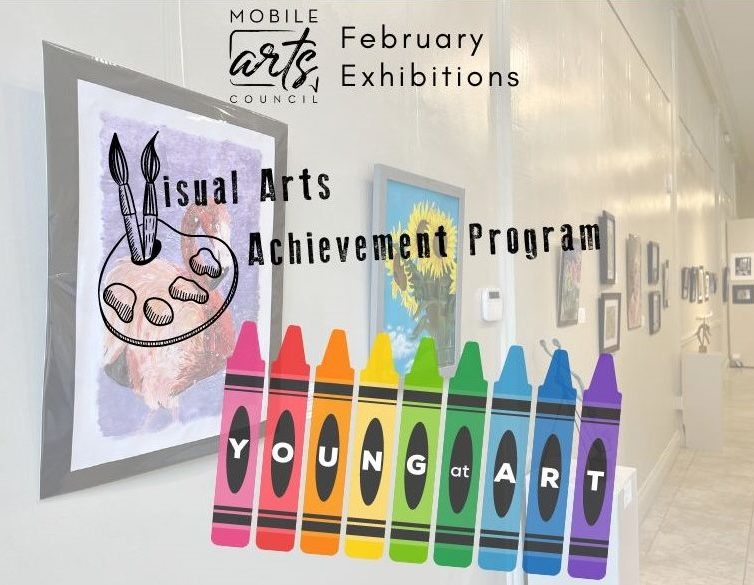 February Exhibitions: Visual Arts Achievement Program & Young at Art
This February, MAC's Gallery @ Room 1927 will feature two exhibitions: The District 1 Visual Arts Achievement Program and Young at Art.
The Visual Arts Achievement Program provides opportunities for students in grades 6 through 12 to be recognized for their contributions to the visual arts at the local and state levels. View the statewide schedule on ASCA's website here. The District 1 juried exhibition will hang from February 4th until the awards ceremony on Sunday, February 26th from 1:00 p.m. to 3:00 p.m. at the MAC Gallery.
Those eligible for District 1 include public and private schools Baldwin, Clarke, Conecuh, Escambia, Mobile, Monroe, and Washington counties. Every student who receives a District Award will be recognized in the State Awards from the Alabama State Council on the Arts online. All entries, in person and virtual, must be submitted online. Private studios are not eligible to submit work. Entry categories include painting, drawing, 3-D/craft, sculpture, photography/new media, and printmaking.
Concurrently, Young at Art is for 5th grade students and below and not included in the juried competition. These entries must be equipped to hang (with a wire, sawtooth hanger, contact strips, or some other way that does not stick out of the top of the artwork). Unlike VAAP, this show is also open to private lesson teachers.
Contact Sydney Cramer at scramer@mobilearts.org or 251-432-9796 for more information. Gallery hours are 11 a.m. to 5 p.m., Tuesday – Friday and 11 a.m. to 2 p.m., Saturday. For special Mardi Gras hours, the gallery will close at 4 p.m. on Thursday and Friday, February 16th and 17th, and remain closed through February 21st. All normal business hours will resume Wednesday, February 22nd.