Each month, our community gallery features new exhibitions of original works created by local and regional artists in our Gallery @ Room 1927, located at 6 South Joachim Street (next door to the Saenger Theatre). The gallery is open Tuesday through Friday from 11 a.m. to 5 p.m. and Saturdays from 11 a.m. to 2 p.m. Any artists are eligible and may submit a proposal for consideration. Exhibitions are usually displayed from the first Wednesday through the last day of each month.
In addition to our traditional gallery, we are now also accepting proposals for quarterly exhibitions in our window display cases, located between Room 1927 and the Saenger Box Office. If you are interested in creating a window installation, email director@mobilearts.org.
Join us on the second Friday of each month during LoDa ArtWalk for our exhibition receptions. Meet the artists, see their work in person, and create a personal connection with what is on display. Our gallery is open to the public Tuesdays - Fridays from 11 a.m. to 5 p.m. Those that are vaccinated are not required to wear masks in the gallery. View our extended Virtual Gallery program, implemented during the 2020 quarantine, online here. View our current and recent exhibitors below!
Our Community Gallery program is made possible thanks to the Daniel Foundation of Alabama and the J.L. Bedsole Foundation. To sponsor an exhibition, please see our Sponsorship Information.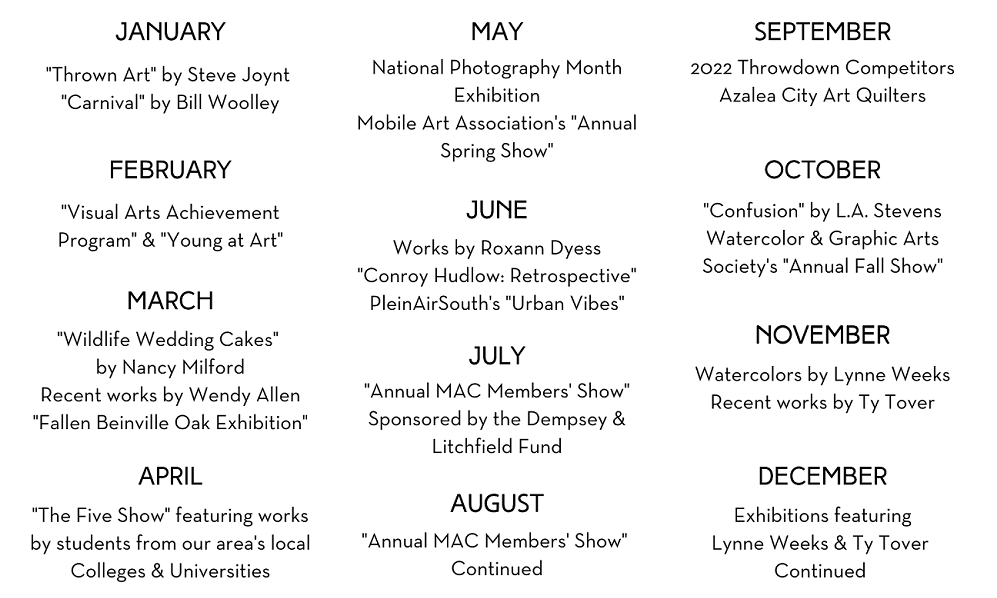 January Exhibitions: "Carnival" by Bill Woolley & "Thrown Art" by Steve Joynt
This January, the Mobile Arts Council's Gallery @ Room 1927 will feature two exhibitions: Carnival by Bill Woolley and Thrown Art by Steve Joynt. Gallery Hours are 11 a.m. to 5 p.m. on Tuesdays – Fridays and 11 a.m. to 2 p.m. on Saturdays. These exhibitions will hang through Friday, January 28th.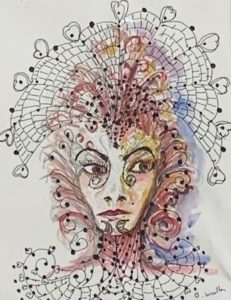 William Matthew Woolley, known to his friends as "Bill," was born and reared in Memphis, Tennessee. Bill started his art career after high school, when he was awarded a scholarship to the Memphis Academy of Art. Bill has maintained his activity within the visual arts world by taking classes at VIA Community Center, being a member of the Mobile Arts Council-- Carnival is his second exhibition with the organization, and most recently designing the window display in honor of Eugene Walter's 100th birthday. Pieces from his first show with MAC are now in the permanent collection at the Louisiana Mardi Gras Museum in New Orleans. Bill's ability to combine reality and fantasy is unique, with glimpses of wonderful humor as well. Carnival explores the wonderous and colorful world of puppets, ballet, court jesters, and more! His watercolor paintings offer a glimpse into Bill's beautifully artistic mind, and his puppet creations, made in partnership with fellow artist, Lynne Weeks, bring about a sense of jollity with their unusual proportions and wonderfully humorous headdresses.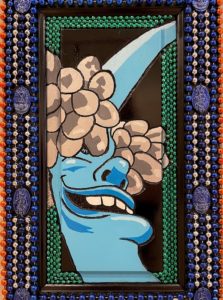 Like so many artists, Steve Joynt showed from an early age that there was art in him. When he was old enough, he took art lessons from an old lady who had a bunch of easels in her basement. Pastels, charcoal, watercolor, oil, he learned them all. By college, however, Steve set his sights on journalism – specifically newspapers – and creating art became something he did once in a great while. In all of that time, Steve felt he'd never actually found his artist's voice, his style, if you will. All of that changed about 20 years ago, when he got the idea to take a partial mannequin he still had from his college days, paint it black, and glue Mardi Gras beads all over it. That's how Thrown Art was born and how Steve came to actually think of himself as an artist for the first time in more than 25 years.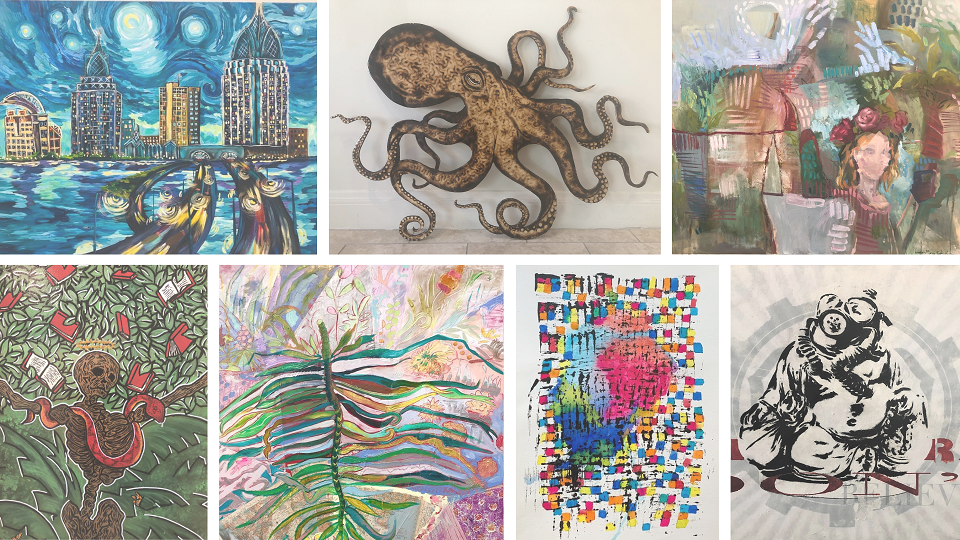 This September, see works by the five artist competitors in this year's Throwdown, a collection of paintings by designer Alma Hoffmann, and the "DON'T Campaign" by local graphic artist Conz8000.
Are you ready for The Throwdown? On September 20th, five local artists will compete to create works of art in just 90 minutes, which will then be auctioned off at the end of the evening. While these artists work, guests will enjoy libations, musical performances, a fantastic silent auction, and delicious eats. This year's event will take place from 6-9 p.m. in the air-conditioned Medal of Honor Aircraft Pavilion at USS ALABAMA Battleship Memorial Park. This year's competing artists – Anna-Marie Babington, Mary Elizabeth Kimbrough, Brandin Stallworth, Patrick Tucker, and Ginger Woechan – will have samples of their work on display at the gallery this month.
Alma Hoffmann is a professor of graphic design at the University of South Alabama. In her exhibit at MAC, Hoffmann falls away from the structure and order of her design career. She seeks to contrast the "mundane" aspects of making art – the tediousness of the daily grind – to the "sublime" moment in which the artist's ideas manifest themselves physically on paper. Hoffman describes what inspires her to create: " From events on the news, a keen awareness of my sense of duality in the present societal context, being a bilingual speaker, living navigating two cultures within me, and the need to say something collide to knit a piece that manifests my being."
A native of Puerto Rico, Hoffmann is a design educator with her own freelance practice, as well as a part of the editorial board at Smashing Magazine. Her book, Sketching as Design Thinking, will be published later this fall.
Conz8000 (a former Throwdown competitor himself) is a local comic book and multimedia artist and educator. His graphic, colorful work is inspired by animation, specifically anime of the 80s and 90s. His September exhibit at MAC is a collection of pieces from his Don't Campaign, a series of guerrilla art pieces meant to provoke questions in the viewer about social and political matters.
Gallery hours at Room 1927 are 10 a.m. to 4 p.m. on Tuesdays – Fridays. The exhibitions will hang from September 4th through 27th, with a special reception from 6 p.m. to 9 p.m. on Friday, September 13th, LoDa ArtWalk night.
The Artys is an annual awards program that celebrates the important contributions that individuals, groups, and businesses make to the Mobile cultural community. Finalists have been announced in the remaining nine award categories, with winners to be announced live at the event.
Artys attendees will enjoy a night of celebration, complete with food, drinks and entertainment in many forms. A jazz trio comprised of John Milham, Chris Spies, and Chris Severin will play, with performances by Mobile Opera and Joe Jefferson Players throughout the ceremony.