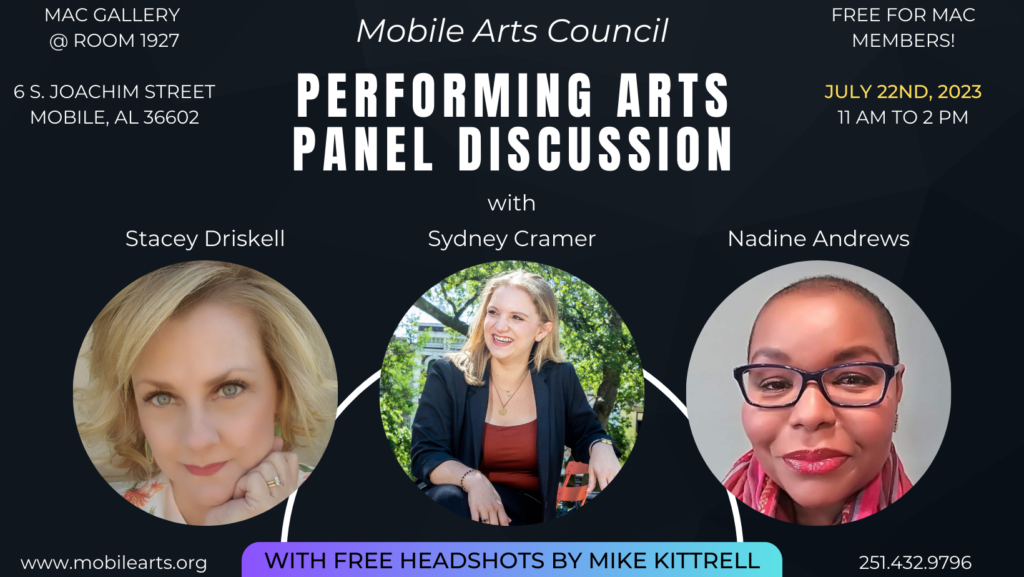 FREE for MAC Members: Performance Arts Panel Discussion & Headshots
Join us for a FREE Member Event at Mobile Arts Council's Gallery on July 22nd, from 11 a.m. – 2 p.m. We are excited to hear from professionals in our local performing arts community, gaining some insight and tips & tricks on what it takes to thrive in this area of the arts. Our panelists have backgrounds in theatre, lighting and event design, and opera. If you have dipped even a toe in our local arts scene, you're likely to recognize them: Stacey Driskell, Sydney Cramer, and Nadine Andrews.
In addition to our panel discussion, Mobile Arts Council has hired local photographer, Mike Kittrell, to provide headshots to all in attendance. You must be a MAC Member to attend. Learn more about Membership and how to join here. Please contact kat@mobilearts.org if you need assistance.
Click the button below to register. We hope to see you there!