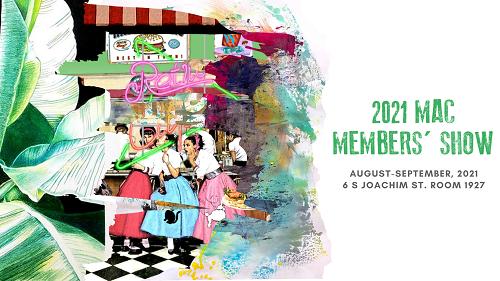 August-September Exhibition: 2021 MAC Members' Show
Each year the Mobile Arts Council hosts our Annual MAC Members' Show. This year's exhibition is sponsored by the Dempsey & Litchfield Fund and features 44+ artists in a variety of artistic mediums and styles representative of our area. Unlike our typical month-long exhibitions, this show will be featured in our gallery throughout the months of August and September! During September ArtWalk, we will announce our first-ever awards for this annual exhibition, including a People's Choice Award.
View the works for our 2021 Members' Show on our online gallery here! People's Choice voting will be available for MAC Members only (one vote per member) online using the link below until Wednesday, September 3rd! This year's exhibition judge will be Nicholas Croghan, artist, Director of The Pensacola Museum of Art, and teacher of museum studies, gallery practices and studio art classes at the University of West Florida. Our awards are possible thanks the generosity of the Dempsey & Litchfield Fund. The categories and awards are as follows:
Best in Show – $500
2nd Place – $300
3rd Place – $250
Dempsey & Litchfield Award – painting, photography, or drawing specifically focused on the greater-Mobile area – $200
Members' Choice Award – $150
Honorable Mention – $75
Honorable Mention – $75
MAC's Gallery @ Room 1927 is open from 10 a.m. to 4 p.m., Tuesday through Friday. Masks are required for all gallery visitors until further notice.