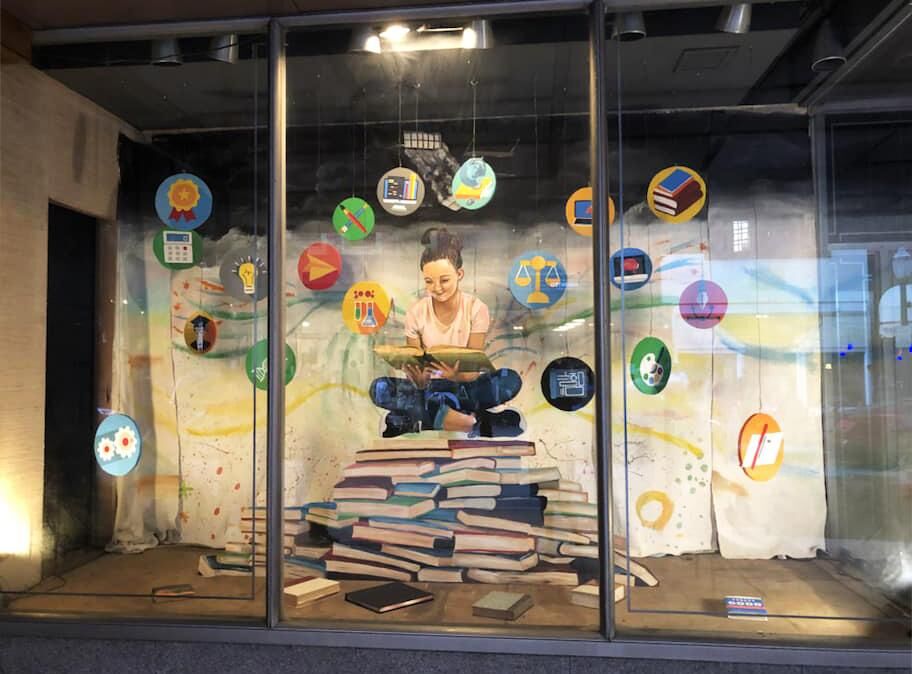 Sahar Alford recently completed the window installation of her work, "My Endless Dreams," a project she created through a collaboration with the Mobile Arts Council and female residents at SYC. The project is part of an international movement, Education Is Not A Crime, aimed at raising awareness of human rights issues in Iran.
Alford is a member of the Baha'i faith, the largest minority religion in Iran. Baha'is are not permitted to seek higher education in Iran unless they denounce their faith. Those seeking higher education outside of this law are subject to arrest and other forms of persecution.
"It's hard to believe that only a few years ago calling myself an artist was just a dream for me," said Alford. "My goal for this project was to be a voice for those suffering in Iran and also offer a positive message to the younger generation. I hope this project encourages people to follow their dreams, no matter how impossible it seems to be."
Murals and works of art have been produced all over the world to signify the power of education, religious freedom, and the unrelenting spirit of the oppressed, as inspired by the Baha'i community. The movement has inspired murals in Rio De Janeiro, Cape Town, London, New York City, San Francisco, Harlem, Detroit, and now Mobile.
"Our hope is that this installation brings to focus the oppression that's happening to not only the Baha'i, but others around the world," said Shellie Teague, Executive Director of the Mobile Arts Council. "This project fully embodies our belief that art has the power to impact and transform."
The mural represents a community effort to bring attention to this movement. The Mobile Arts Council coordinated the project, which was completed over the course of six weeks under the supervision of SYC staff. The residents were also educated on self-expression and empowering speech by Brenda Beverly, a member of the local Baha'i community and professor of speech and pathology at the University of South Alabama. The work was installed by Mobile Arts Council staff, with assistance from DWELL Mobile (refugee resettlement assistance non-profit), SYC probationers, and members of the Baha'i community at 106 Dauphin Street.
The work will hang for two months and then be donated to the Mobile Public Library as a Christmas gift to be displayed permanently in one of their locations.
For more information on Education Is Not A Crime, visit www.notacrime.me.