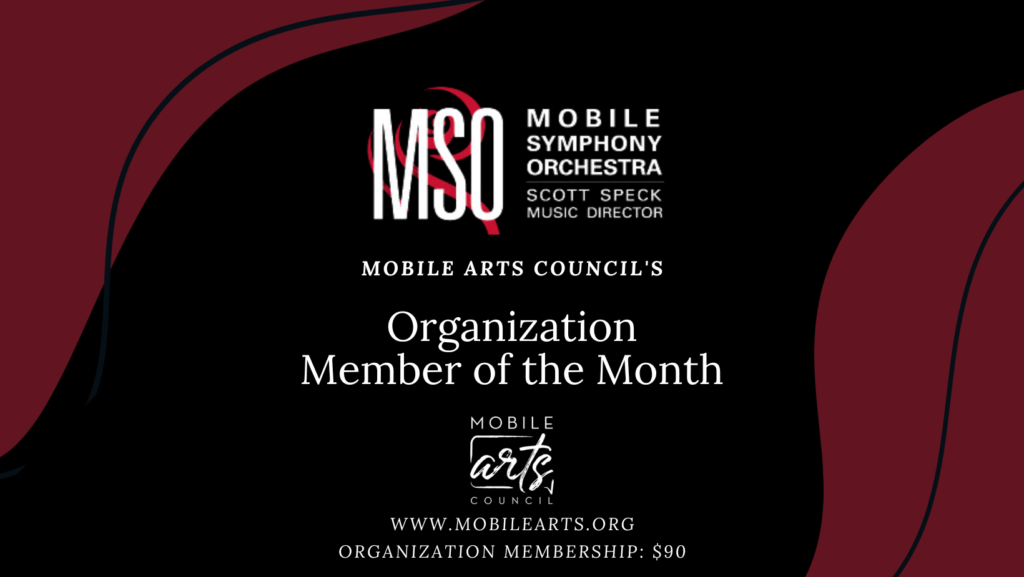 August Organization Member of the Month
Congratulations to our August Organization Member of the Month, Mobile Symphony Orchestra!
The Mobile Symphony Orchestra (MSO) enhances lives by achieving the highest standards in live symphonic music and music education. They accomplish their mission through their vision: by creating an environment that allows for the presentation of the finest quality music; attracting and hiring exemplary musicians and high quality teachers; developing and maintaining a staff and board who are competent and passionate about the Mobile Symphony Orchestra; expanding music education and performance opportunities for all students; serving as an indispensable resource to the entire community; and achieving and maintaining a firm financial base.
Under the leadership of Music Director Scott Speck and President/CEO Celia Mann Baehr, MSO serves as cultural leader on the Gulf Coast, contributing significantly to the quality of life in the Mobile Bay community. By providing outstanding symphonic music and award-winning music education programs, MSO assists the region in attracting international companies and creative workers to the area. In just two decades, MSO has become Mobile's flagship arts organization, with a budget and audience exceeding all other local performing arts organizations combined. The MSO is a significant small business on the Gulf Coast, with a payroll of almost $980,000 (to cover the many artist/musician fees in addition to staffing) and an overall budget of almost over $2.2 million.
MSO's music education programs include Mobile Symphony Youth Orchestra, Strings in Schools, Preludes in Schools, Chamber Strings, String Academy and more. Registration for Strings in Schools for Mobile and Baldwin County is currently open! Visit their website to see eligible schools and contact MSO for more information. MSO offers the Big Red Ticket program, which provides two free tickets (excludes special events) for children ages 5 – 18 when accompanied by a paying adult. Please contact the box office for details.
The Mobile Symphony's 2023-24 season will feature six outstanding concerts plus two additional special events. Members enjoy early access to the special events, which include this season's popular holiday concert and the gala appearance by cellist Yo-Yo Ma on Feb. 29, 2024. Yo-Yo Ma is one of the most successful and well-known classical performers of all time!
Season Membership includes:
• Heroes & Villains, Sep. 16-17
• Beethoven and Blue Jeans, Nov. 18-19
• Firebird, Jan. 20-21
• Strings Attached, March 9-10
• Mozart's Requiem, April 6-7
• A Latin Rhapsody, May 18-19
Special Events (not included in Season Membership) include:
• Holiday Classics, Dec. 16-17
• Yo-Yo Ma Returns!, Feb. 29
Six-concert season memberships are now on sale. New and renewing MSO members can purchase tickets to the gala Yo-Yo Ma concert NOW, and tickets are selling fast. Yo-Yo Ma tickets go on sale to the general public on Sept. 5th. Tickets for the holiday concert and Yo-Yo Ma gala can be added to any membership purchase. Get concert tickets, memberships, and learn more about MSO's wonderful education programs on their website here!
Would you like to be featured as MAC's Organization Member of the Month? Click here for more information on Membership. Please contact kat@mobilearts.org with any questions.