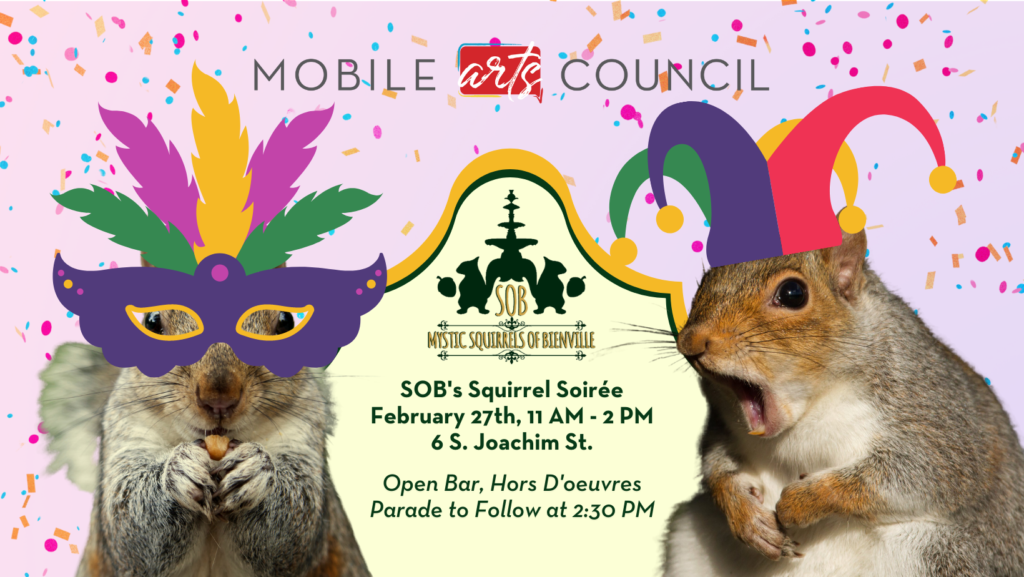 It's quickly approaching that fun and furry time of the year. The 2022 Mystic Squirrels of Bienville (Mystic SOBs) is open for sign up online here! The Mystic SOBs will be parading at the "tail" end of the Joe Cain Marching Society's People's Parade on Sunday, February 27th. Registration includes the parade day party, a squirrel mask, and peanut throws courtesy of our friends at A & M Peanut Shop! All proceeds will go towards supporting the Mobile Arts Council's programs and services.
WHEN: Sunday, February 27 (Joe Cain Day, People's Parade)
Registration open now until February 21st

The Mystic Squirrels of Bienville Square (Mystic SOBs) depict the adorable squirrel tricksters of Mobile's Bienville Square. Mystic SOBs dress in handmade costumes and throw bags of peanuts, handmade nutty necklaces, cups, beads, and any other approved throw. The group will be on foot, bike, or roller skates.

To participate with the Mystic SOBs, you must register in-person or online through the Mobile Arts Council website. Discounts are given to members of Mobile Arts Council. Membership is limited to the first 100 people.

The Mystic SOB's will be invited to get to know their fellow rodents at a "Squirrel Soiree" at the Mobile Arts Council's gallery at 6 S. Joachim Street before the parade begins. Members will be able to bring their wagons and throws to the gallery to store or temporarily drop off before the parade begins. All members must wear a squirrel mask (provided, but you can also make your own) and a tail (available for purchase on Amazon, but you can also make your own) in the parade. All other costume items and themes are open. See pictures from our last Squirrel Soiree and parade online here!