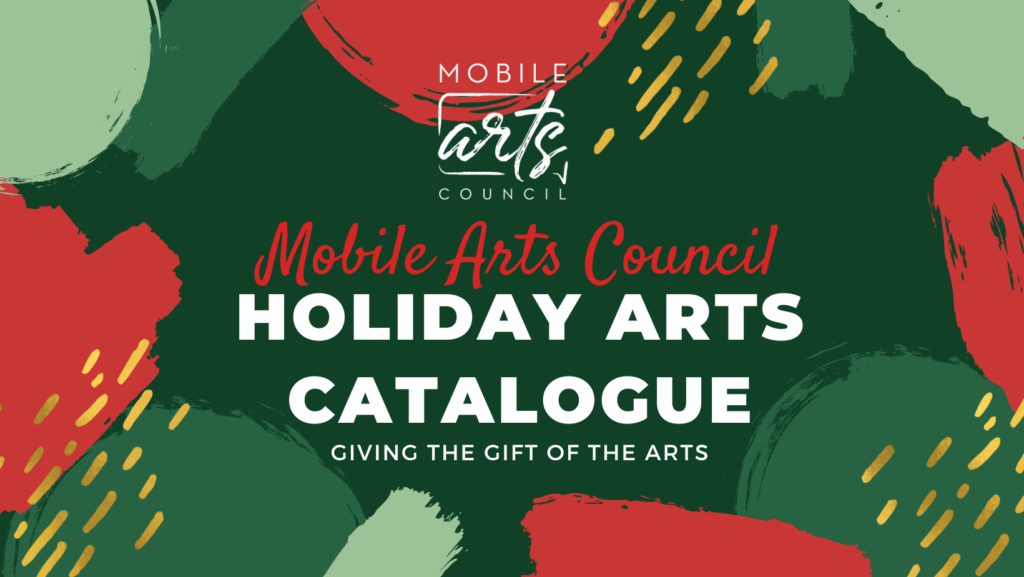 Give the Gift of the Arts!
Mobile Arts Council is excited to share our first annual Holiday Arts Catalogue! We at MAC make it our business to support our Members and promote the work they do. Why not support the Arts in Mobile this holiday season by giving a unique, handmade gift to your friends and loved ones? Do you prefer gifting experiences? Check out what our local Organization Members have to offer!
Please enjoy scrolling through our Catalogue of unique and talented artists and arts organizations. Each of these listed offer fantastic tangible gifts or experiences you can gift to yourself or your loved ones. We will continue to add to this list throughout the month. If you would like to be included, please fill out this form. You must be an active Artist or Organization Member of Mobile Arts Council to be included. Click here if you would like to renew or attain a Membership.
---
VISUAL ART
Elizabeth Brooks creates art and unique gifts that are beautiful and quirky, with a sprinkle of spooky. She has much to choose from including ornaments, cards, prints, and original paintings. Follow her on Instagram @ebofficialart to see her latest creations and promotions. To view her Etsy shop, click her name above.
Laura Compton is a textile artist who has been weaving, dyeing, and felting by hand for decades. Her work can be found within our gallery gift shop, as well as other arts organizations around Mobile. Laura makes many functional pieces including table runners, coasters, scarves, and more. Each piece is machine washable and has an incredible life span. Spruce up your holiday tables, outfits, and more with her handmade work. Click her name above for more information.
Karen House is a self-taught artist who enjoys painting in acrylics and watercolor. She has said that her art reflects her offbeat personality, spirituality, and love of nature. Click her name above to peruse her website and treat yourself to a meaningful work of art this Christmas.
This year's Throwdown Champion, Mayssam Iskandar, has a knack for capturing the soul of a person with her portrait paintings. She is also an asset to Mobile's visual art community by offering art classes to both children and adults. Challenge your artistic skills by taking a class with her this year. If you're looking for a handmade piece of Mayssam's, click her name above or visit our gallery gift shop.
Take a peek at "Mobile Bay's Premier Glass Studio" for a beautifully made gift. Click the link above to scroll through their event dates for "Blow your own ornament" and more. Offer a friend this artistic experience or make an ornament for them on your own. Either way, you won't be disappointed with Muffinjaw Designs dedication to their craft.
Nancy Goodman is an artist in residence at Central Arts Collective in Midtown Mobile. She is also a member of the Azalea City Quilters Guild. You can meet Nancy and view her work on December 3rd during the Holiday Open House and Market at Central Presbyterian Church from 10AM- 4PM. You may also reach Nancy by appointment at 251-209-6776. These quilts make the perfect gift for art collectors and quilt lovers alike.
Kenny creates and sells functional art and pendants for jewelry using epoxy resin. He and his work can be found at ArtWalk and other outdoor markets. These handmade pieces are a great gift for anyone loves unique, local art. Click his name above for more information.
---
MUSIC
Mobile Chamber Music is offering a 3-concert subscription for the new year, a wine tote bag and two 15-ounce stemless glasses for only $80. Glasses can also be purchased separately for $10 each.
Relax and enjoy some of the world's finest chamber music. Concerts take place in the beautiful Laidlaw Performing Arts Center on the USA campus. The high-quality glasses are custom made by Salinas Glass Company of Syracuse, New York. Purchases may be picked up at Mobile Arts Council after December 5th.
Have a merry little Christmas with Mobile Symphony! Mobile Symphony Orchestra's youth component is hosting a holiday concert on December 2nd at 7PM at the Foley Civic Center. MSO is hosting A Cinematic Christmas on December 10th at 7:30PM, and December 11th at 2:30PM at the Saenger Theatre. Consider giving the gift of music this season with tickets to these or future performances.
---
DANCE
Dance into the season with Classical Ballet of Mobile! They will be having their Holiday Wonders performance on Saturday, December 3rd, at Lois Jean Delaney Auditorium at Murphy High School. Purchase tickets here. If you cannot make this holiday performance, consider perusing their website for information on future performances and classes.
Join Mobile Ballet for their classic offering of The Nutcracker! Happening December 10th & 11th, enjoy getting into the holiday spirit with this beautiful work of art. Scroll through their website for ticket information and more! There is so much Mobile Ballet has to offer.
---
GALLERY & EDUCATION
Mobile Botanical Gardens is hands down some of the most beautiful land in Mobile. These gardens offer beautifully curated natural beauty and just a walk through them can bring great peace. Along with this natural beauty, you can find lovely handmade art pieces in their shop on the grounds. They also offer many education opportunities for garden lovers, artists, and more. Click on their name above for more information.
Treat yourself and a loved one to a stroll through ACAC's nationally renowned exhibits. This gallery and staff have so much to offer our city, from diverse art and education opportunities to one heck of a member's party. Mark your calendars for the beloved annual Neu Dawn show happening on December 4th. You don't want to miss this fantastic union of fashion, art, and music that unites over 70 artists and creatives each year.
Central Arts Collective is having their annual Holiday Open House & Market on December 3rd from 10AM-4PM. There will be many vendors and artists in residence with their studios open for visitors. Don't miss this opportunity to purchase unique art from local artists and makers.
Membership to ESAC would be a lovely gift for art lovers and enthusiasts alike. If you have a child who is looking to get in the spirit in an artsy way, look no further than ESAC's Holiday Workshop. Click here for details.
If you are interested in purchasing fine art, visiting Sophiella Gallery is a must. Kim Kelly and her team have been offering wonderfully curated artwork to the Gulf Coast since 2018. Give the collector in your life a piece they will cherish for years to come after taking a walk through this two-story art space in Downtown Mobile. Click their name above for gallery hours and more.
---
THEATRE
Grab yourself and a loved one a ticket to a show this holiday season! JJP is performing the beloved musical, RENT, from December 2nd-18th. Click here to secure tickets. Inquire about season tickets for the theatre lover in your life. Click the link above for more information.
Sunny Side Theater will present Mobile's first-ever production of the holiday classic Rudolph the Red-Nosed Reindeer December 16-18th. Performances will be held at Baker High School. Click here for more information on this show and more. We at MAC encourage you to peruse Sunny Side's website, especially if you have children interested in performing. Share the gift of the limelight!
The PACT has three offerings throughout the month of December. The first production is Little Women the Musical from December 1st-11th. The second is the crowd favorite, Willy Wonky Jr by the PACT's youth cabaret on December 14th & 15th. Lastly, they will hold a Winter Camp from December 19th-21st. Don't miss out!
CCT is gearing up for their January show, She Loves Me, running from the 27th through February 12th. A ticket to this production would make a lovely gift for any theatre lover in your life. Experience the talent in our local performing arts groups and save the dates for these shows and more!
---