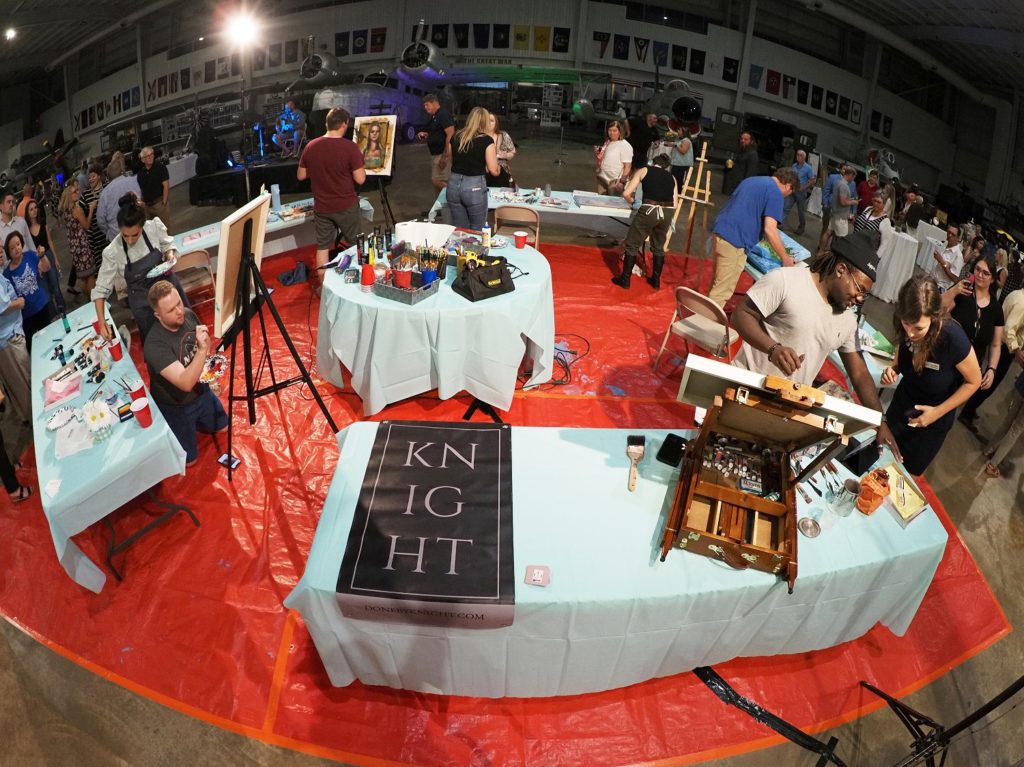 10th Annual Throwdown Results!
The 10th Annual Throwdown was one of our toughest art competitions yet! On Friday, September 16th, artists John Halliday, Devontae Knight, Mayssam Iskandar, Christopher Murray, and Elizabeth Brooks had 90 minutes to create an original piece of art while utilizing a surprise item. Inspired by our Aircraft Pavilion event venue, this year's mystery box item was a wooden airplane.
During the competition, attendees enjoyed music by Ryan Balthrop, a silent auction, and catering by Heroes and the Royal Scam. Our evening was emceed by the only-and-only Darwin Singleton. The one-of-a-kind artworks created at the event were auctioned off live, and the artist with the highest bid was Mayssam Iskandar – whose piece sold for $700. Collectively, these artists alone raised $2,700 towards our fundraising total of $16,000+! All funds raised will go towards MAC's mission: to enrich the quality of life in the Mobile area through increasing accessibility to the arts and promoting a vibrant cultural community.
We want to thank all of those who attended, everyone who donated towards our silent auction, our wonderful volunteers, and our competing artists for donating their time and talent on MAC's behalf. Special thanks to our event sponsors: Hackbarth Delivery Service, Heroes Sports Bar & Grille, The Royal Scam, Ron Barrett LLC, Mobile County, Alabama, 1702 Real Estate, New Horizons Credit Union, The Mobile Rundown, Gulf Distributing Company, Noblet Cosmetic and Family Dentistry, Medicare Progress with Julie Watson, and Showbiz Theatrical Services.
Photos by Mike Kittrell can be seen online here.