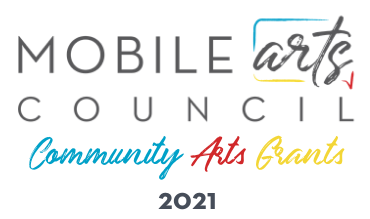 Mobile Arts Council Announces 2021 Community Arts Grants for Local Arts Organizations
The Mobile Arts Council (MAC) has opened submissions for its 2021 community arts grants.
MAC is granting three $1800 stipends towards Mobile area arts organizations. Funding will be available for organizations involved with any art mediums: crafts, dance, design, fine art, media/photography, music, literature, or theater. Projects may include classes, workshops, guest artists, performances, exhibits, professional development, and activities designed to promote accessibility to the arts.
The aim of the 2021 Community Arts Grants is to facilitate projects which achieve some or all of the following objectives:
Encourage, support, and promote accessibility to the arts.
Enhance the well-being of the community through educational activities and pursuits which create artistic opportunities.
A diverse group will collaborate on the project to achieve common goals.
The project or program offers educational opportunities to underserved segments of the population or underprivileged communities with fewer opportunities.
The complete list of the guidelines and FAQ's can be found on the Mobile Arts Council's website, www.mobilearts.org. All applications must be submitted online here by midnight on January 4th, 2021.
This year's grants are made possible by Representative Adline Clarke.