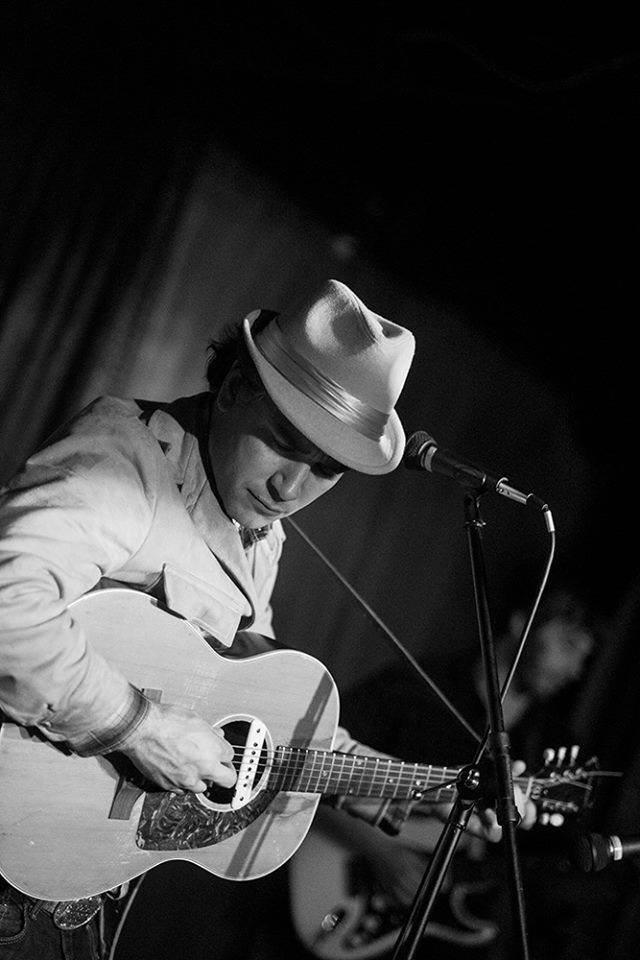 The People's Room of Mobile: An Evening with Ted Hefko
Date/Time
Date(s) - February 19, 2021
8:00 pm - 10:00 pm
Location
The Peoples Room of Mobile
Categories
Tickets$25. Tickets available on Eventbrite. Call/text 251-367-4599 for more info.
After several years living in Brooklyn, writing, touring and recording, Ted is happy to once again reside in his musical home: New Orleans, Louisiana. His latest album Gas Station Guru is playing all over North America and the English speaking world.
Born in Madison, Wisconsin, Ted Hefko moved to New Orleans on a Greyhound Bus when he was 18 and fresh out of high school. He chose to travel by bus to buy himself a little time to make the adjustment and also so he could pack more. His luggage totaled two guitars, a saxophone, cooking utensils, books, cassettes, and a pin-striped suit. He dreamed of a city on the water, full of music, and the sweet safety and serenity of the thick New Orleans air about him. He rode next to a Memphis call-girl, nearly twice his age, who entertained him with stories of the ins and outs of the business as they rode. Ted began writing song lyrics when he was in second grade and picked up the guitar a couple years later along with any instrument he could get his hands on. Wanting to dig a little deeper into modern jazz at The University of New Orleans, he chose saxophone over guitar as his primary instrument. That choice led to ten years of working as a freelance horn player in New Orleans and New York, before song writing and the guitar called him back.
The musician's internship is long and tortured, but it is all these adventures and mis-adventures that add character to a young player. The proposition, in the late 90's, was to drive across this great country in a van, living off sandwiches and bar menus. The pay was abhorrent but the scenery was rich whether driving route 66 through the painted desert or Colorado's Rabbit Ears Pass in a blizzard. Ted toured nationally with jazz-jam band, idletime, from 1998 through 2001 opening for acts such as The Funky Meters, Leftover Salmon, Leo Neocentelli, Derek Trucks, Rebirth Brassband, and North Mississipi Allstars. The group released "Time Stops…" on Louisiana RedHot Records in 2000, featuring two of Ted's originals.
In 2003, Ted moved to New York with plans of working as a horn player for hire and boning up on his modern jazz chops in the Big Apple. It quickly became apparent that his biggest asset was his experience in New Orleans and the modern jazz scene was not really where his passions lay. The more that he led his own groups and the more that he sang, the more his fortunes improved. He began with a couple of sets worth of traditional New Orleans standards and some of the modern jazz tunes he was shedding. Freed from the confines of learning songs for jam sessions and sideman work, he took a closer look at piedmont blues numbers, great Ellington songs — just about anything he'd heard that struck his fancy.
In 2009, after recording many demos of standards, Ted finally released his first all original album, Egyptland , a collection of scenes and stories set in New Orleans. Recorded in both New York City and Austin, Texas, the album featured a variety of musicians playing a wide variety of original songs in a wide variety of settings. He took this collection in for mastering with the legendary engineer, Gene Paul. As he looked about the room at the gold and platinum records by Aretha Franklin, Roberta Flack and The Average White Band, Gene began to ask him about his recording process and miking, especially vocals. Ted soon found himself taking vigorous notes and already looking forward to bringing in his next album.
Having whet his appetite with his first release, he was ready to create a more cohesive album, in one studio with one rhythm section, within a season. If I Walked On Water featured the extremely talented line-up of Moses Patrou on drums and percussion, Luca Benedetti on guitar and Scott Ritchie on upright bass and received rave reviews in both the US and Europe.
With this success, Ted was itching get out on the road and promote the music. He purchased a vintage GMC Safari van for this purpose and roped a few unsuspecting musicians into getting aboard. The van broke down just a few hours outside of the city limits, but they soldiered on and the tours got better. It was with this band that he recorded Distillations of The Bluesduring a stop in New Orleans.