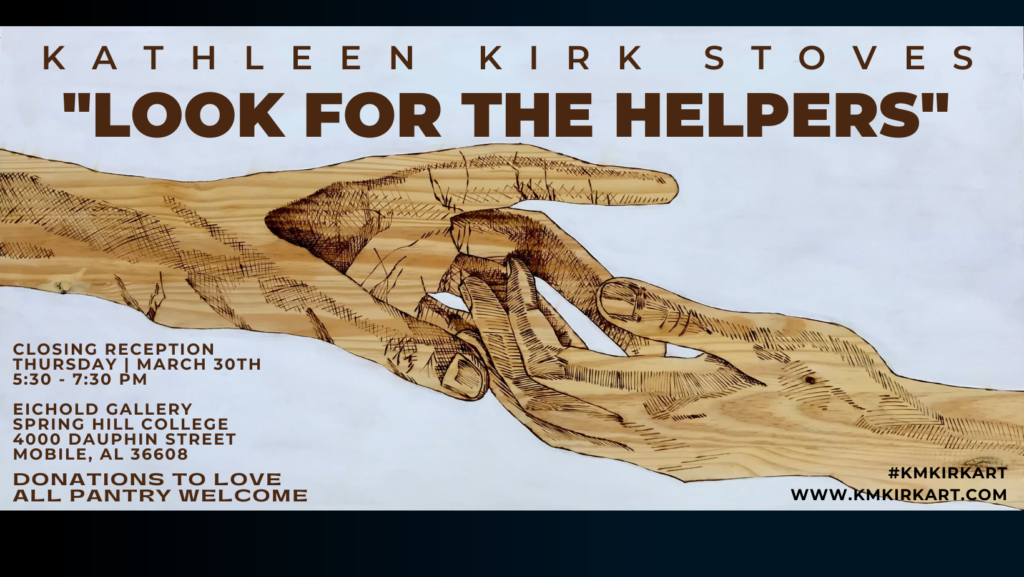 Kathleen Kirk Stoves exhibit at SHC: "Look for the Helpers" Closing Reception
Date/Time
Date(s) - March 30, 2023
5:30 pm - 7:30 pm
Location
Eichold Gallery at Spring Hill College
Categories
"Look for the Helpers"
Mixed media Pyrography art show at Eichold Gallery on the campus of Spring Hill College. The gallery is open to the public. A closing reception will take place on Thursday, March 30th, from 5:30 to 7:30 p.m. Cash and non-perishable food donations will be appreciated for the Love All Food Pantry.
Below is a statement on the work from artist and creator, Kathleen Kirk Stoves.
"Look for the Helpers"… This quote from the famous Mr. Rodgers has been stuck in my head since I heard it many years ago. The full quote is: "When I was a boy and I would see scary things in the news, my mother would say to me, 'Look for the helpers. You will always find people who are helping.'"
Although you may not describe food insecurity as a "scary" thing, it is still a bold and present problem in our nation and within our own community. The Love All Food Pantry, located at Central Presbyterian Church, is the place where the "helpers" have been working diligently each week, fighting this problem with their kind hearts and thirst to feed the hungry. I admire each of them and have dedicated this show to them and their cause.
I interviewed seven of the Pantry's most frequent volunteers and leaders. I asked them why volunteering there is important to them, and why we should make it our business to help the food insecure of our community. Each person answered in a very matter of fact and direct tone. They help because they feel they ought to. They volunteer because they have a strong desire to help people. They love their neighbors and treat them as they'd like to be treated. The pureness and giving spirit of this community represents all the good stuff this world has to offer. It deserves to be celebrated.
It is my hope that this show can shine a brighter light on the Love All Food Pantry. They are dependent on donations to purchase food. Every dollar donated goes a long way, as they can purchase food at a discounted rate from distributers. You can read more about this and more on the brown paper bags lining the walls of this gallery. These are the same bags that are filled with nutritious food for those in need each week.
Thank you to Wanda Sullivan for this opportunity to show at my alma mater. Thank you to Spring Hill College and it's educators for instilling a desire for social justice and service in my heart.
Go Badgers.
Closing Reception: Thursday, March 30th, 5:30 to 7:30 p.m.
Kathleen Kirk Stoves
#kmkirkART
Donations can be made to the "Love All Food Pantry"
Central Presbyterian Church
1260 Dauphin Street
Mobile, Al 36604
Food is distributed weekly on Tuesdays