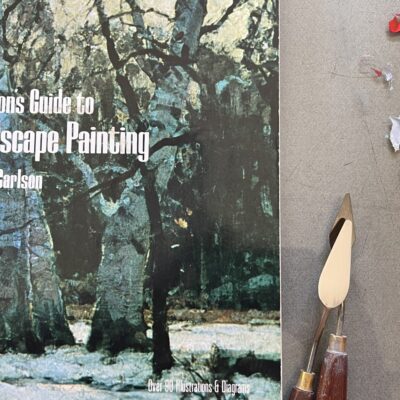 Eastern Shore Art Center: Carlson's Guide to Landscape Painting
Date/Time
Date(s) - January 21, 2022 - January 23, 2022
10:00 am - 4:00 pm
Location
Eastern Shore Art Center
Categories
Title: Carlson's Guide to Landscape Painting
Type of Class: Painting
Instructor: Theresa Grillo Laird
Time: 10 am to 4pm
Dates: Jan 21, 22, and 23, 2022
Price: $375/325 members
Carlson's Guide to Landscape Painting is one of the often cited "bibles" of landscape painting, but I'd be the first to admit that it isn't easy reading. Written nearly 100 years ago by an author whose first language wasn't English, it nevertheless has very useful information for the painter looking to unlock the secrets of landscape painting.
In this workshop, we'll look at key chapters and will apply those lessons as you develop your landscape painting over the three day course. By the end of the workshop you'll be able to view any landscape scene with a painter's eye and apply the lessons to any future painting.
I instruct in oils but if you usually work in acrylic or watercolor, the knowledge will still apply. All levels are welcome but some familiarity with your materials and prior painting experience will be helpful.