Mobile's Monthly Celebration of the Arts!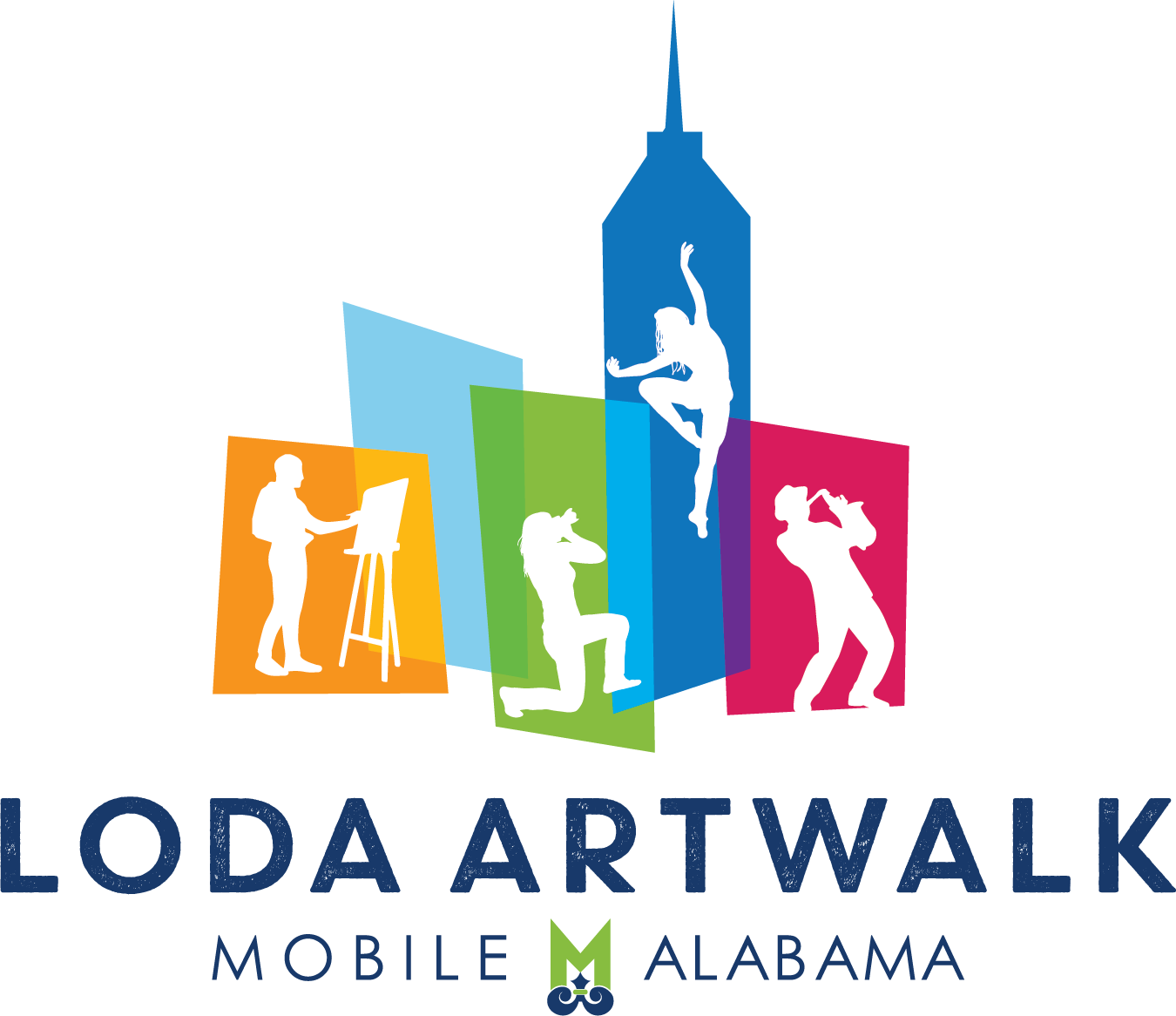 Celebrating the arts in downtown Mobile! LoDa ArtWalk is a free monthly event that showcases our visual, performing, and culinary arts community. This event takes place on the second Friday of every month from 6 to 9 p.m. in the Lower Dauphin (LoDa) Arts District. LoDa ArtWalk is made possible through a partnership between the Special Events Division of the Mobile Parks & Recreations Department and the Mobile Arts Council.
During ArtWalk, Dauphin Street is shut down for pedestrian foot traffic, and local art galleries, institutions, studios, and unique shops stay open extended hours for the public to explore. This family-friendly event is a staple of Mobile's arts community, bringing thousands Downtown to visit venues, eat at restaurants, and shop with the local outdoor vendors. A monthly infographic listing of ArtWalk participants can be located on the LoDa ArtWalk Facebook page and at the bottom of this page the week prior to each event.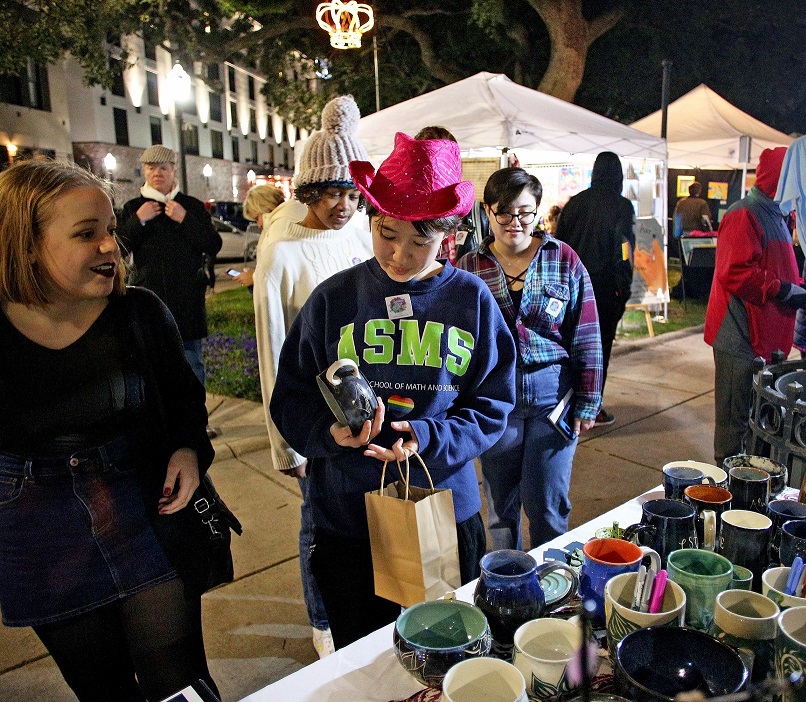 Each month, LoDa ArtWalk hosts dozens of artists who exhibit and sell their works. From jewelry to paintings and more, you'll find a mix of unique, handmade items from both emerging and established artists. See this month's official vendors at the bottom of this page! If you are interested in participating, view our application and FAQ's through the link below.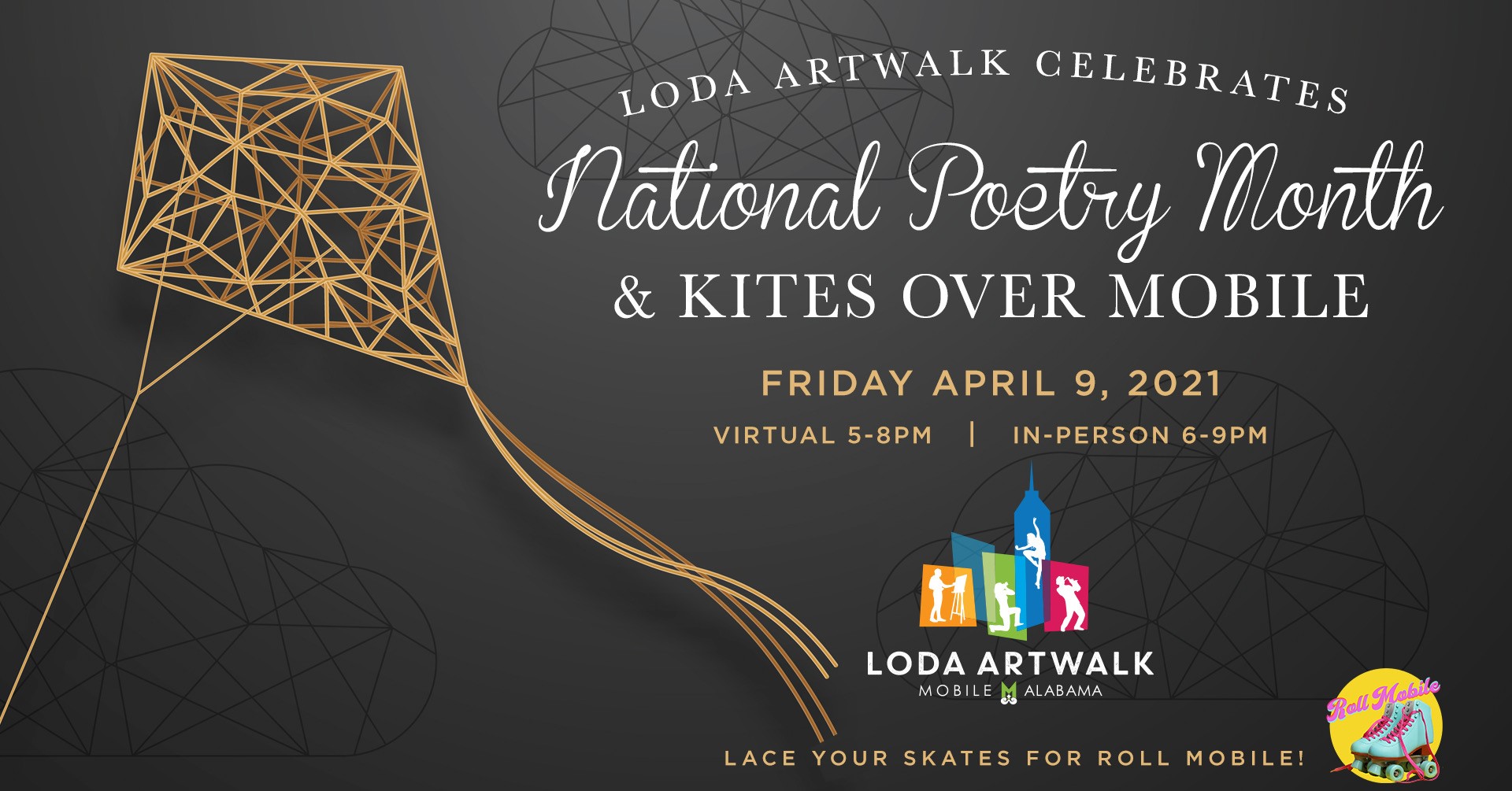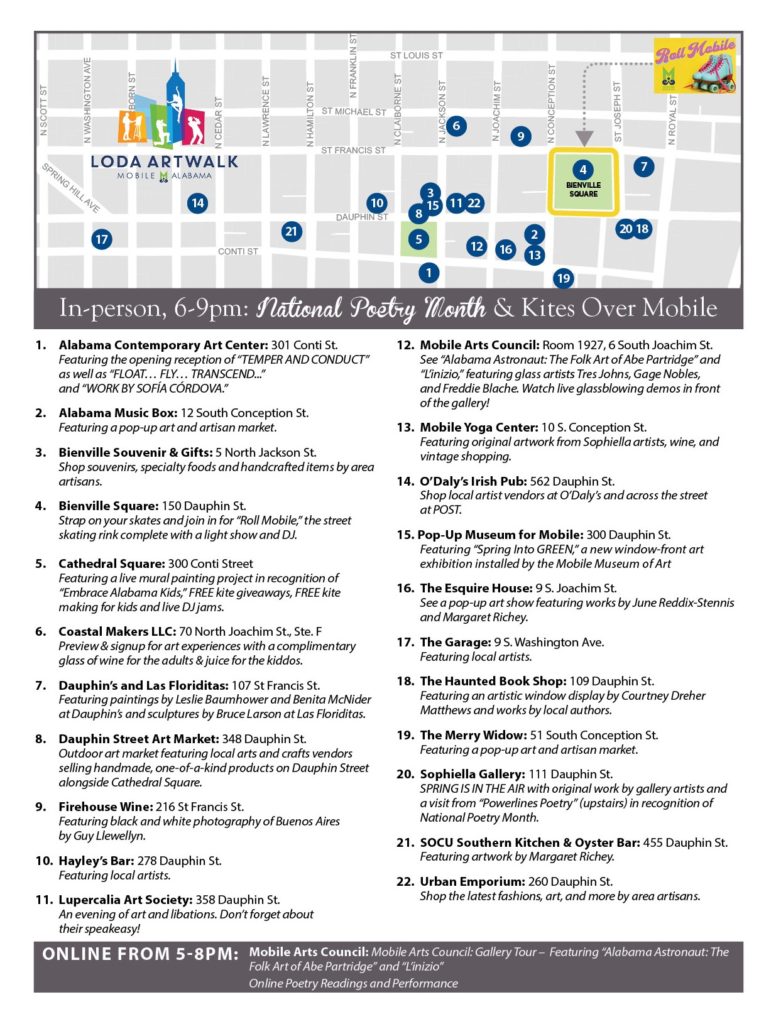 LoDa ArtWalk celebrates National Poetry Month and Kites Over Mobile on Friday, April 9th! This hybrid event will feature local artists, arts organizations, and downtown businesses – including gallery tours, musical performances, poetry reading, live glassblowing, kite crafting, and more!
We will have a Virtual ArtWalk online from 5 to 8 p.m. on the LoDa ArtWalk Facebook page for those who choose to stay at home.
The in-person ArtWalk will take place downtown from 6 to 9 p.m. Select restaurants and retailers will have sidewalk sales and expanded outdoor seating available, and open galleries will operate at a limited capacity. We encourage masks, social distancing, and frequent sanitation to all participants in this event.
We encourage all attendees to consider purchasing artwork from a local creative or donating to an arts organization that they would typically support at this time. Let's stay #MobileStrong and #SupportTheArts
Our ArtWalk Vendors
Support a local artist! Click the link on each image to see more examples of works from our LoDa ArtWalk vendors, as well as select MAC Artist Members.
Mark your calendars for Friday, May 14th  - where we will be celebrating National Photography Month. Stay tuned for a schedule soon!
Upcoming ArtWalk Dates:
April 9th
May 14th
June 11th
July 9th
August 13th
September 10th
October 8th
November 12th
December 10th