The community showed up in full force to celebrate the completion and dedication of the "Uplift" mural in downtown Prichard. The goal of this project is to brighten up all of Mobile with art for all. Local city leaders came out for the ribbon cutting and Walt Maddox even stopped by to see the project and meet the artist, Soynika Edwards-Bush! We couldn't have done this project without the work and help of Lynn Henderson Oldshue and James T. Strickland Youth Center.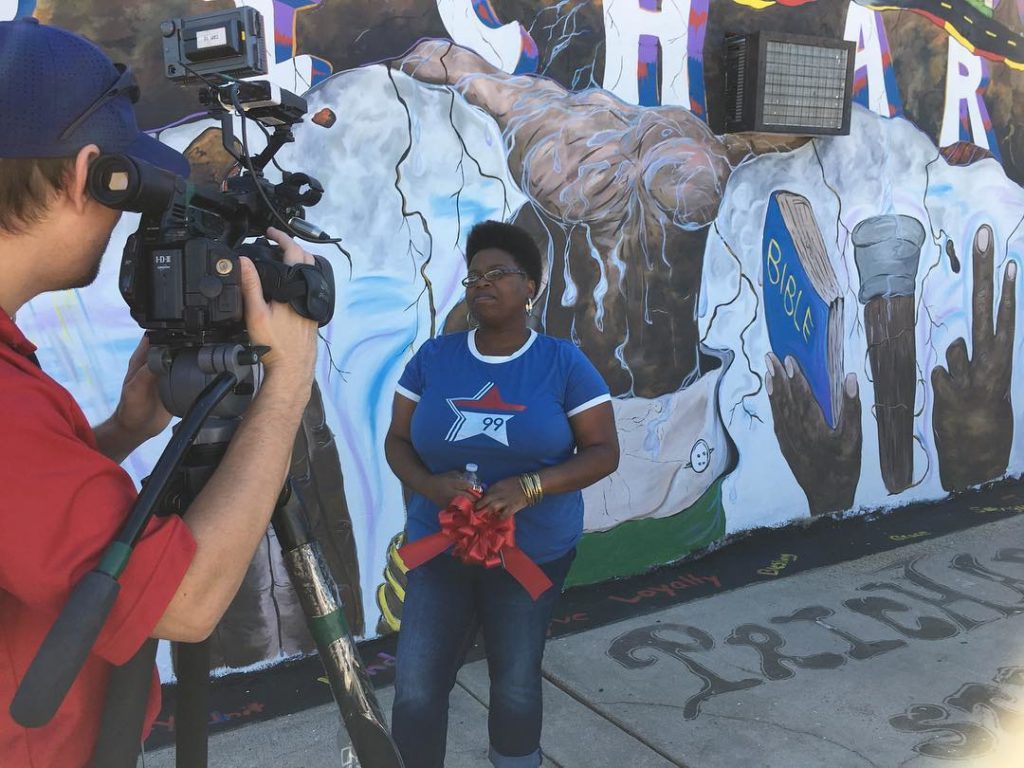 The following write up and photo are courtesy of Mike Dumas and AL.com.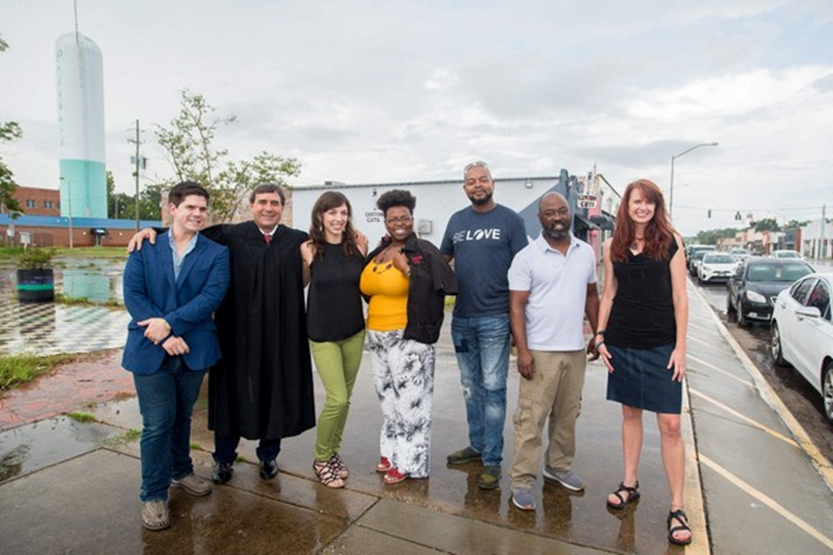 When she reflects on her growing-up years in Prichard, Soynika Edwards-Bush talks about flower baskets on front porches, bike rides along safe streets to the library, and her father's pride in making their home the nicest on the street.
"I've seen the whole transition from something bright and beautiful as a kid to something dilapidated and run down like a black-and-white story now," says the acclaimed artist. "When you see something like that, you want to be a part of the revitalization to what you once had."
She says, "You want the same for your kids."
Like Edwards-Bush, so many lament for the Prichard of yesteryear, and like her, many are doing something about it.
Terry Gibbs owns Custom Cuts Barber Shop on Wilson Avenue, Prichard's main drag. He's been clipping hair for more than 20 years, and watching businesses wither and die, all within sight of the busy Interstate 165 overpass a few hundred feet away.
In just a few weeks, Edwards-Bush will transform the side of Custom Cuts into a dynamic mural depicting the Prichard that she, Gibbs and vast others hold special in their hearts. They believe that Prichard can be that way again.
'On fire for Prichard'
It was through creative collaboration that the mural project was born. Writer and community activist Lynn Oldshue — who publishes the Our Southern Souls vignettes illustrating daily life around Mobile Bay and beyond — has been exploring and telling Prichard's stories for years.
Along the way, she got to know Bo and Sheena Williams, who helped start a community garden near the city's center. The friendship led to the idea of painting a mural on the side of the Lighthouse Academy of Prichard pre-school on Wilson Avenue. That location wasn't a perfect fit, but the mural idea leaped across the street, to Gibbs' barber shop, after Oldshue met him.
"It was just supposed to be there," Oldshue said. "That man is on fire for Prichard."
Several key figures soon emerged from the greater Mobile area to help get the idea off the ground.
Hearing about the hoped-for mural, Lucy Gafford, project director for the Mobile Arts Council, knew just the artist for the job. Not only had Edwards-Bush recently won the council's "Creative Crossings" competition, during which artists decorated downtown crosswalks in pursuit of a $600 grand prize, but she too was passionate about Prichard.
"We have wanted to reach further out from downtown to impact the greater Mobile area, including Prichard of course," Gafford said. "We're really happy to be able to get involved and help beautify the community over there."
'Kids loved her'
The Mobile Arts Council serves as a kind of connection point between artists and civic entities, with partners in many places.
Throughout August, for example, it has facilitated the display of a "Cultural Connection" project, featuring artists from the Strickland Youth Center, in the windows of the Fry Building on Dauphin Street in Mobile.
The colorful murals show a barber shop and a candy shop. In addition to the Arts Council, the project was spearheaded by Edwards-Bush, photographer Devin Ford and Strickland's Riley Brenes.
Brenes, transitional program coordinator at Strickland, has worked with Edwards-Bush on the youth center's Brush Up program. Started in 2017, Brush Up allows youthful offenders to work off court costs through community service in the arts.
"Soynika came in and the kids loved her and she loved them," Brenes said.
They've transformed Strickland's gymnasium with a mural highlighting Devotion, Integrity and Teamwork through the imagery of sports figures, and are soon taking their artists' brushes to Strickland's cafeteria and intake area.
"Cultural Connection" is one of three facets of Strickland's Brush Up. There is also "Blight to Bright," which has targeted run-down architecture throughout the city, and "Pop-Up Perspectives," which will transform city benches into pieces of art inspired by Alabama folk artist Mose T.
"Everywhere you go, we're trying to preach public art through youth," Brenes said.
'The complete vision'
Edwards-Bush said the concept for her mural image came to her in a conversation with DeSaavre Paige, a youth detention officer at Strickland who's worked hard to make Brush Up a success.
"He said, 'I want something uplifting for Prichard,' and as soon as he said 'uplifting,' God gave me the complete vision, instantly," Edwards-Bush said. "We want to showcase Prichard as a city that's going to be uplifted once again."
Gibbs, the barber, described the initial sketch by Edwards-Bush as looking like this: "like how you would want Prichard to be in a perfect world, all colorful and happy."
He regularly attends Prichard City Council meetings, and knows that resources for any kind of public art can be in very short supply. So, citizens have to sometimes take the lead to motivate and inspire, he explained.
"We've got to draw attention to this area, in hopes of reviving it,' Gibbs said. "The people who live here in this city deserve it."
'A personal moment'
There are plenty of ways to help the mural endeavor. The wall of Custom Cuts will soon be power-washed and cleaned, and Edwards-Bush is scheduled to start painting on Tuesday, Aug. 28. At least four kids ages 14 to 17 will come over from Strickland Youth Center during the subsequent weekends to help out.
They primarily need paint, rollers and brushes. More than that, Edwards-Bush said she really hopes that people in and around the city are inspired to participate in further projects like this.
After all, every new project adds to the momentum, begetting another and another. And if a mural can inspire someone who's zooming by on the interstate to pull off and eat at a Wilson Avenue restaurant, or get a haircut, that's great, too.
"I'm so grateful just to be a part of the arts," Edwards-Bush said. "I don't think people can grasp how it feels to be a part of something you were born to do, and it comes to light. That's a personal moment."
Edwards-Bush said, "The mural will help people visualize a path to making their community better. We're a city that's so close to Mobile, why not spread the love and bring the color out in Prichard?"