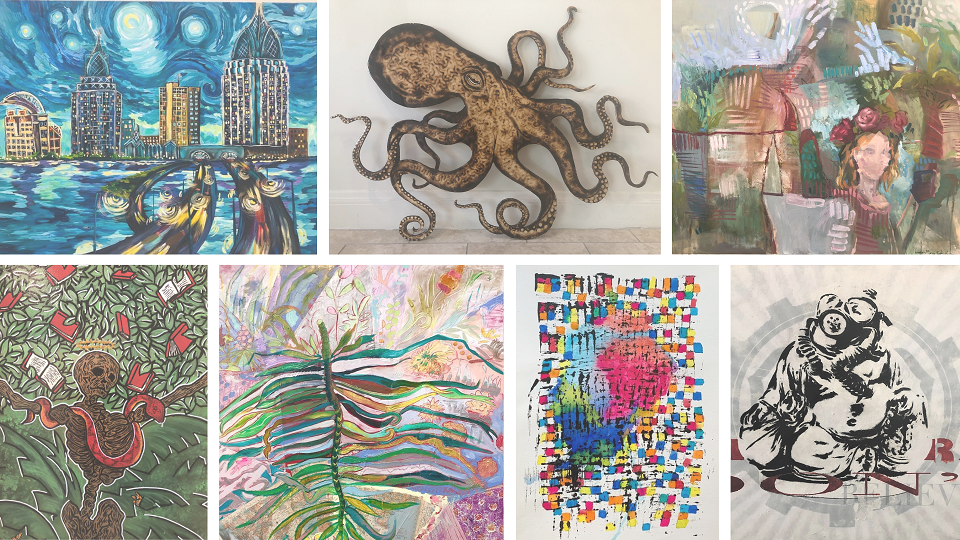 September Exhibitions: Alma Hoffmann, Conz8000, & Throwdown Artists
This September, see works by the five artist competitors in this year's Throwdown, a collection of paintings by designer Alma Hoffmann, and the "DON'T Campaign" by local graphic artist Conz8000.
Are you ready for The Throwdown? On September 20th, five local artists will compete to create works of art in just 90 minutes, which will then be auctioned off at the end of the evening. While these artists work, guests will enjoy libations, musical performances, a fantastic silent auction, and delicious eats. This year's event will take place from 6-9 p.m. in the air-conditioned Medal of Honor Aircraft Pavilion at USS ALABAMA Battleship Memorial Park. This year's competing artists – Anna-Marie Babington, Mary Elizabeth Kimbrough, Brandin Stallworth, Patrick Tucker, and Ginger Woechan – will have samples of their work on display at the gallery this month.
Alma Hoffmann is a professor of graphic design at the University of South Alabama. In her exhibit at MAC, Hoffmann falls away from the structure and order of her design career. She seeks to contrast the "mundane" aspects of making art – the tediousness of the daily grind – to the "sublime" moment in which the artist's ideas manifest themselves physically on paper. Hoffman describes what inspires her to create: " From events on the news, a keen awareness of my sense of duality in the present societal context, being a bilingual speaker, living navigating two cultures within me, and the need to say something collide to knit a piece that manifests my being."
A native of Puerto Rico, Hoffmann is a design educator with her own freelance practice, as well as a part of the editorial board at Smashing Magazine. Her book, Sketching as Design Thinking, will be published later this fall.
Conz8000 (a former Throwdown competitor himself) is a local comic book and multimedia artist and educator. His graphic, colorful work is inspired by animation, specifically anime of the 80s and 90s. His September exhibit at MAC is a collection of pieces from his Don't Campaign, a series of guerrilla art pieces meant to provoke questions in the viewer about social and political matters.
Gallery hours at Room 1927 are 10 a.m. to 4 p.m. on Tuesdays – Fridays. The exhibitions will hang from September 4th through 27th, with a special reception from 6 p.m. to 9 p.m. on Friday, September 13th, LoDa ArtWalk night.