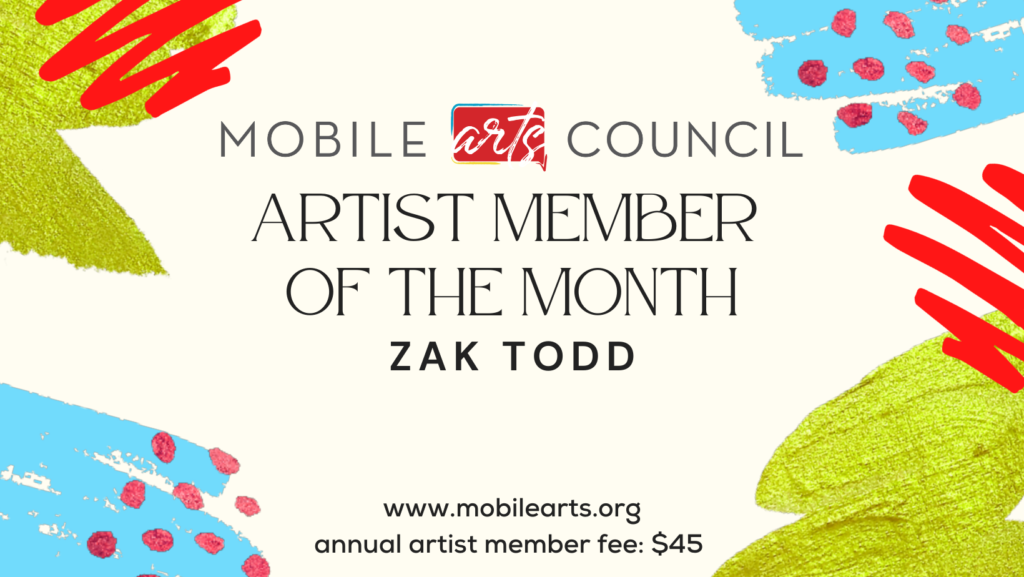 November Artist Member of the Month
Congratulations to our November Artist Member of the Month, Zak Todd!
Zak is a local artist who has experience in teaching at Alabama Contemporary Art Center and through Mobile Arts Council's education outreach program, Amp Up Arts. He is currently teaching visual arts classes through this program at Chastang-Fournier School. We are thrilled to have the opportunity to provide the arts to these deserving students!
Along with his classes, Zak works as our intern at Mobile Arts Council. Tuesday through Thursday, he can be found at our gallery giving tours and working on special projects. Zak says more about his journey below:
"Growing up in rural Alabama, my family worked hard to get by. Coming from a lineage of
mechanics, carpenters, and woodworkers, I have always relied on the products of my own hands.
It wasn't until college that I discovered artistic expression was a powerful tool to create
larger-than-life worlds to explore beyond the one I lived in. I created music, sculpted clay, and
etched with charcoal. I found my stride in animation and design. I have an encyclopedia of styles
in my mind and feel comfortable navigating and adapting as I go. My characters are a
product of late 90's and 2000's animation. They are stylized, but recognizable human figures that
are inspired by the natural world, the elements, mythology, and fantasy.
I constantly seek new knowledge through research on visual culture and feedback from my
mentors. I thrive in fast-paced collaborative environments, am self-motivated, and always
provide humor and good spirits to any team I am part of. As an educator, I have guided young
artists to find their unique style while creating new characters and reimagining the world they live
in. I have found great inspiration in serving local artists and increasing access to the arts in
my community as part of my internship at the Mobile Arts Council."
Would you like to be a featured MAC Member of the Month? Join or renew your membership here or contact kat@mobilearts.org with any questions!