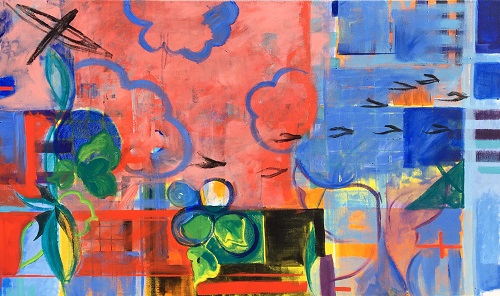 November/December Exhibitions: "The Flora-Bama Paintings" & the Bay Area Art Educator's "Annual Fall Exhibition"
This November and December, the Mobile Arts Council's Gallery @ Room 1927 will feature two exhibitions: The Flora-Bama Paintings by Pixie Alexander and the Bay Area Art Educator's Annual Fall Exhibition. Gallery Hours are 11 a.m. to 5 p.m. on Tuesdays – Fridays and 11 a.m. to 2 p.m. on Saturdays. These exhibitions will hang through Friday, October 29th.
The Flora-Bama Paintings explores the way economic, sociological, and cultural distinctions express themselves in the landscapes that Pixie Alexander knew as a child. Pixie returned to the Gulf Coast in 2012 after 24 years in New York City. Her earliest years were spent studying and practicing art in various forms, with a particular commitment to painting, but when she arrived back in the South, it had been some time since she had kept a studio. Pixie was fresh out of a master's program in urban planning at Columbia University when, upon graduating, felt that her young son needed her more than did the market for that kind of work. She took advantage of the sugar white beaches of the Florida panhandle, rededicated herself to painting, and launched into her first series, "Beach Paintings". After a couple of years and a few road trips, she started her "West Alabama" series and the "Highway 98" series. Eventually, those separate categories were let go, and, as a group, Pixie now refers to them as the "Flora-Bama Paintings". Fresh out of planning school Pixie had a new, heightened awareness of the way economic, sociological, and cultural distinctions expressed themselves in the landscape, and wanted to take this heightened awareness to the landscapes of her childhood while exploring them as a painter. "These paintings are important and special to me, and I am happy to show them on the Gulf Coast, where they were conceived. I thank the Mobile Arts Council and all who come to see them!"
The Bay Area Art Educator's Annual Fall Exhibition will showcase artworks in a variety of mediums by students throughout the greater Mobile area. The Bay Area Art Educators (BAAE) are a regional group of the Alabama Art Education Association comprised of visual art teachers located in Southeast Alabama, primarily in Mobile and Baldwin counties. BAAE upholds and abides by the AAEA mission statement: "AAEA is a professional organization dedicated to the leadership opportunities, advocacy, professional development, and support for all visual arts educators in Alabama." In addition to attending their annual state conference, throughout the year BAAE hosts local meetings and small professional development workshops for the visual arts in our region. Two regional art shows are organized each year in which they feature their students' artwork from their schools and communities. Anyone who teaches, has taught, is interested in teaching art, and/or is an artist and interested in supporting arts education in our communities is invited to join their group and to also join AAEA.