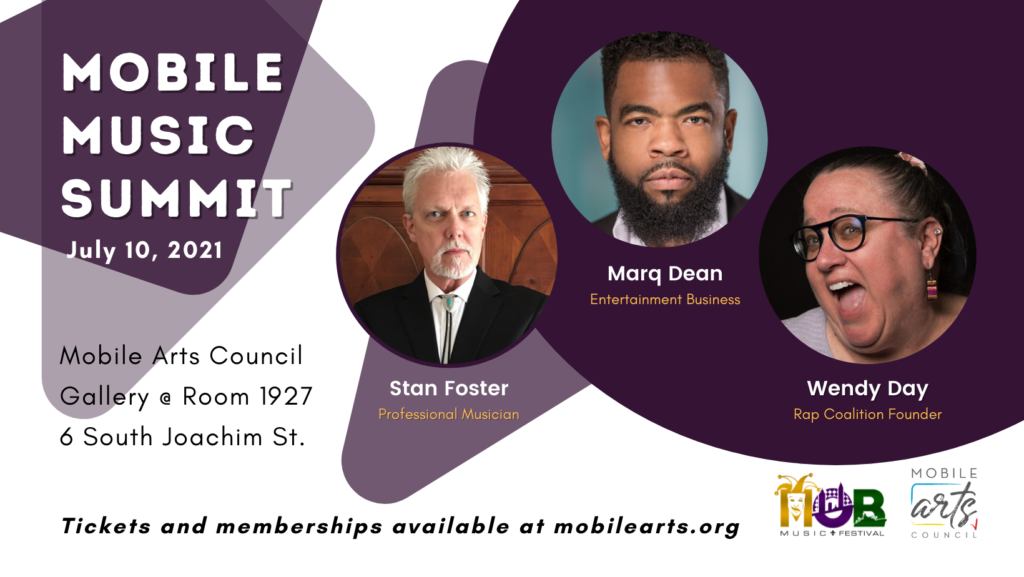 The Mobile Music Summit will feature three speakers representative of different aspects of the music industry! Stan Foster (Professional Musician, Rollin' in the Hay), Marq Dean (Entertainment Business, Recruitment & Sales), and Wendy Day (Founder of Rap Coalition) will share their experiences and helpful tips relating to Music Business throughout the day. This informational workshop takes place in conjunction with MOB Music Fest on Saturday, July 10th from 10 a.m. to 2 p.m. at the Mobile Arts Council's Gallery @ Room 1927 (6 South Joachim Street). Doors open at 9:30 a.m. This workshop is FREE for MAC Members (join online today for $35!) and $25 for Non-Members. Registration required. Refreshments included!
Online signup (preferred) closes at 11:55 p.m. tonight, and registration will also be available at the door for the event. Don't forget – if you join as a MAC Member, ALL of our quarterly workshops are free, in addition to exclusive arts newsletters, inclusion in our arts guide and directory, and more. Memberships will also be available at the door.
MUSIC SUMMIT SCHEDULE
9:30 a.m. – Doors Open
10:10 a.m. – Marq Dean: Overlooked Fundamentals in Entertainment Business
11:25 a.m. – Wendy Day: How To Build a Successful Career in Music as an Artist
12:35 a.m. – Lunch Break (Lunch Provided)
12:50 a.m. – Stan Foster: Becoming a Full-Time Musician
---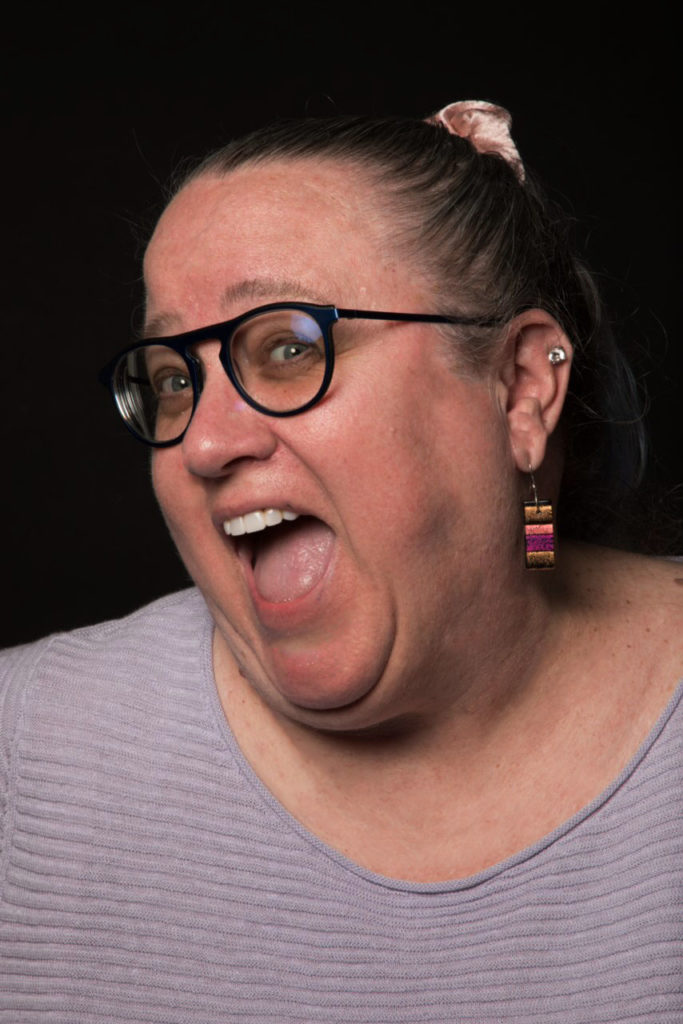 Wendy Day started Rap Coalition in 1992 to advocate for artists who have little to no leverage in the urban music business. After shopping and negotiating many favorable deals for artists and creating many millionaires in the music industry, Wendy has gone on to consult and help build independent record labels, while writing a series of how-to books and music resources to help artists excel. Wendy Day has worked with many artists including Eminem, Tupac, Twista, Do Or Die, David Banner, Slick Rick, Boosie, Webbie, Fiend, C-Murder, Trouble, Lil Donald,Foolio, and many more. She played a crucial role in shopping and negotiating the deals of Master P's No Limit, Cash Money, Eminem, Twista, David Banner, and many others. Wendy's clients have sold over a billion units during her illustrious 29 year career. Wendy is currently building an educational website to teach artists about how to make money with their music and is building an incubator/accelerator for independent Rappers to help them start their own record labels. Starting March 2021, Wendy has been invited by forbes.com to write a weekly hip hop business column. Wendy Day is based in Atlanta and can be found via Instagram @RapCoalition. Be sure to follow her free educational videos on YouTube at YouTube.com/ThisIsWendyDayOn July 10th, Wendy will present "How To Build A Successful Career in Music As An Artist," including how to get a record deal, how to put out music independently, and how to make money with music.
---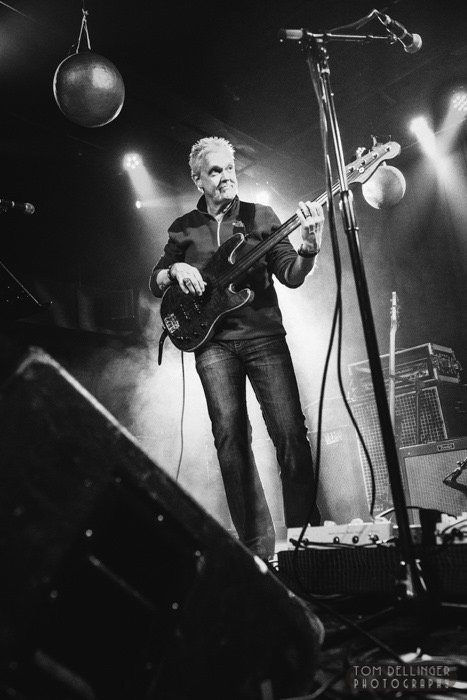 Stan Foster, born in Hope Arkansas, grew up in Camden Arkansas and spent most of his youth singing in church and school choirs. Like a lot of young boys from the '60's, Stan was influenced by the music of The Beatles. After a receiving a degree in Music Education for Southern Arkansas University, Stan moved to Birmingham, Alabama to try teaching; but, that didn't last long, and Stan was soon doing gigs around town at night and working days at Nuncie's Music Co. Tapped for a touring job as bassist/vocalist for Rollin' in the Hay in 1994, Foster has continued playing full time ever since! Stan now lives in Mobile, Alabama, and is proudly married to Donna Hall from the well-known band Wet Willie.On July 10th, Stan will discuss his journey in becoming a full-time musician.
---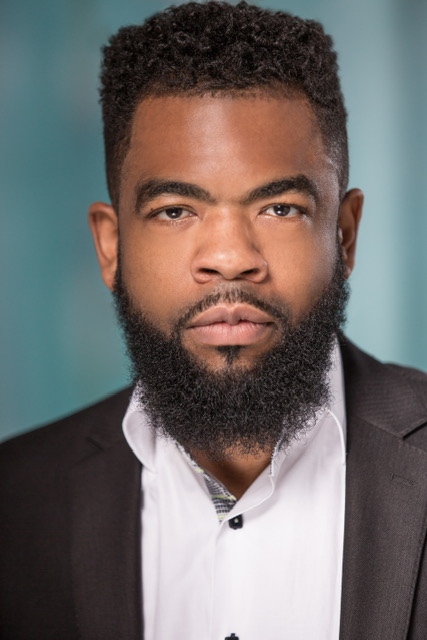 Marq Dean is an up-and-coming singer, songwriter, and producer. Born in Tuskegee, Alabama– home to the supergroup The Commodores and later Lionel Richie– Marq was inspired by area musicians throughout his upbringing. After graduating from high school, Marq received a choral scholarship at Alabama State University in Montgomery, Alabama. After graduating cum laude from college, Dean decided to vigorously pursue his career in music. He has since had the privilege of opening for such stars as Patti Labelle, Brian McKnight, Goodie Mob, Syleena Johnson, Carl Thomas, Norman Brown, and Phil Perry. Currently, Marq is a faculty instructor in Entertainment Business courses at SAE Institute of Technology in Atlanta, Georgia. He is also the CEO/Founder/Producer/Media Content Coordinator/Recording Artist of BIGLEGEND WORLDWIDE LLC, a multimedia entertainment, music label, and publishing company.On July 10th, Marq will speak about overlooked fundamentals in entertainment business. This presentation will highlight key essential factors involved in understanding the "process" in today's music industry.