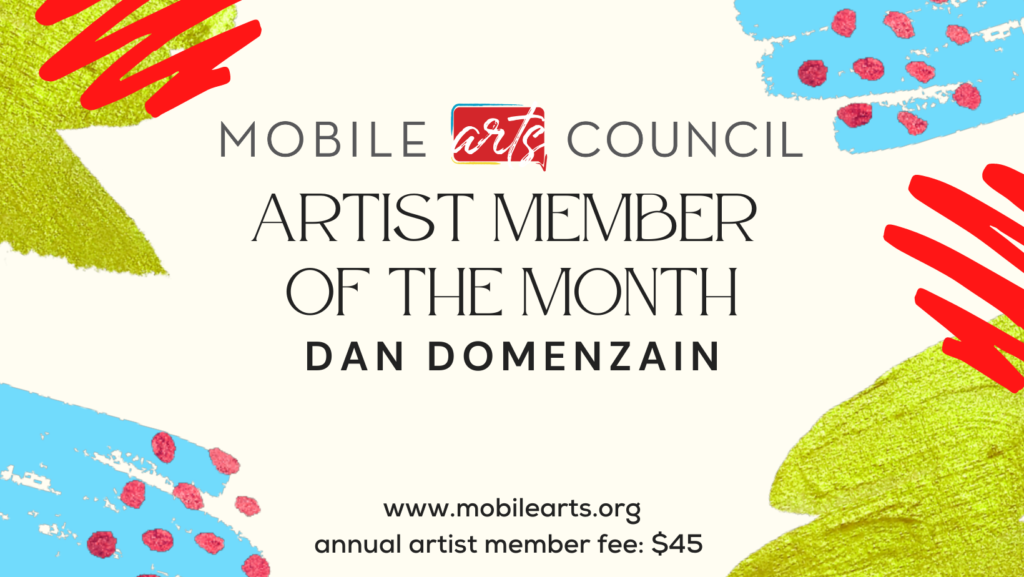 May Artist Member of the Month
Congratulations to our May Artist Member of the Month, Dan Domenzain!
Born in El Paso, TX and raised in Chihuahua Mexico, Dan now lives in Mobile, and can be found photographing any number of major Mobile events like ArtWalk, Mardi Gras parades, and more.
Dan finds passion in experiencing and celebrating what makes us human – all our similarities and all our differences, and more specifically the way we interact and communicate with each other. Whether taking pictures or painting on a canvas, he has found a whole new language to communicate with others.
Dan is one of the leaders of the Southern Alabama Photographers group, and leads and coordinates the annual Art of Engineers event at Airbus. Having run for four years, Art of Engineers has provided Dan with a medium to reach out and collaborate with other associations like the Mobile Museum of Art and Mobile Arts Council.
Dan has been a member of Mobile Arts Council since the beginning of 2022, and proudly marches with (and photographs) The Mystic Squirrels of Bienville Square.
Dan's photography has recently been featured on the cover of TTL Fashion Magazine's February 2023 issue, and on billboards throughout Time Square in New York City!
If you are interested in contacting Dan about his photography, please email him at d.domenzain@gmail.com.