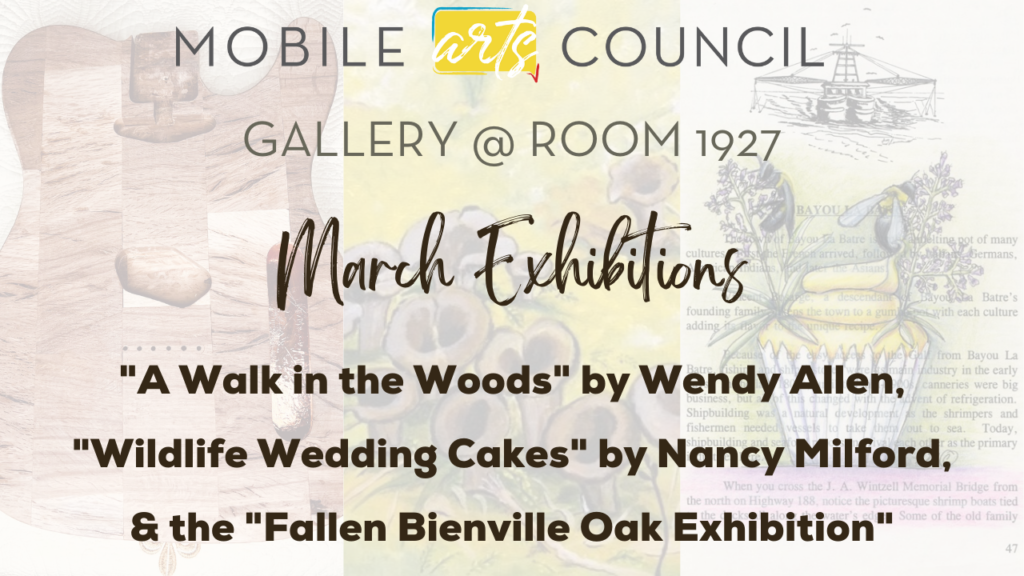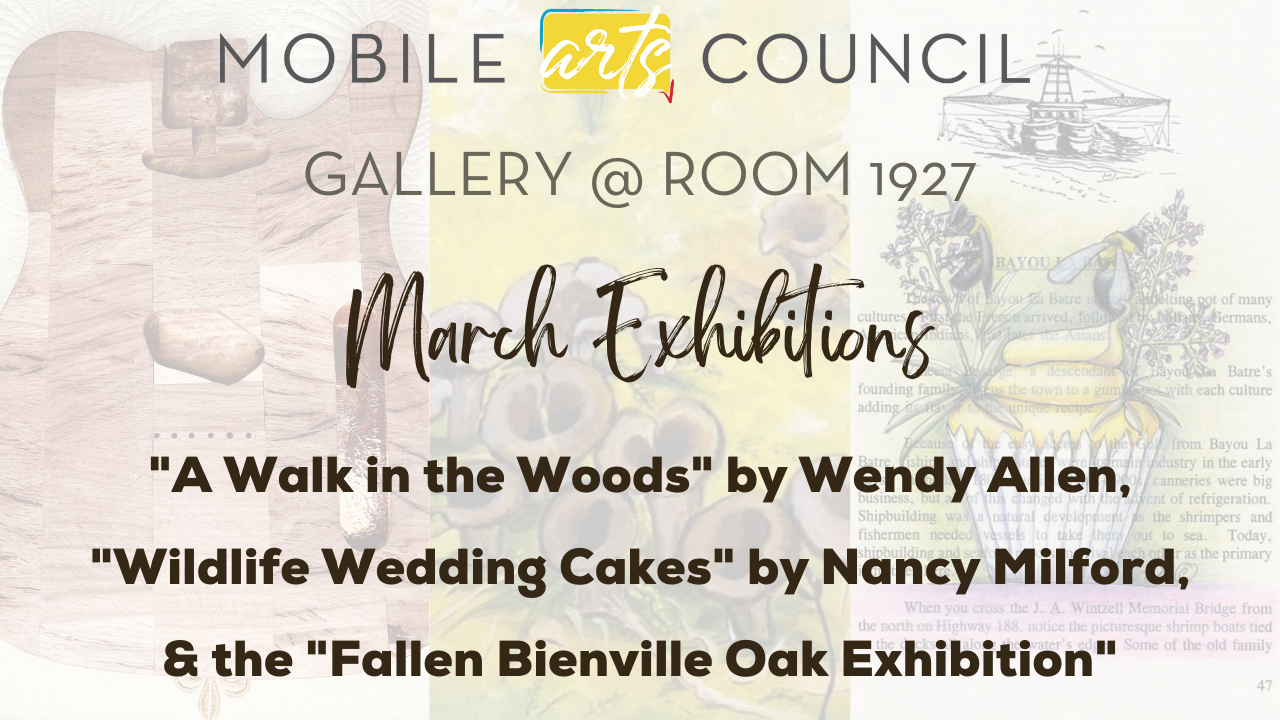 March Exhibitions: "A Walk in the Woods" by Wendy Allen, "Wildlife Wedding Cakes" by Nancy Milford, & the "Bienville Fallen Oak Exhibition"
This March, the Mobile Arts Council's Gallery @ Room 1927 will feature three exhibitions: A Walk in the Woods by Wendy Allen, Wildlife Wedding Cakes by Nancy Milford, and the Fallen Bienville Oak Exhibition. Gallery Hours are 11 a.m. to 5 p.m. on Tuesdays – Fridays and 11 a.m. to 2 p.m. on Saturdays. These exhibitions will hang through Thursday, March 31st. The gallery will be closed Saturday, March 19th for a private Saenger event.
A Walk in the Woods showcases Wendy Allen's love for the wildlife- especially the trees- that she has admired her entire life. Growing up in Mobile, Wendy's youth was spent walking in tree-lined neighborhoods and school yards. The massive trees always seemed to be welcoming her with open arms, inviting her to climb up and see the world from the top. This fascination and love of trees has only grown stronger over the years. As a self-taught artist, Wendy's road to painting has been a long time in coming. She grew up in a large family of creative siblings, who she greatly admired, but felt a little intimidated to join. She dabbled with drawing after her children were grown, continued painting with her grandchildren, and always was doodling in her journals. In 2015, Wendy, along with her siblings, produced an exhibit showcasing the diversity of art in their family with the Mobile Arts Council. In 2016, Wendy decided to make a grand tour, by car, around the country to see as many Champion trees as she could. She visited 13 states, traveled over 12,000 miles, and saw the most magnificent trees- the Oaks of South Carolina, the Cottonwoods of Utah, the Sycamores of Pennsylvania, and the Copper Beeches of Massachusetts, just to name a few. In 2017, she sold her home, bought a camper and truck, and took off with her dog, Shadow, heading out on the road again to experience the country. For the next three years Wendy would travel to New Mexico, Arizona, Virginia, Florida, and all points in between. "The diversity in my country is amazing, and that is how my paintings began to come together. Now in the 80th year of my life, I offer these diverse pieces showcasing my love of the forest, and all the creatures, especially my trees, that live there."
Nancy Milford's Wildlife Wedding Cakes celebrates wildlife, and what better way to celebrate than cake! Nancy grew up in Baldwin County, when porches were still made for sleeping, and picnic tables were for picking fresh bay crabs, corn, and beans. She is a self-taught artist currently pursuing dual degrees in art and pastry at Coastal Alabama Community College. She holds a B.S. in biology and a M.S in engineering. Her artwork predominately deals with nature themes and can be can be scientific or whimsical, depending on the goal of the specific art project. She is a member of the Mobile Arts Council and the American Society of Botanical Artists. Wildlife Wedding Cakes blends wildlife habitats and human celebration, representing the need to create better lives for all. This exhibition explores the beginning of commitment, love, and pro-creation, all necessary for the continuation of species. The idea for this exhibition occurred early in the pandemic when the world was still and silent, if only for a moment. "A bobcat felt free enough to make a curious appearance in my front yard. This encounter made me realize how wildlife lives in forced isolation based on humanity's whims. With two years of my own Covid isolation, I have gained new empathy for the condition of our wildlife. Our coastal habitat is an intricate and delicate web of ecology that requires protection to minimize human impact on wildlife. This exhibition is my way to celebrate wildlife and honor their right to live less encumbered by human impact."
In September of 2020, the Gulf Coast was ravaged by Hurricane Sally. While Mobile did not suffer the worst of the storm, nearly 20 of the historic Bienville Square oak trees fell to her devastating winds. Almost a year and a half later, pieces of these iconic oak trees are being given new life in the Mobile Arts Council Gallery @ Room 1927. Artists of varying backgrounds, art styles, and personal ties to Mobile claimed pieces of the fallen trees in early 2021, and are now returning them as fully realized pieces of art for the Fallen Bienville Oak Exhibition. From bowls to frames and beyond, almost 50 artists have assisted in redefining this tragedy into artistic triumph. While the oak trees may no longer be standing in Bienville Square, these works remind Mobilians of their rich history and the significance of the arts in our community.
Thank you to all of the participating artists: Paul Campbell, Chris Fayland, Brandon Fischer, Bradford Ladd, Michael Lenga, April Livingston, Charity Mason, Gary Mason, Andrew Mosley, Abe Partridge, Wanda Sullivan, Steven Reece, Fred Rettig, Ben Reynolds, Samantha Breland Savage, Kathleen Kirk Stoves, Renee Wallace, William Winston Whitfield, Amanda Youngblood, Azalea Home & Custom Furniture, and Delta Scott Woodworks.