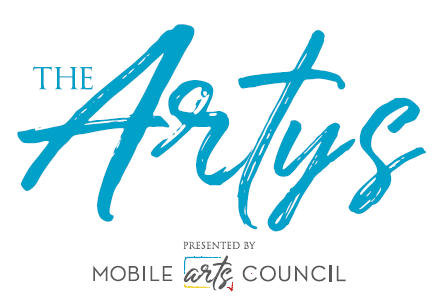 Mobile Arts Council unveils newest "Arty"
Mobile Arts Council has unveiled the newest design, and artist behind it, for their annual Arty award.
Mixed media artist Chris Cumbie was commissioned to create the newest addition to the Arty lineup. The design features three welded metal arrows bundled together and pointing upward on a metal-wrapped wooden base.
Cumbie chose three arrows for a few reasons. According to Cumbie, "A bundle of arrows (three or more) signifies strength and unity, and crossed arrows are a symbol of friendship. In addition to the general interpretation of arrows (which include direction and reach), the three arrows represent strength, unity and friendship. I believe these qualities apply to not only the Mobile Arts Council and what you all do for our community, but also as traits that every artist needs to have to be successful in their endeavors. We are stronger together."
MAC staff instructed Cumbie to create something that would represent the Mobile area–beyond that, he could let his creativity run wild. In creating his work of art, he reflected traits such as history, culture, and ecosystem.
"Not many people know that our Bankhead Tunnel was the first all-welded, continuous steel tunnel ever created and that was done right here in Mobile. Welding is not only a construction method, but an art form as well," Cumbie said. "And the talent of local welders led to the creation of an Association of Ironworkers here in Mobile. These architectural ironworkers in our town have helped create many of our established buildings and passages in our area, including Government Plaza, the General W.K. Wilson Jr Bridge (aka – the Dolly Parton Bridge), Mobile National Maritime Museum and of course, the George Wallace Tunnel."
The 11 recipients of Arty awards for 2018 include:
Lifetime Achievement: Excelsior Band
Art Educator – Hosea London
Art Soldier – Sherrick Sandy
Business – Mobile Public Library
Cultural Innovation – Central Arts Collective
Design – Mobile Fashion Week
Literary Artist – Kevin Lee
Organization – Mobile Chamber Music
Performing Artist, Individual – Enen Yu
Performing Artist, Organization – Power Lines Poetry
Visual Artist – Pinky/MM Bass
The 11 winners will be honored at The Artys on Thursday, March 28th at The Steeple on St. Francis starting at 5:30 p.m. This signature awards event will feature entertainment, food, a cash bar, and performances by Mobile Ballet, Sway Downtown, and Joe Jefferson Players. Tickets are $35 in advance and available online. They increase to $45 the day of the event.
The Artys is Mobile's only arts award program that acknowledges the priceless contributions made to the arts and cultural community. For fourteen years, Mobile Arts Council has presented these awards to recognize the creative achievements of individuals, organizations, and businesses. Each year members of the community submit nominations, which are then narrowed down to a winner in each category by a panel of arts professionals. The winner of each category is honored at the awards event and presented with the Arty, a limited edition work of art created by a different local artist each year.
ABOUT MOBILE ARTS COUNCIL
Mobile Arts Council is a 501(c)3 nonprofit organization founded in 1955. Their mission is to enrich the quality of life in the Mobile area through increasing accessibility to the arts and promoting a vibrant cultural community. Projects of Mobile Arts Council focus on serving three components: community, education, and membership. For more info: www.mobilearts.org.