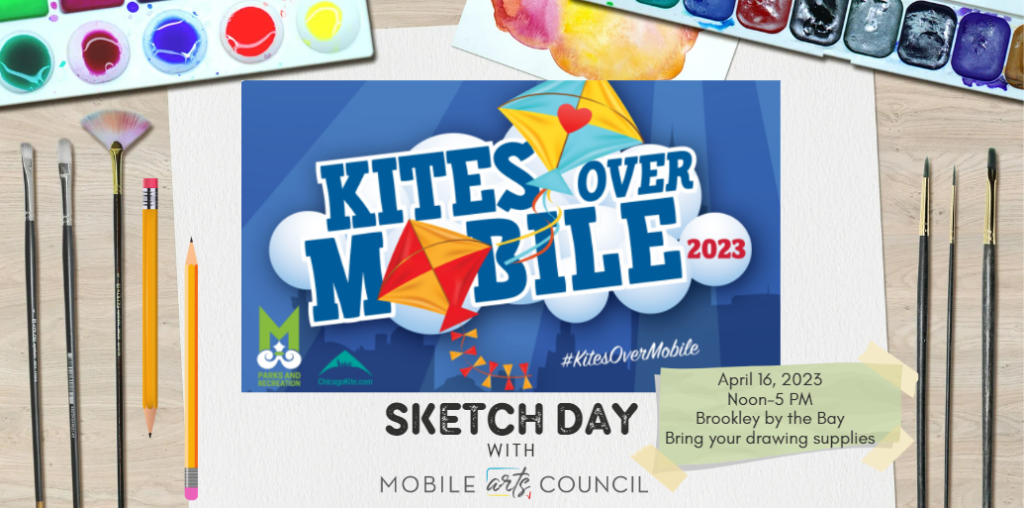 Kites Over Mobile: Sketch Day
Mobile Arts Council is celebrating Mobile Parks and Recreation's Kites Over Mobile with a Sketch Day! Join us on the SECOND DAY of this weekend event from 12 noon to 5 pm. We encourage you to bring your drawing materials along as we will have minimal drawing materials available. Bring the whole family to this joyful, FREE City event happening at Brookley by the Bay. 
Here is some information provided by Mobile Parks and Recreation:
A Kite Festival full of high-flying FUN for the entire Community!
Mobile Parks and Recreation is hosting the 3rd Annual Kites Over Mobile Event!
NEW LOCATION: Brookley By The Bay
254 Old Bay Front Drive, Mobile, AL 36615
Saturday April 15: 10am-5pm
Sunday April 16: Noon-5pm (This is the ONLY day of the weekend that Mobile Arts Council will be in attendance for our Sketch Day.)
Enjoy:
Professional Kite Flying Demonstrations
Show Kite Displays
Kite Hospital
Live Music
Candy Drop
Saturday Entertainment: DJ Blayze & The Will Thompson Band
Sunday Entertainment: DJ Herb Love
Have a picnic, bring your kites, chairs, and blankets!
Kites will be for sale onsite OR you can bring your own!
For last-minute details and any weather-related updates FB/IG @mobileparksandrec & @cityofmobileevents
#KitesOverMobile