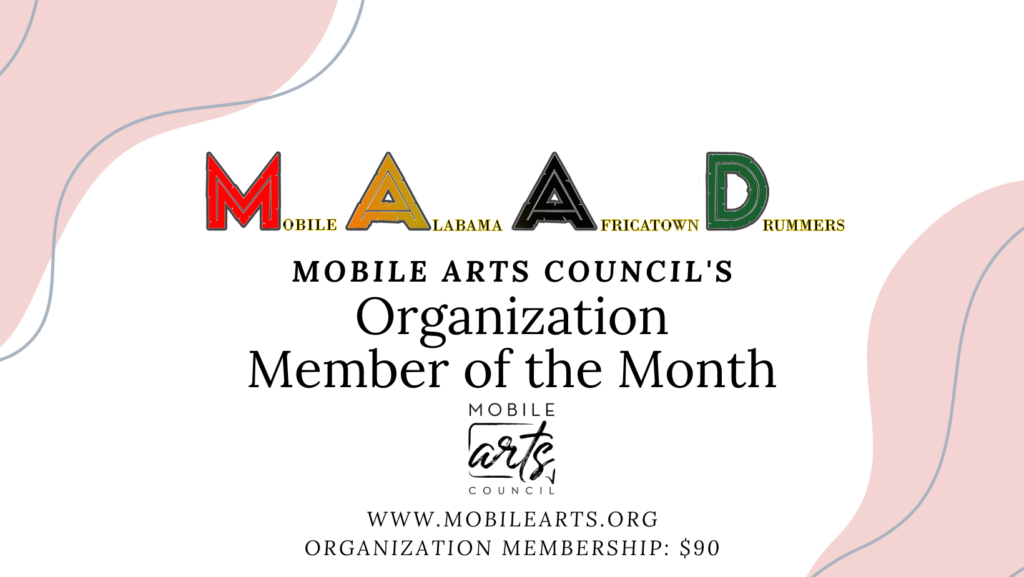 June Organization Member of the Month
Congratulations to our June Organization Member of the Month, The Mobile Alabama Africatown Drummers!
M.A.A.D. was established in 2021, by Wayne Curtis, with the sole purpose of supporting the youth in Africatown and surrounding areas on their journey to knowledge, purpose, and onto their destiny. They strive to do the following:
To teach
Motivate
Inspire a sense of pride and interest in one's culture
Develop a sense of self-worth
Instill discipline
Their mission is to use instruments, namely African drums, to bridge communities, foster healing, and cultivate enjoyment.
Upcoming Events
May 24 – September 24, Adult free hand drumming class at Seals Park and Recreation center. 540 Texas St 36603. Thanks to a grant from Alabama State Council on The Arts.
June 26 – June 29, Mobile Public Library 2023 Summer Library Celebration.
July 3 – July 28, Optimist Boys and Girls Club. Thanks to a grant from the Mobile Arts Council.
July 8, 2023, Clotilda The Exhibition At Africatown Heritage House.