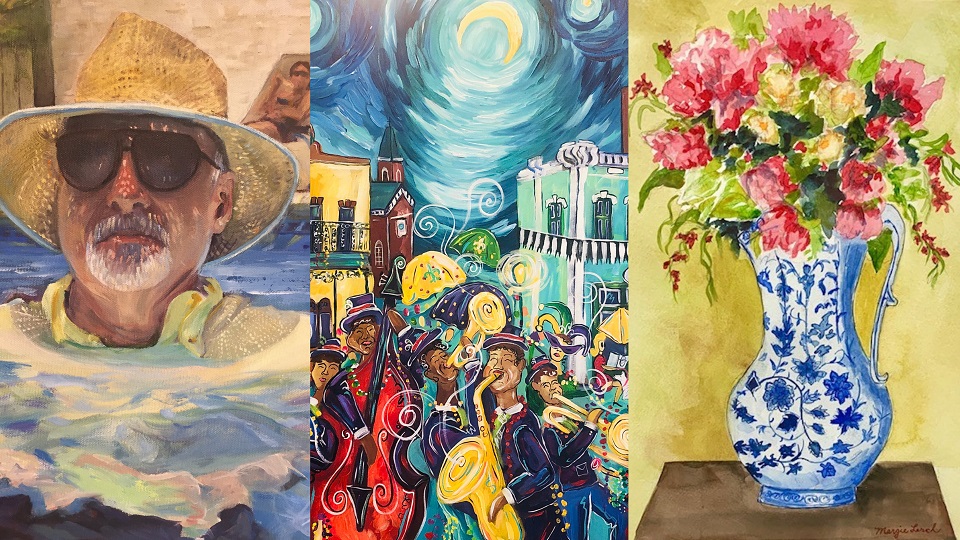 June Exhibitions: Hat Show, Ginger Woechan, and The Connie Hudson Senior Community Senior Show
Dates: June 6 – 28
This June at MAC, see the third annual "Hat Show" featuring various Mobile artists, a collection of scenic Mobile paintings from Ginger Woechan, and an exhibition of work created by artists at the Connie Hudson Senior Center.
Hat-loving local artist Karen McGahagin has once again rounded up a motley collection of hat art from artists all over the Mobile area. This constitutes the third official annual Hat Show at MAC organized by McGahagin. The theme for this year's show is "The People of Mobile," and 18 local artists are providing hat-themed work for the occasion. Come see their work in the Daniel Juzan Gallery.
Local painter Ginger Woechan – often known as GIN.WOE – is known for her colorful, whimsical representation of Mobile scenery. In this exhibition she showcases not only her well-known exuberant painting style, but also a more serious, abstract side of her artistic self, creating moody landscapes with a brush and palette knife. Woechan's work has been in galleries and festivals along the Gulf Coast, and this June it will be hanging in the Small Room at MAC.
In the Skinny Gallery this month is a representation of work created by students at the Connie Hudson Senior Community Center. The Senior Center offers classes in drawing, watercolor, oil, and acrylic to seniors who have a passion for art or just want to try something new. The show at MAC is a chance for these 24+ artists to show us their hard work. Subject matter ranges from wildlife to landscapes to still life.