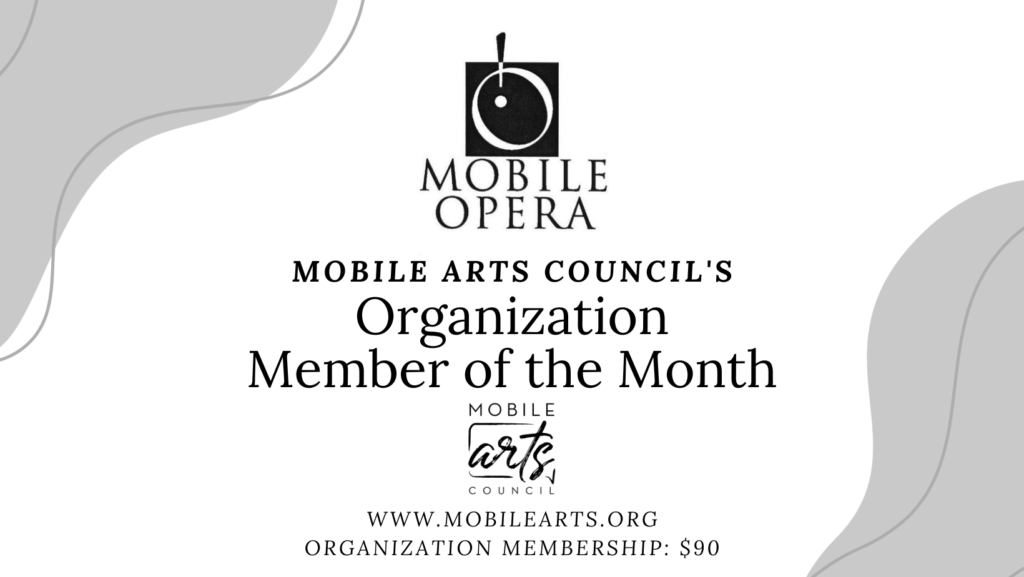 July Organization Member of the Month
Congratulations to our July Organization Member of the Month, Mobile Opera!
Mobile Opera is a dynamic and innovative regional opera company producing exceptional quality main-stage opera, educational programs, and community connections on the Central Gulf Coast. It is the oldest performing arts organization in Alabama and one of the oldest professional opera companies in the nation.
Mobile Opera also takes its role as an educator seriously, opening its doors to students, providing master classes and recitals by visiting artists, and producing in-school tours to introduce a new generation to the arts of classical singing and theater. School programs have included commissioned original works such as Fable, The Forest Bully, and Pigaro's Diner – a program on child nutrition that reached over 50,000 school children. The Willson Scholarship Program and Rose Palmai-Tenser Voice Competition provide aspiring singers with scholarships to pursue their dreams.
Mobile Opera's mainstage productions attract national and even international artists each season to repertoire that is varied and includes the most popular operas ever written, lesser-known works of merit, as well as new compositions of current impact.  The Winter Gala, recitals, cabarets, and various, musical events throughout the year round out a full season for Mobile Opera.
We hope you've been able to stop by our current exhibit at the MAC Gallery featuring The Fabric of the Opera: Costuming for the Stage. If you haven't, be sure to come see us before the month is over! Our gallery is located at 6 S Joachim Street and is open Tuesday through Friday, 11 a.m. to 5 p.m., and Saturday, 11 a.m. to 2 p.m.
Would you like to be featured as MAC's Organization Member of the Month? Click here to view more information on Membership and contact kat@mobilearts.org with any questions.