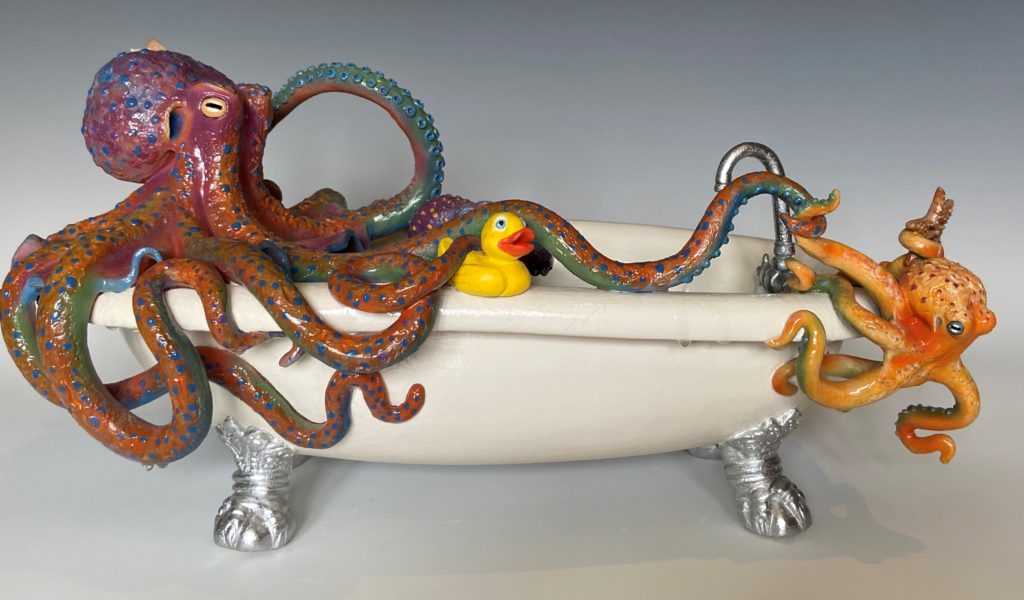 July Exhibitions: VibRaNtaKe, A Creative Coming of Age Show, & Coastal Creations
A Creative Coming of Age Show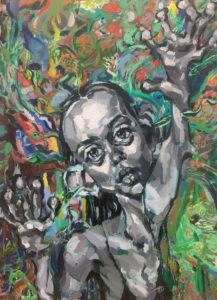 Malaya Bengel is a local painter and illustrator, and has been working in the arts for the past five years. Her work focuses on mixed mediums, self-expression, and intersectional identities and experiences across marginalized groups. A Creative Coming of Age Show is her first ever solo exhibition, and serves as a visual timeline of Bengel's adolescence as shown through her artwork. Some of Bengel's first pieces, alongside work included in her college portfolio, are displayed here so that viewers are provided with the unique opportunity to see the artist's progression all in one room. This will be the last opportunity to see Bengel's work while she is still local. This fall Malaya will be moving to New York City to study at The New School where she will be pursuing a BFA at Parsons School of Design as well as a BA in the liberal arts at the Eugene Lang School of the Visual Arts. Please enjoy this special journey that has been years in the making as Malaya prepares to begin the next chapter of her life!
Costal Creations & Other Works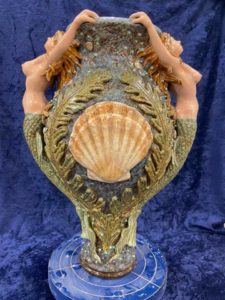 Curtis J. Giarrusso graduated from the New Orleans Center of Creative Arts and Delgado College for Commercial Art. His studies included sculpture, drawing, design, painting, and art history. He also attended noncredit courses at an early age in drawing, watercolor, acrylics, still life painting, and sculpture. A native of New Orleans, Curtis has been involved in the creative industry his whole life. From creating mud figures as a child to helping his mother with her ceramic shop, Curtis literally grew up with clay in his hands.
His first sculpting job started at Barth Brothers: a New Orleans float company that was the major sculpting contractor for the 1984 Louisiana World Expo entrance gate. It included two forty-foot mermaids and two large alligator wrestling gods. Another milestone in his career was being approached by Gambina Doll company to sculpt a Columbus doll for the centennial celebration. Giarrusso was featured in DOLLS Magazine as a leading sculptor, and his Columbus doll was nominated for doll of the year. Curtis quoted "working at Gambina Doll company was a nuptial love of art and beauty." A major influence on Curtis's creative psyche was the painting and sculpting on floats and various embellishments.
In his career he has worked with porcelain, paper cache, and clay to produce dramatic concepts in sculpting. His inspirations in sculpting and art are Much, Michelangelo, Auguste Moreau, Rodin, and Umberto Boccioni. When Curtis isn't working with paper mache or clay he enjoys working out and practicing yoga, refinishing furniture, restoring his 1852 Coastal Creole Cottage, and working on creative projects. He is a lover of nature and history, and draws inspiration from all of nature. He is constantly looking to live in a better harmony with the natural world.
VibRaNtaKe
In the deep souf: the mud, the mouf… an idea was birthed at the intersection of art & hip-hop.
VibRaNtaKe is a visual/audio art company formed by CJ Foster (Uncle See'J) in 2020. See'J is a 32-year-old emcee/producer and digital artist. Between all the mediums, he has more than a decade's worth of experience under his belt. Born in Queens, NY, but raised in Mobile, AL, See'J has seen the benefit of a simple, southern upbringing as well as the need to expose "home" to all different forms of expression. "Everything we do down here is art; we just don't have the insight to realize it as such".
The idea for VibRaNtaKe came from the desire to close the gap between Hip-Hop and fine art. "If you really break down the lyrics, Hip-Hop has produced some of the most amazing literary works of the past century" says See'J. "I remember applying for a writers fellowship in 2015 where they asked me to break down some of my favorite literature and I broke down rap verses. To this day, I feel like I didn't get the position because of that decision, and to this day… that bothers me". Originally, VibRaNtaKe was meant to offer creative services to other musicians (album covers, merch, etc.), and while that's still the case, it eventually took on a life of its own. "I originally started VibRaNtaKe as a way to cover the money I was losing in the midst of the pandemic, but I noticed more than just rappers and singers appreciating it. The more I started sharing, the more people were attracted to its artistic value, even separated from the music".
See'J is a rarity in that he isn't formally trained in any discipline. The VibRaNtaKe journey has been equal parts creating, equal parts defining those creations. "Somebody hipped me to Dadaism and told me my works reminded them of it. I did a little research on it, but realized that I only partially agree. I coined the term "AfroDaDa" to describe my work. Dadaism has a lot to do with political and social commentary, sometimes through satire. My work isn't satirical at all." says See'J. "There is an unapologetic focus on the Black experience in America, but not through a political lens. I replace that with more of a spiritual dialogue, as spirituality is a cornerstone of Blackness, no matter what context it's filtered through. The use of water and skies in the works represent a portal between the inner and outer self, between the imagery we see on a day to day, and how it's processed mentally, emotionally, and well… spiritually"