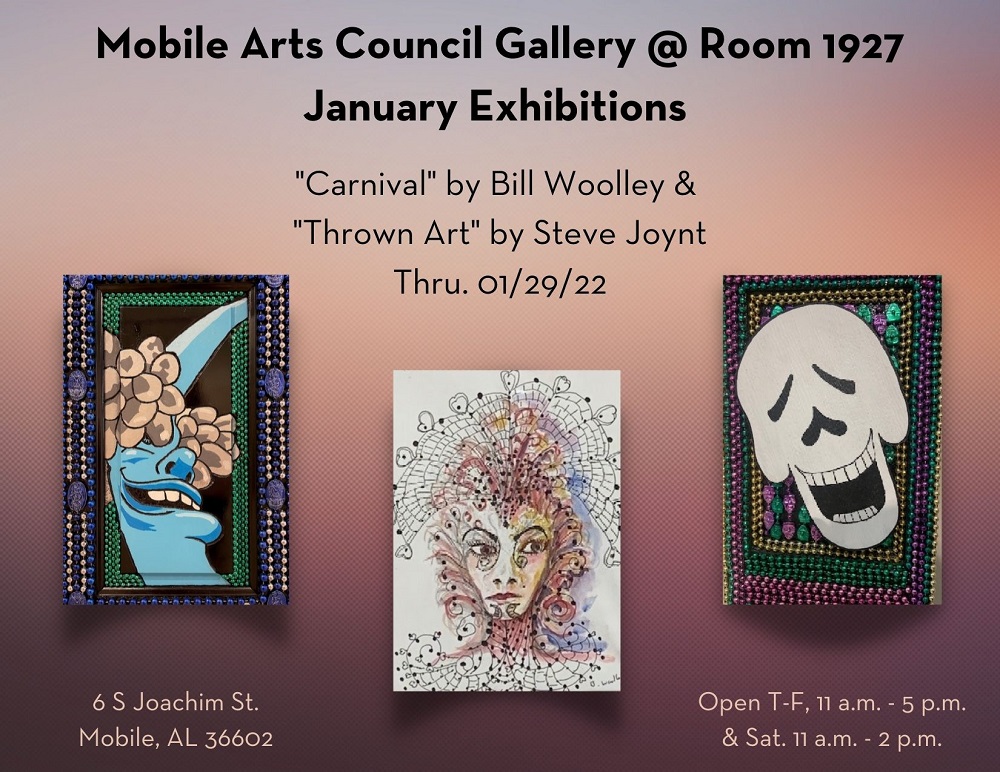 January Exhibitions: "Carnival" by Bill Woolley & "Thrown Art" by Steve Joynt
This January, the Mobile Arts Council's Gallery @ Room 1927 will feature two exhibitions: Carnival by Bill Woolley and Thrown Art by Steve Joynt. Gallery Hours are 11 a.m. to 5 p.m. on Tuesdays – Fridays and 11 a.m. to 2 p.m. on Saturdays. These exhibitions will hang through Friday, January 28th.
William Matthew Woolley, known to his friends as "Bill," was born and reared in Memphis, Tennessee. Bill started his art career after high school, when he was awarded a scholarship to the Memphis Academy of Art. Bill has maintained his activity within the visual arts world by taking classes at VIA Community Center, being a member of the Mobile Arts Council– Carnival is his second exhibition with the organization, and, most recently, designing the window display in honor of Eugene Walter's 100th birthday. Pieces from his first show with MAC are now in the permanent collection at the Louisiana Mardi Gras Museum in New Orleans. Bill's ability to combine reality and fantasy is unique, with glimpses of wonderful humor as well. Carnival explores the wonderous and colorful world of puppets, ballet, court jesters, and more! His watercolor paintings offer a glimpse into Bill's beautifully artistic mind, and his puppet creations, made in partnership with fellow artist, Lynne Weeks, bring about a sense of jollity with their unusual proportions and wonderfully humorous headdresses.
Like so many artists, Steve Joynt showed from an early age that there was art in him. When he was old enough, he took art lessons from an old lady who had a bunch of easels in her basement. Pastels, charcoal, watercolor, oil, he learned them all. By college, however, Steve set his sights on journalism – specifically newspapers – and creating art became something he did once in a great while. In all of that time, Steve felt he'd never actually found his artist's voice, his style, if you will. All of that changed about 20 years ago, when he got the idea to take a partial mannequin he still had from his college days, paint it black, and glue Mardi Gras beads all over it. That's how Thrown Art was born and how Steve came to actually think of himself as an artist for the first time in more than 25 years.