Celebrate the holidays by sharing these handmade gifts - including ceramics, glass, jewelry, and quilts - with your loved ones.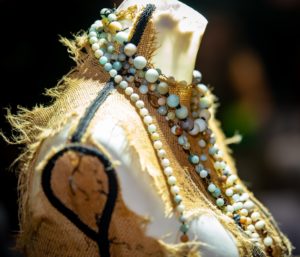 Apricot Family Homestead Gifts
Apricot Family Homestead Gifts features handmade gifts, from scarves and hats to stuffed animals and home decor.
Birdie and Cricket specializes in creating custom headwear that will make you smile and feel special all day! Some big holiday news: beginning on Black Friday, Birdie and Cricket is offering a FREE pair of earrings with every order through the end of 2023! See a list of markets and events Birdie and Cricket will be participating in here.
Dawson is a highly educated and experienced ceramic artist who has traveled the globe gaining experience in her craft. You may have seen her work in Sophiella Gallery, Eastern Shore Art Center, or Mobile Arts Council in recent years. Click her name above to commission the perfect gift. You can also find her on Facebook and Instagram.
If you've browsed through our arts vendor area at ArtWalk, you've likely seen John's incredible wooden designs. He creates charcuterie boards and other wooden crafts that would make the perfect gift for yourself or a loved one. Contact him today to create your custom design.
Laura has been weaving, dyeing, and felting by hand for decades. The towels she weaves are designed to be machine washed and dried and will literally last for years. Her scarves, coasters, trivets, and table runners can all be washed by hand. Contact Laura to be sure you and your loved ones don't miss out on these versatile pieces of art!
"Mobile Bay's premier glass studio," Muffinjaw Designs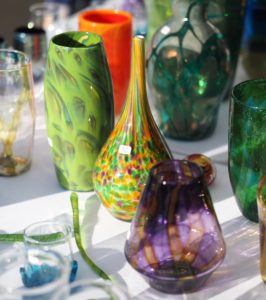 showcases glass blowing demonstrations and classes, as well as small and wholesale orders. Join us in congratulating them on their move to a new studio space within Alabama Contemporary Art Center; grand opening on Saturday, December 2nd! Be sure to browse their collection for a beautiful, handmade piece of art!
Arty Award winner and accomplished artist, Nancy Goodman, can be found most days working away in her studio on the third floor of the Central Arts Collective. Be sure to see her during CAC's Holiday Art Market and get a prized art quilt for your home!
Love + Adventure explores the realms of mixed media art and photography. Owner, Leonardo Ferreira, will host his first vendor market on December 2nd in the lot on Catherine and Dauphin Street. The following dates for this market are set for Saturday, January 6th & Saturday, February 3, 2024.
Skrubbwood offers handmade real wood gifts for the recent graduate, the loving spouse, the budding chef de cuisine, or just the next person that could use a smile.