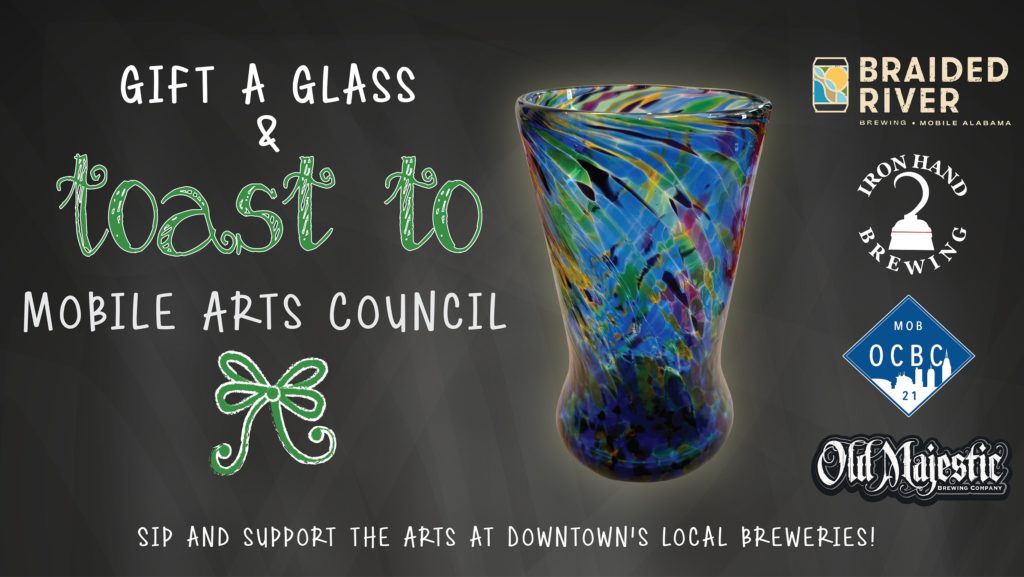 "Gift a Glass" & Give to the Arts!
Gift a glass, sip and support the Arts at Downtown's local breweries! The Mobile Arts Council's 2021 holiday fundraiser costs $75 per participant. Each "Gift a Glass" purchase includes:
– a limited edition handblown pint glass by Muffinjaw Designs
– a draft pint of your choice at each of Mobile's local breweries: Braided River Brewing, Iron Hand Brewing, Old Majestic Brewing, and Oyster City Brewing

Special Pint Punch Cards will be valid from December 25, 2021 – April 30, 2022. Schedule your own brewery crawl or visit each location at your leisure! Participants must be 21+ to be eligible to use the Pint Punch Card. Glasses may vary slightly in color and shape from the original glass pictured. This limited-edition fundraiser is capped to 200 total sales.
We will reach out to purchasers as their hand-blown glasses are completed to schedule pick up at 6 S. Joachim Street on a first-come, first-served basis. As of 12/21, we have sold the first 150 glasses, with the following 50 to be made individually as purchases are received. For those ordering today: your brewery tour maps and pint punch cards will be available immediately, but the glasses will be ready for pick up in mid-January.
The gallery will be closed for the holidays from December 22nd – January 2nd, but we can make special arrangements for local pick up of gifts between December 22nd -31st. If you are interested in immediate pick up, email director@mobilearts.org or call Lucy Gafford at 251-721-1802 for an update on our current availability of glasses.
During another year of COVID-related setbacks, this unique fundraising initiative is vitally important to maintain MAC's programs and services. Register for your "Gift a Glass" purchase and read the full details by clicking the button below!