View our current and past gallery exhibitions below.
Mobile Arts Council coordinates monthly exhibitions in its gallery space at 318 Dauphin St., mostly emphasizing work by professional and amateur artists who live (or have lived) in the Mobile Bay area. Shows focus on work by students, emerging artists, artists not represented in a gallery, and/or established regional artists. The gallery features three exhibition spaces: the Skinny Gallery, the Danielle Juzan Gallery, and the Small Room. Exhibitions are usually displayed from the first Monday of the month through the last Friday. The public is invited to meet the artists from 6 until 9 PM on the second Friday of each month during the LoDa ArtWalk. The offices are open Monday through Friday, 9 AM to 5 PM and usually on Saturday mornings when the Market in the Park is active. Artists may submit a proposal for consideration.
To sponsor an exhibition, please see our Sponsorship Information.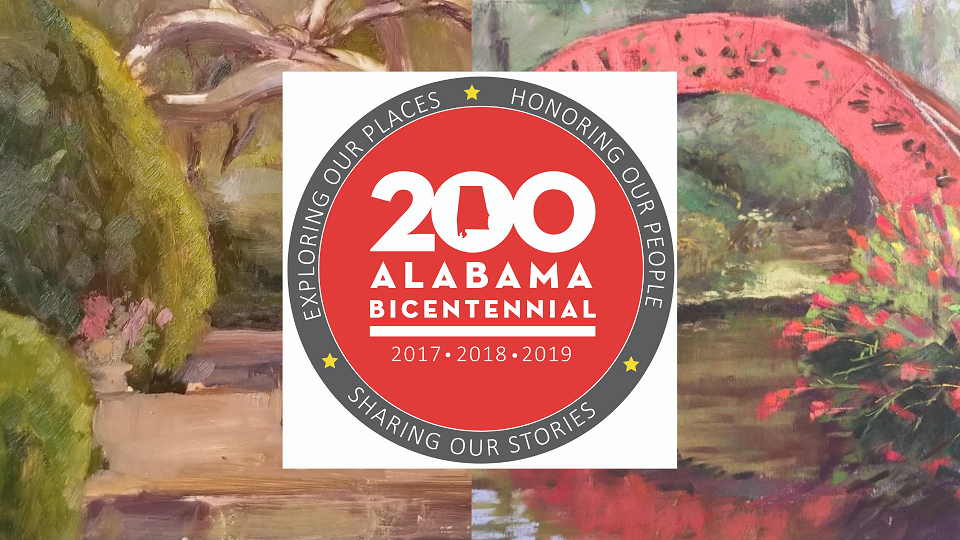 Head over to 6 South Joachim Street to see the Mobile Arts Council's new satellite gallery location, known as the Saenger Theatre's Room 1927. MAC's July artists are lovers of local nature and Alabama scenery. Come see a watercolor collection with a message of preservation by Emily Sommer; a traveling Alabama 200 exhibition featuring educational and commemorative works by Alabama Plein Air Artists; and an assortment of plein air paintings from local group PleinAirSouth.
Gallery hours at Room 1927 will be 10 a.m. – 4 p.m. on Tuesdays – Fridays. The exhibitions will hang from July 3rd through 30th, with a special reception from 6 p.m. to 9 p.m. on July 12th, ArtWalk night. We will remain closed on July 4th in observance of Independence Day. MAC's office location and hours will remain at 318 Dauphin Street from 9 a.m. to 4 p.m. throughout most of July.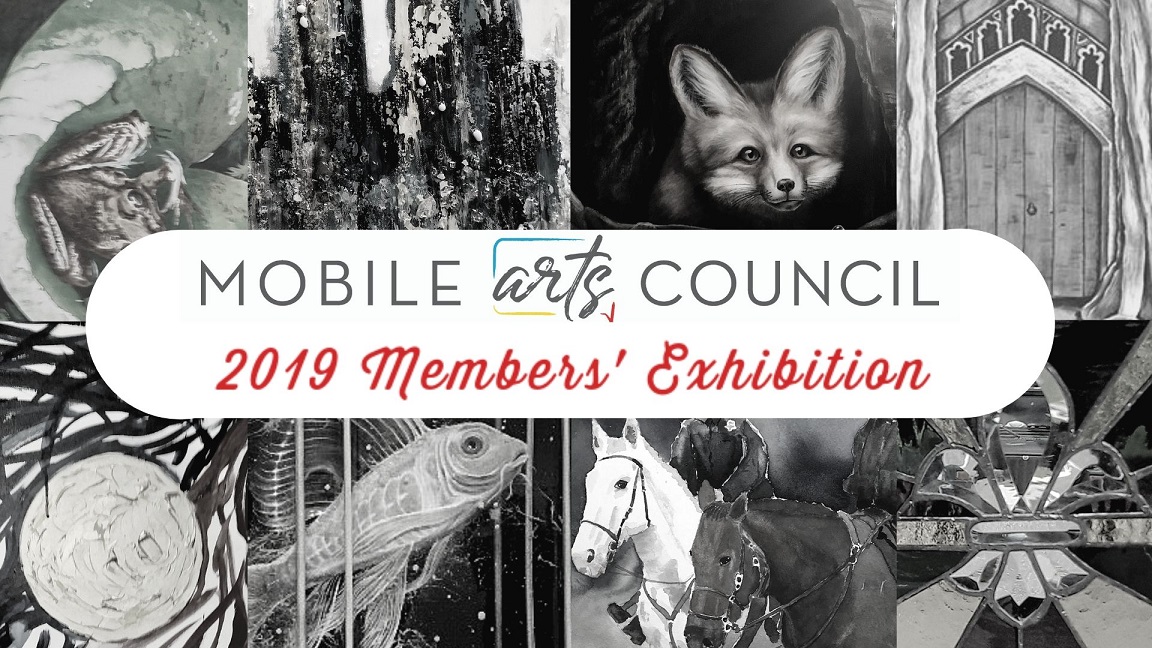 This August, see our annual MAC Members' Exhibition, which is open to all of our Artist Members and represents the range of talents and interests among those who support the Mobile Arts Council. The 2019 show will feature paintings, sculptures, mixed-media works, and much more by artists of all ages and experience levels. With the range of medium and technique represented in this annual show, there's sure to be something for everyone to enjoy and appreciate. In addition, most of the artists' works will be available for purchase. If you or someone you know is interested in participating in next year's exhibition, consider joining as a member!
Participating artists in this year's show include Amanda Napper, Angela Montgomery, Anne Brooks, Anne Rose, Benjamin Kaiser, Bertice McPherson, Bronco Sloan, Bryant Whelan, Christopher Murray, Conroy Hudlow, Frank Vogtner, Gail Bramer, Ginger Woechan, Guy Marcinkowski, Herb Willey, Holly Farmer, Janet Hinton, Joanna Myers, Joanne Brandt, Karen Bullock, Kathy Friedline, Kellie Jane Holland, Lisa Hancock, Lisa Johnston Hancock, Lisa Warren, Lynda Touart, Marnee Edwards, Marsha Hodges, Mary Rodning, Michele Zaricor, Michelle Pujols, Mike Carmichael, Mike Kittrell, Nikki Shaw, Robert Goler, Robert Schroeter, Ruby Lange, Sahar Alford, Sandy Holberg, Sarah Rutledge Fischer, Sharonda Harris, Shelly Schmidtling, Vanessa Quintana, and William Morris.
Gallery hours at Room 1927 will be 10 a.m. – 4 p.m. on Tuesdays – Fridays. The exhibitions will hang from August 5th through 30th, with a special reception from 6 p.m. to 9 p.m. on August 9th, ArtWalk night.
Dates: December 1-31, 2015
"Bovines, Ovines, Equines and More" is an exhibition of paintings by local artist Joanne Brandt. For the past ten years, she has been working on a series of cow (Bovine) paintings, eventually adding other pastoral or domestic animals such as goats and sheep (Ovines), and burros (Equines), as well as a few family pets. Her work is realistic, with a touch of surrealism in her treatment of the colors and movement of paint. "My paintings of these 'divine' creatures are treated as portraits, rather than animal paintings." – Joanne Brandt Joanne is active in several local arts organizations, including the Mobile Arts Association (MAA), the Watercolor and Graphic Arts Society of Mobile (WGAS), PleinAirSouth, the Alabama Miniature Art Society, and the Spring Hill Figure Group.  She has shown her work at the Space 301 Gallery, the University of Mobile, The Eastern Shore Art Center, the Mobile Museum of Art, and the Mobile Arts Council, as well as a number of local alternative art venues.  Her work has won numerous awards. Brandt's work is on display in the Large Room during the month of December. Come meet the artist on artwalk night, December 11, from 6 – 9 PM. MAC's gallery is open weekdays from 9 AM until 5 PM..
The Artys is an annual awards program that celebrates the important contributions that individuals, groups, and businesses make to the Mobile cultural community. Finalists have been announced in the remaining nine award categories, with winners to be announced live at the event.
Artys attendees will enjoy a night of celebration, complete with food, drinks and entertainment in many forms. A jazz trio comprised of John Milham, Chris Spies, and Chris Severin will play, with performances by Mobile Opera and Joe Jefferson Players throughout the ceremony.