View our current and past gallery exhibitions below.
Mobile Arts Council coordinates monthly exhibitions in its gallery space at 318 Dauphin St., mostly emphasizing work by professional and amateur artists who live (or have lived) in the Mobile Bay area. Shows focus on work by students, emerging artists, artists not represented in a gallery, and/or established regional artists. The gallery features three exhibition spaces: the Skinny Gallery, the Danielle Juzan Gallery, and the Small Room. Exhibitions are usually displayed from the first Monday of the month through the last Friday. The public is invited to meet the artists from 6 until 9 PM on the second Friday of each month during the LoDa ArtWalk. The offices are open Monday through Friday, 9 AM to 5 PM and usually on Saturday mornings when the Market in the Park is active. Artists may submit a proposal for consideration.
To sponsor an exhibition, please see our Sponsorship Information.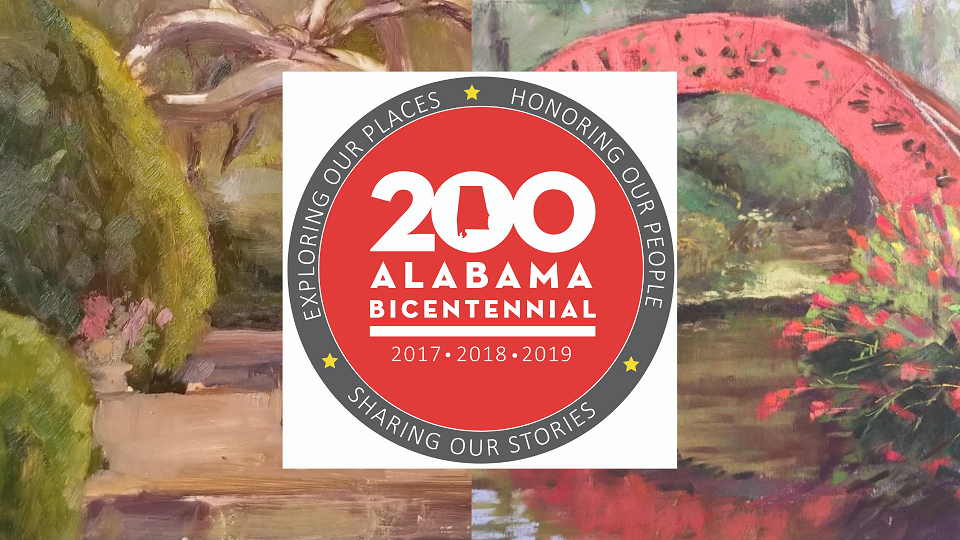 Head over to 6 South Joachim Street to see the Mobile Arts Council's new satellite gallery location, known as the Saenger Theatre's Room 1927. MAC's July artists are lovers of local nature and Alabama scenery. Come see a watercolor collection with a message of preservation by Emily Sommer; a traveling Alabama 200 exhibition featuring educational and commemorative works by Alabama Plein Air Artists; and an assortment of plein air paintings from local group PleinAirSouth.
Gallery hours at Room 1927 will be 10 a.m. – 4 p.m. on Tuesdays – Fridays. The exhibitions will hang from July 3rd through 30th, with a special reception from 6 p.m. to 9 p.m. on July 12th, ArtWalk night. We will remain closed on July 4th in observance of Independence Day. MAC's office location and hours will remain at 318 Dauphin Street from 9 a.m. to 4 p.m. throughout most of July.
Dates: July 1-31, 2016
Shawn Branson is a surfer and an artist, so it's no surprise that he creates his own surfboards. Branson is originally from Saint Louis, MO. He moved to the east coast of Florida in 2007 where he really got into surfing. Eventually he found himself at the Gulf Coast of Alabama. Here, he continued to surf and soon was building custom shaped surfboards – something he always wanted to do. Branson hand-shapes both wood and foam boards using a variety of materials: epoxy resin, wood, burn pen, poly foam, EPS foam, acrylic paint, and resin pigment. According to Branson, "I design and hand shape custom surfboards for the gulf coast waves. Every aspect, from design to artwork, flows together to allow you to dance with the rhythm of our shoreline." During ArtWalk night, the artist will give a live demonstration on shaping a wooden surfboard in the gallery. Branson's exhibit will be on display at MAC during the month of July in the Small Room. Meet the artist on ArtWalk night, July 8th, from 6:00 – 9:00 PM. The gallery will be open from 9:00 AM – 5:00 PM on weekdays (closed July 4th).
The Artys is an annual awards program that celebrates the important contributions that individuals, groups, and businesses make to the Mobile cultural community. Finalists have been announced in the remaining nine award categories, with winners to be announced live at the event.
Artys attendees will enjoy a night of celebration, complete with food, drinks and entertainment in many forms. A jazz trio comprised of John Milham, Chris Spies, and Chris Severin will play, with performances by Mobile Opera and Joe Jefferson Players throughout the ceremony.