View our current and past gallery exhibitions below.
Mobile Arts Council coordinates monthly exhibitions in its satellite gallery space at 6 South Joachim Street, mostly emphasizing work by professional and amateur artists who live (or have lived) in the Mobile Bay area. Shows focus on work by students, emerging artists, artists not represented in a gallery, and/or established regional artists. Exhibitions are usually displayed from the first Monday of the month through the last Friday. The public is invited to meet the artists from 6 until 9 PM on the second Friday of each month during the LoDa ArtWalk. The gallery is open Monday through Friday from 10 AM to 4 PM. Artists may submit a proposal for consideration.
To sponsor an exhibition, please see our Sponsorship Information.
"Five" is a juried exhibition of work by students at the area's five colleges and universities, sponsored every other year by the Mobile Arts Council (MAC). The 2020 exhibition will be displayed in the MAC's Gallery @ Room 1927 (6 South Joachim Street) from Friday, April 3 through Wednesday, April 29, with a reception and awards presentation during the LoDa ArtWalk on Friday, April 10.
The exhibition is open to any student – not only students studying art – enrolled during any part of the 2019 -2020 academic year at Bishop State Community College, Coastal Alabama Community College, Spring Hill College, the University of Mobile or the University of South Alabama.You may submit up to three pieces in any medium/style, created while enrolled in your current school.
To be eligible, complete this online entry form by 4 PM, Friday, February 28. There is a $20 fee for up to three entries,which includes a free MAC Artist Membership ($35 value). You will be notified of the juried decisions by Monday, March 23. Six prizes will be awarded: First, Second, and Third Place; and three Honorable Mentions. Prizes will include cash, as well as other items.
If your work is selected, you must drop off pieces at the 6 South Joachim Street between Tuesday, March 29 and Wednesday, April 1 (10 AM – 4 PM). Works must be equipped to hang, labeled, and ready for display; if you use a mat, it must be white. All entries must remain on display until Wednesday, April 29 and be picked up on Thursday, April 30 (10 AM – 4 PM). If a piece is sold, MAC will add sales tax (10%) and take a 20% commission and mail you a check at the conclusion of the month. For further information, contact Amber Swain at aswain@mobilearts.org or 251-432-9796.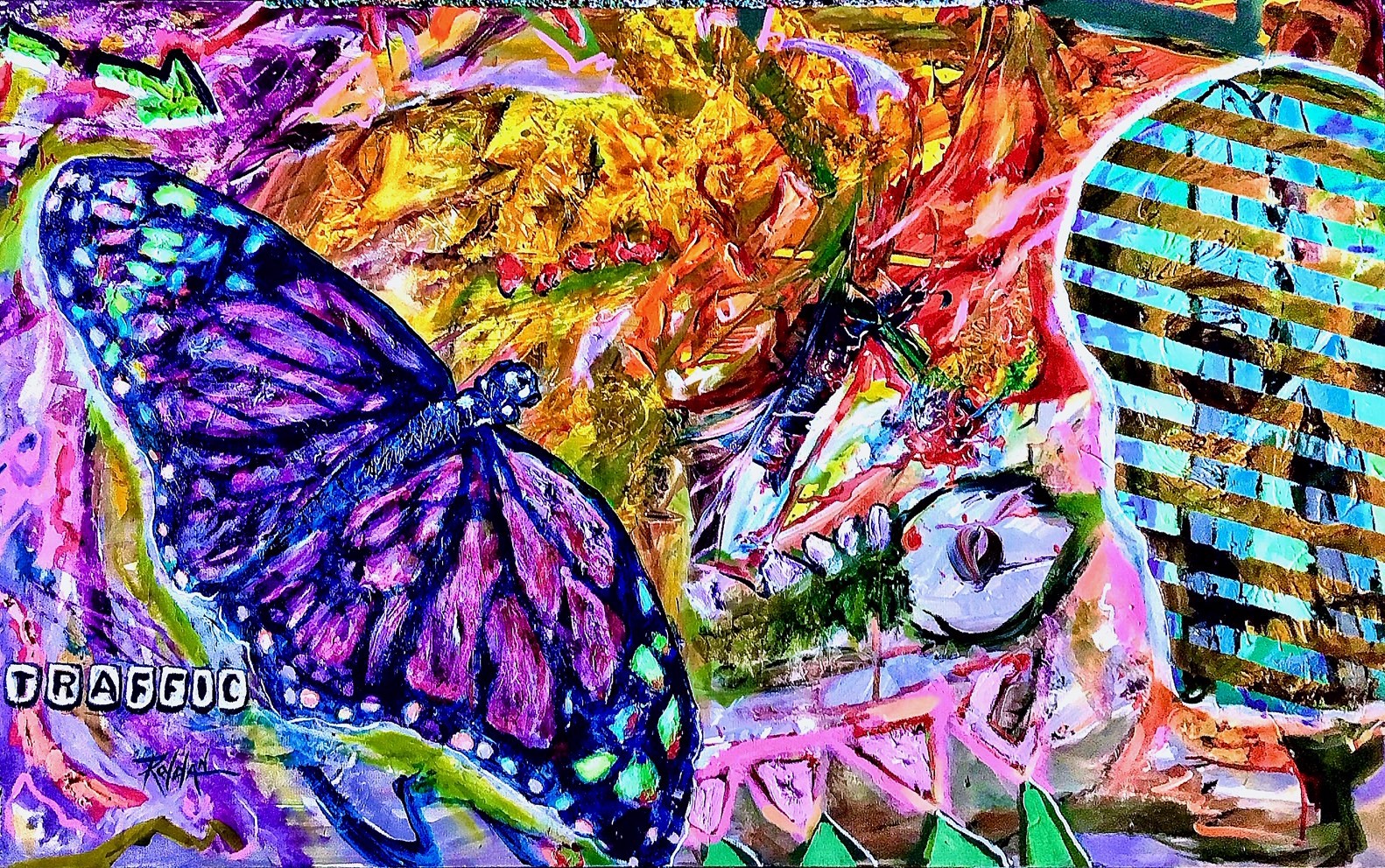 Artists Jerry Roldan, Hunter Cobb, and others will be exhibiting January 6th to the 31st in MAC's Gallery at the Saenger's Room 1927.
Jerry Roldan's exhibition, "Doodles from a Clutter Reality," consists of arbitrary shapes and layers of various art styles. His spatial designs and vibrant use of colors draw in the viewer to interpret the narrative aspects of his paintings.
Roldan explores time as an element in his painting by the dividing the picture into sections, using the edges of the canvas, and by creating numerous accent areas. This encourages the viewer to spend time looking at the work from different distances, angles, and levels of detail. If they look for 3 minutes or 10 minutes, the work thereby exists as a 3 minute or 10 minute "film".
Roldan encourages the viewer to spend "creative time" thinking of the meaning of the work. As many of the arbitrary shapes occur by chance, it leaves aspects of the work open for loose interpretation.
 "Vanishing Point," organized by Hunter Cobb, is a group show featuring artists from Innova Arts, Dauphin Island Heritage and Arts Council, and other area artists. The underlying theme of this group exhibition is utilizing vanishing point perspective.
Gallery hours at Room 1927 will be 10 a.m. – 4 p.m. on Tuesdays – Fridays. The exhibitions will hang from January 6th through the 31st, with a special reception from 6 p.m. to 9 p.m. on January 10th, LoDa ArtWalk night.
Dates: August 1-31, 2016
This month in the Danielle Juzan Gallery, Michael Furr will be displaying"Inside Voices Only" – a show of paintings that are entirely up for interpretation. The goal of Furr's show is to encourage the audience to interact with one another and his artwork themselves. The "meaning" of each painting is tangible but will require effort from the viewer to "connect the dots." Furr will have paper hung around the gallery for the audience to write their ideas. Furr says, "I look forward to reading what you have taken away from each painting. You can leave this show more enlightened or not at all. It depends entirely upon you." According to Furr: "Different perceptions shape each of our consciousness. "What does this mean? What if I don't get it right? What if what I want it to be is harming my soul? Am I wasting my life?" Questions in life that often lead to fear. Fear is natural and keeps us safe on basic levels but, when the fear takes over completely through a weak mind, paralysis and confusion can set in.  The confusion, in reality, is a perception that is limited. It is our cross to bear to exist within an infinite cosmos that is largely unknown.  Have no fear in this space; This art is creation, made with intention, temporary yet purposeful, to inspire and not to confuse. How are you living? Are you letting fear take the wheel? Or are you defining your own path? Are you so sure you have it all figured out? Is confusion a natural phenomenon, or is it a human by-product? Is it both? Is it neither? Does it matter? Share your perception…" Michael Furr is a self taught artist from Atlanta, Georgia. He has always had a deep desire to draw and create art (writing, music, sewing, painting, etc). He began taking the acrylic medium more seriously in 2011. He currently lives in Foley, Alabama.  His subject matter is extremely varied and his style continues to evolve and change and "probably will forever." Furr's exhibit will be on display at MAC during the month of August in the Danielle Juzan Gallery. Meet the artist on ArtWalk night, August 12th, from 6:00 – 9:00 PM. The gallery will be open from 9:00 AM – 5:00 PM on weekdays.
The Artys is an annual awards program that celebrates the important contributions that individuals, groups, and businesses make to the Mobile cultural community. Finalists have been announced in the remaining nine award categories, with winners to be announced live at the event.
Artys attendees will enjoy a night of celebration, complete with food, drinks and entertainment in many forms. A jazz trio comprised of John Milham, Chris Spies, and Chris Severin will play, with performances by Mobile Opera and Joe Jefferson Players throughout the ceremony.