Each month, our community gallery features new exhibitions of original works created by local and regional artists in our Gallery @ Room 1927, located at 6 South Joachim Street (next door to the Saenger Theatre). The gallery is open Tuesday through Friday from 10 a.m. to 4 p.m. Any artists are eligible and may submit a proposal for consideration. Exhibitions are usually displayed from the first Wednesday through the last day of each month.
Join us on the second Friday of each month during LoDa ArtWalk for our exhibition receptions. Meet the artists, see their work in person, and create a personal connection with what is on display. Our gallery is open to the public Tuesdays - Fridays from 10 a.m. to 4 p.m. Those that are vaccinated are not required to wear masks in the gallery. View our extended Virtual Gallery program, implemented during the 2020 quarantine, online here. View our current and recent exhibitors below!
To sponsor an exhibition, please see our Sponsorship Information.

The Mobile Arts Council will feature works by our Artist Members for the months of August and September 2021. Artwork can be 2D or 3D, as well as audio/video. Artists may submit up to two pieces of work that are no larger than 3'x6' in area total (combined). Artists with more than one entry are subject to have a piece juried out, depending on the number of entries received. All submissions must be digitally uplaoded here prior to the drop off date on August 2nd. Images submitted should be high quality, centered, cropped appropriately, free from glare, and absent of anything that will detract from the artwork itself. We will follow up with all applicants via email with juried results on the morning of Friday, August 6th. Artwork drop off will take place on August 2nd from 10 a.m. to 4 p.m. at 6 South Joachim Street.
Works must be equipped to hang with a wire, sawtooth hanger, etc. (something that is compatible with our hanging system). Artists are requested to be present for the ArtWalk reception and awards ceremony on Friday, August 13th. MAC takes a 20% commission on all art sales. Works do not have to be for sale. All works entered must not have been on display at MAC previously. Works must remain on display through Wednesday, September 29th. Take down will take place on Thursday, September 30th from 10 a.m. to 4 p.m.  If you have any additional questions, email Sydney Cramer at scramer@mobilearts.org.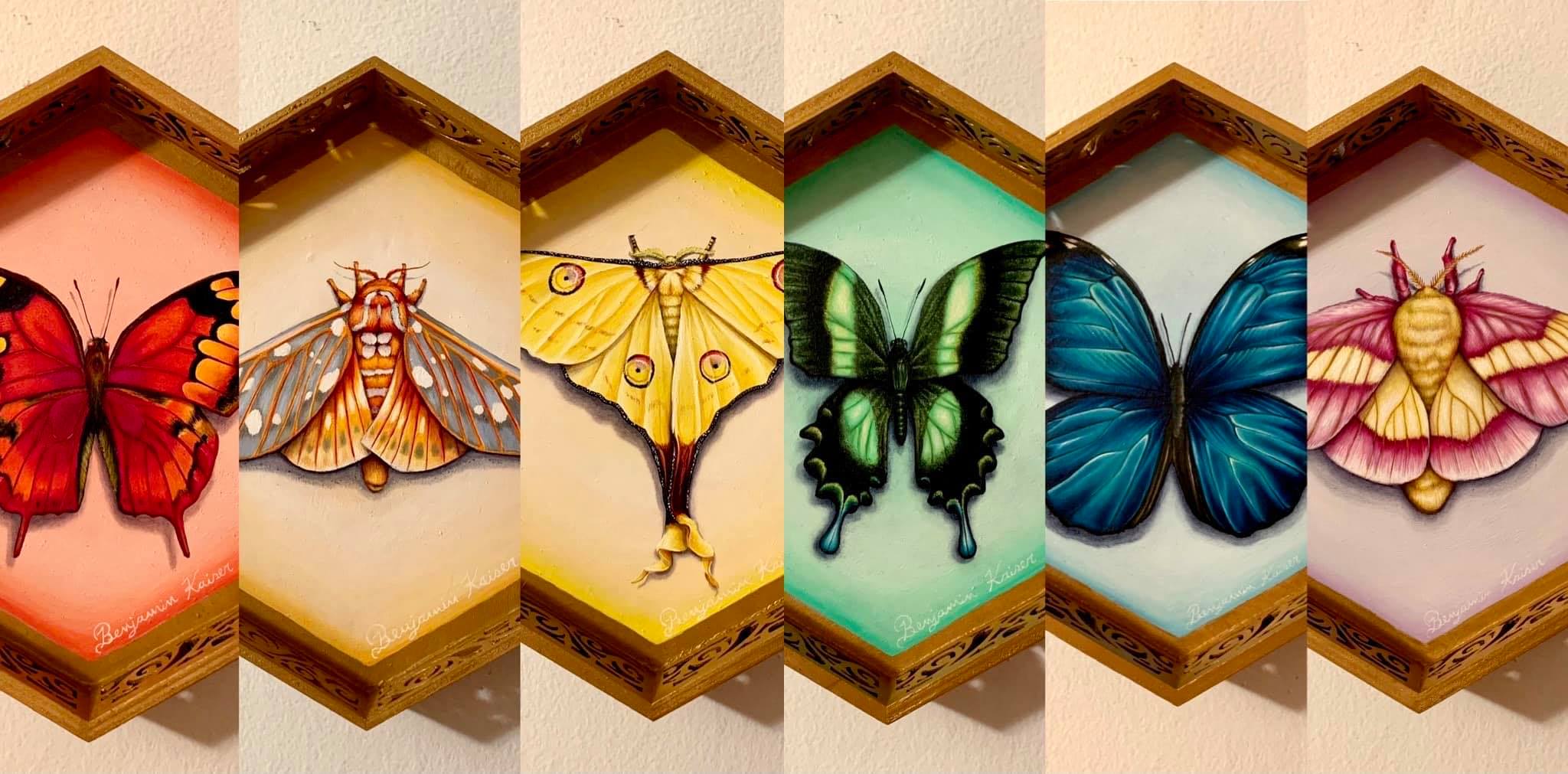 The Mobile Arts Council Gallery will be hosting two exhibitions this June. These shows will hang in our Gallery @ Room 1927 from June 4th through June 30th, 2021. See them in person throughout the month or on LoDa ArtWalk night, Friday June 11th! A date for the closing reception honoring these artists will be announced at a later time. The MAC Gallery is open Tuesday – Friday, from 10 a.m. to 4 p.m.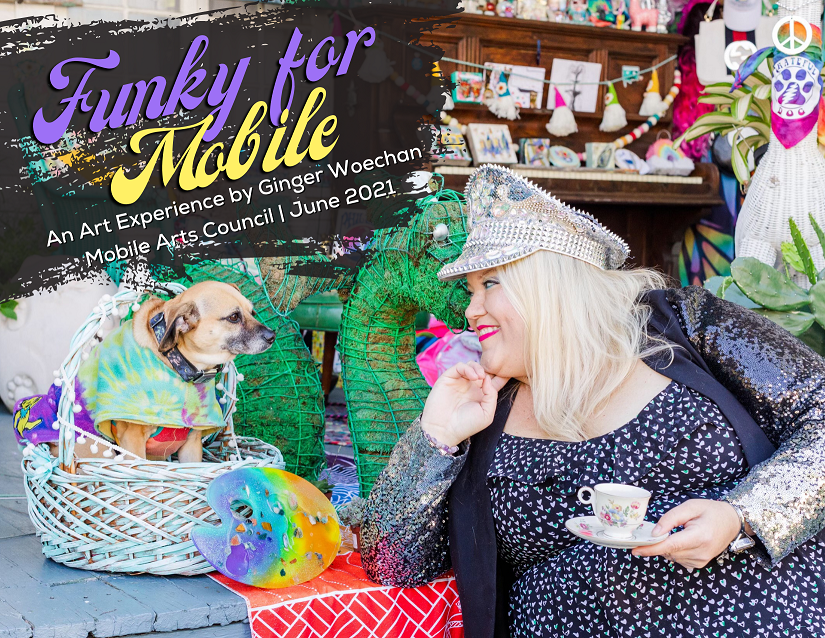 Funky for Mobile
An Art Experience by Ginger Woechan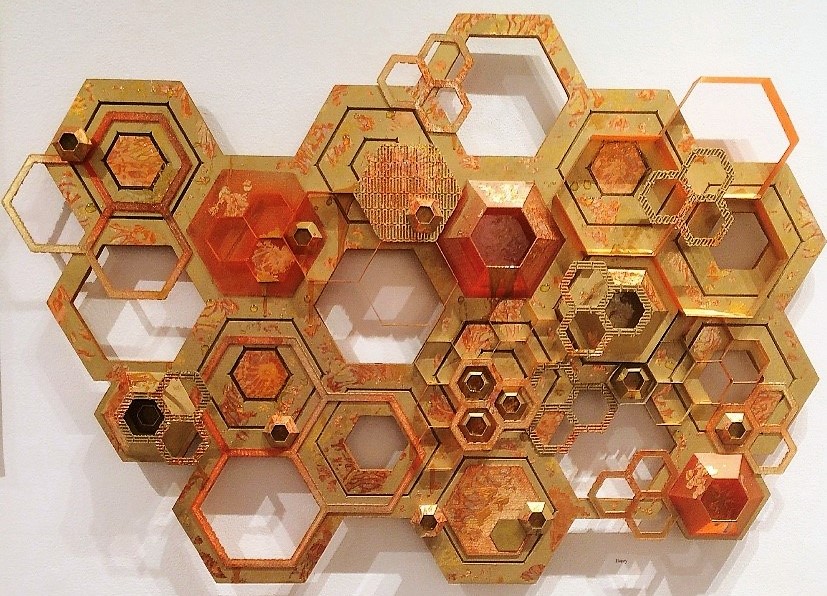 Entomology
By Ben Kaiser and Vanessa Quintana
In this world, beauty can be found almost anywhere. From traveling to strolling in the park, or even just stepping out in the garden, beauty is everywhere; but we would like to turn your gaze to some of the lesser known, or overlooked beauties. The ones that you may find just by walking through your yard or turning over a leaf. For most people, when they think of insects, they don't tend to think nice thoughts, but we would like to challenge your perspective. "Entomology" is here to open your eyes to the fascinating world of insects, their close cousins, and their environment. We created this collection acknowledging the classic scientific drawing and added our own artistic flare. We hope that after viewing this show you will have a new appreciation for the beauty of the insect world.
Dates: January 1-31, 2016
Colleen Comer's show, "Structures," features paintings of buildings and interiors that she sees in everyday life. Her compositions are dramatic and use saturated colors to bring out the geometry and shapes of her subjects. Colleen "wants each painting to exist as an individual idea and world, not as a mere representation." Comer receieved her BFA Auburn University, and has shown her work in Charleston, New York, Paris and Mobile, AL. Comer's work is on display in the Skinny Gallery and Smal Room during the month of January. Come meet the artist on artwalk night, January 8, from 6 – 9 PM. MAC's gallery is open weekdays from 9 AM until 5 PM..
The Artys is an annual awards program that celebrates the important contributions that individuals, groups, and businesses make to the Mobile cultural community. Finalists have been announced in the remaining nine award categories, with winners to be announced live at the event.
Artys attendees will enjoy a night of celebration, complete with food, drinks and entertainment in many forms. A jazz trio comprised of John Milham, Chris Spies, and Chris Severin will play, with performances by Mobile Opera and Joe Jefferson Players throughout the ceremony.