Each month, our community gallery features new exhibitions of original works created by local and regional artists in our Gallery @ Room 1927, located at 6 South Joachim Street (next door to the Saenger Theatre). The gallery is open Wednesday through Friday from 10 a.m. to 4 p.m. Any artists are eligible and may submit a proposal for consideration. Exhibitions are usually displayed from the first Monday of the month through the last Friday.
Now, those exhibitions can be viewed here online, in addition to unique arts and crafts created by MAC's artist members that are available for purchase. The new MAC Virtual Gallery serves our mission by providing patrons the opportunity to support local artists of all mediums and skill levels from beyond the walls of the Gallery @ Room 1927. Be sure to visit monthly for new art pieces, tickets to MAC events, and so much more!
Your patronage of the arts grows Mobile's collective cultural footprint in a number of ways. It allows MAC to continue hosting exhibitions and artist workshops, award grants to artists and arts organizations, and provide experiences that celebrate the historically heterogeneous culture that makes Mobile so vibrant!
Join us on the second Friday of each month during LoDa ArtWalk for our exhibition receptions. Meet the artists, see their work in person, and create a personal connection with what is on display. Our gallery is open to the public Wednesdays - Fridays from 10 a.m. to 4 p.m. Masks and social distancing are required.
To sponsor an exhibition, please see our Sponsorship Information.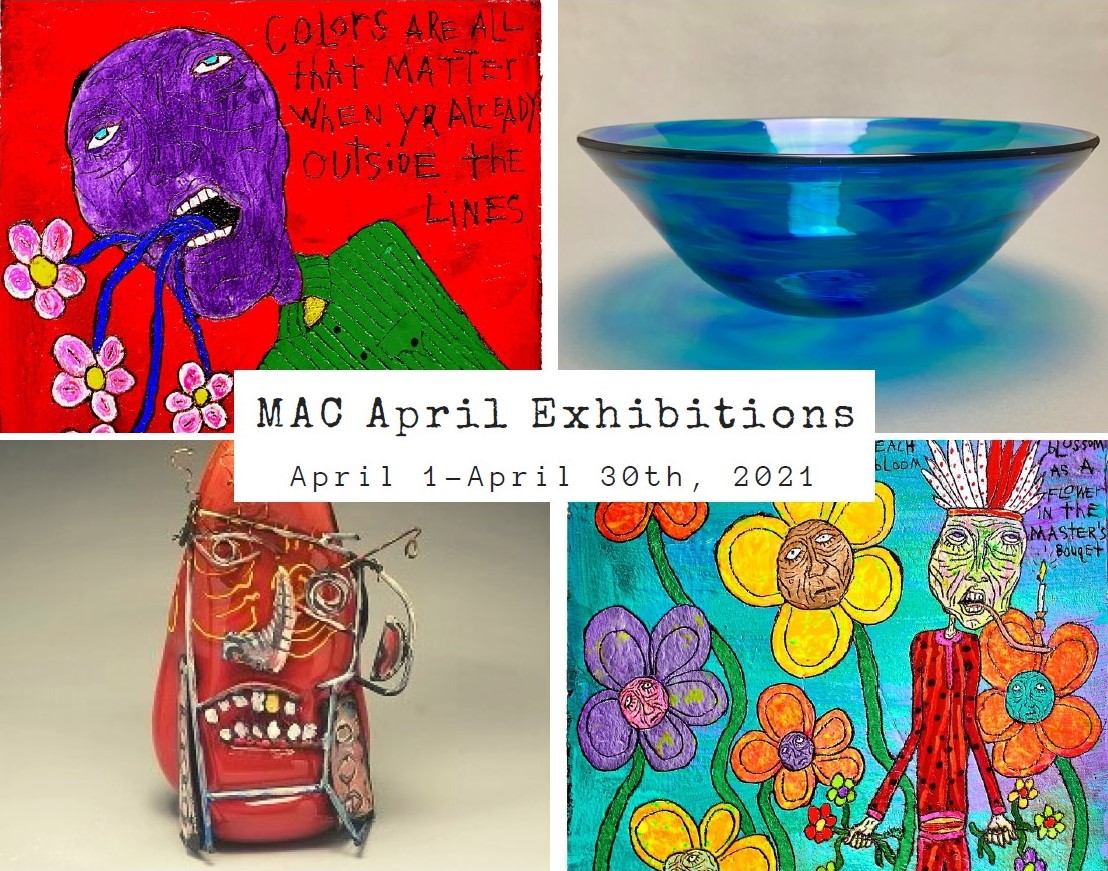 The Mobile Arts Council will be hosting two exhibitions this April – "L'inizio" and "The Folk Art of Abe Partridge."
L'inizio: Works by Freddie Blache, Tres Johns, and Gage Nobles
Freddie Blache was born and raised in Mobile Alabama. He began working with glass in the fall of 2013 at the University of South Alabama. After his first semester of the glass blowing elective, Freddie switched to a full-time pursuit of a B.F.A. with a concentration in glass and secondary concentration in sculpture which he received in the fall of 2017. Freddie's personal style of glassblowing is derived from the Venetian techniques with a funky, southern twist. Most of his work is influenced by the natural surroundings on the gulf coast. While learning glassblowing in school, Freddie teamed up with his better half, Caroline, and their friend's Gage Nobles and Tres Johns to form Muffinjaw Designs.
Gage Nobles was born and raised in Mobile, AL, and started blowing glass in 2015 at the University of South Alabama. Primarily focusing on Venetian style works, he specializes in goblets and stemware, attempting to go as thin and light as possible, while maintaining a straight and centered body of work. Though Gage does not consider himself as an advanced glass blower, he hopes to one day be as good as the master glassblowers such as Dante Marioni, James Mongrain, and William Gudenrath.
Tres Johns is a glass artist and sculptor from Mobile, Alabama. He received a B.F.A. from the University of South Alabama in 2017 with a concentration in glass blowing and a secondary concentration in sculpture. His artistic taste centers around abstract expressionist works and street art. Most of his work is hot, sculpted glass objects with gestural, sometimes crude-looking painting and sculpting techniques on top of the glass. The juxtaposition of the traditional thinking that glass is an elegant, beautiful form and the abstracted, gestural painting often reserved for expressionist and street art is important to his work. He desires for people to carefully examine his work, so they see past the crudeness and find the beauty.
Muffinjaw Designs makes functional and decorative glass art for home and garden as well as seasonal products. The collaborative team also preforms live glassblowing demonstrations with their portable glass studio.
Alabama Astronaut: The Folk Art of Abe Partiridge
Abe Partridge is from Mobile, Alabama. He left Mobile when he was 18 in pursuit of a Theological education. After attending 4 bible colleges in 4 years, he became the pastor of a small Independent Baptist Church in the Appalachians of Eastern Kentucky at only 25 years old. When he was 27 years old, Abe became acquainted with a horrible depression, left the ministry, and turned to Art. Abe has written songs, and made paintings like the ones in this exhibition ever since. Only after joining the military and going to war did he decide to begin sharing his art with the world. Abe has never taken even one songwriting class or art class. His artwork is made with roofing tar that is thinly applied to plywood, musical instruments, old, damaged, vinyl records, and whatever else he can stick tar on. It is cured for 30 days before he carves his images in the tar with a screwdriver or an ice pick. Finally, he paints the tar with acrylic paints and seals it with a clear gloss acrylic sealer.
"Rethink preconceived notions. Question authority. Create new methods of survival. See beauty."- Abe
Dates: December 1-31, 2015
Shelley Smith's exhibition, "Beautiful: A Photographic Exploration & Exhibition of Women of all Ages, Ethnicities, and Backgrounds," features photographs of over 25 women- all ages, shapes, and sizes. Smith's photography show culminated as a question and exploration of finding beauty at all ages. "As I, myself, get older and watch my body change as a woman, staring at myself in a mirror, noticing lines and other aspects that we as women study, I begin to wonder how am I defined socially as well as attractively. It may seem a shallow notion, but I think society has made it abundantly clear how we are often (though wrongly) defined. Beauty is not just a form in the flesh, but is what we are and who we reveal ourselves to be internally." – Shelley Smith Smith's work is on display in the Skinny Gallery during the month of December. Come meet the artist on artwalk night, December 11, from 6 – 9 PM. MAC's gallery is open weekdays from 9 AM until 5 PM.
Dates: December 1-31, 2015
Jenna Cape is a graduating art student from the University of Alabama. Her show, "BIT BY BIT," includes many small to medium sized vessel-like ceramic forms, as well as some oil and water based paintings. Cape's work expresses her interest in how things relate to each other, and how strange that connection can be. This is the artist's first solo exhibition. "My creative process is influenced by the complex relationships that exist within nature. From the ebb and flow of water, the changing seasons, or the spontaneity of cloud formations, nature holds a sense of mystery that I aim to depict in my work. " – Jenna Cape Cape's work is on display in the Small Room during the month of December. Come meet the artist on artwalk night, December 11, from 6 – 9 PM. MAC's gallery is open weekdays from 9 AM until 5 PM.
Dates: December 1-31, 2015
"Bovines, Ovines, Equines and More" is an exhibition of paintings by local artist Joanne Brandt. For the past ten years, she has been working on a series of cow (Bovine) paintings, eventually adding other pastoral or domestic animals such as goats and sheep (Ovines), and burros (Equines), as well as a few family pets. Her work is realistic, with a touch of surrealism in her treatment of the colors and movement of paint. "My paintings of these 'divine' creatures are treated as portraits, rather than animal paintings." – Joanne Brandt Joanne is active in several local arts organizations, including the Mobile Arts Association (MAA), the Watercolor and Graphic Arts Society of Mobile (WGAS), PleinAirSouth, the Alabama Miniature Art Society, and the Spring Hill Figure Group.  She has shown her work at the Space 301 Gallery, the University of Mobile, The Eastern Shore Art Center, the Mobile Museum of Art, and the Mobile Arts Council, as well as a number of local alternative art venues.  Her work has won numerous awards. Brandt's work is on display in the Large Room during the month of December. Come meet the artist on artwalk night, December 11, from 6 – 9 PM. MAC's gallery is open weekdays from 9 AM until 5 PM..
The Artys is an annual awards program that celebrates the important contributions that individuals, groups, and businesses make to the Mobile cultural community. Finalists have been announced in the remaining nine award categories, with winners to be announced live at the event.
Artys attendees will enjoy a night of celebration, complete with food, drinks and entertainment in many forms. A jazz trio comprised of John Milham, Chris Spies, and Chris Severin will play, with performances by Mobile Opera and Joe Jefferson Players throughout the ceremony.