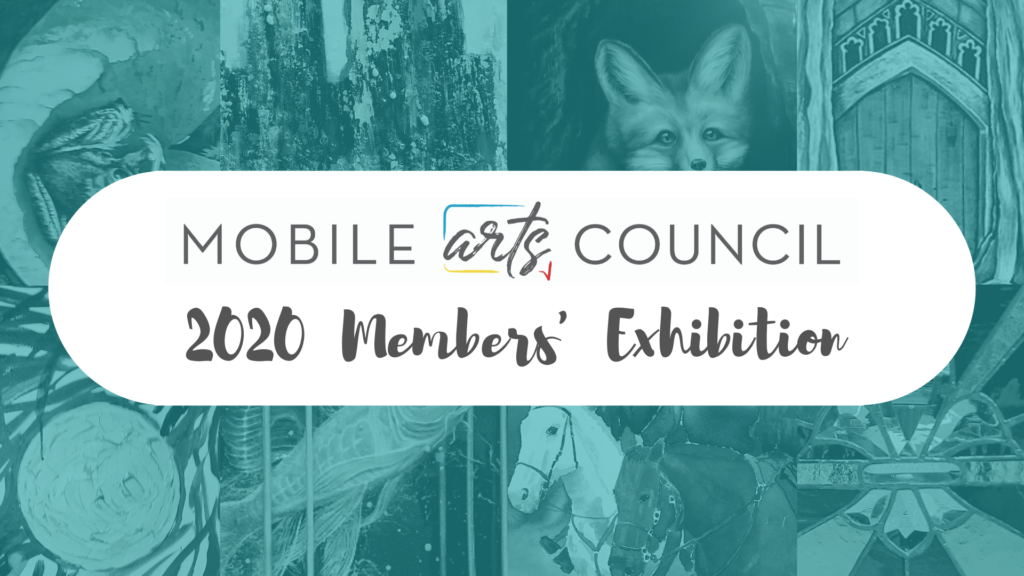 Exhibit in the 2020 MAC Members' Show!
ENTRY DEADLINE EXTENDED TO AUGUST 28TH!
Annually, the Mobile Arts Council (MAC) presents the Members' Show, featuring all of our artist members together. Side by side, MAC members represent the collective style and level of talent within the visual arts community of Mobile. Our members also represent the spectrum of mediums.
The 2020 Members' Show will be at the Gallery in Room 1927 from Friday, September 4th to Thursday, October 29th.
The Members' Show is open to new and current members. Memberships are available through our website, www.mobilearts.org.
To participate, complete this entry form by Friday, August 28th. There is no entry fee to participate, but a MAC Artist Membership is $35 for the year. You must drop off your pieces at 6 South Joachim Street on Tuesday, September 1st, between 10 a.m.- 4 p.m.
Exhibitors may submit two pieces that fit within a three-foot by six-foot space. The art must be equipped to hang using wire, a sawtooth hanger, or some means to attach to a hook, unless suitable for a pedestal. Works must be labeled with the artist's name, title of the piece, and medium.
Entries will remain exhibited until Thursday, September 29th. At the end of the show, pick up is on Friday, September 30th between 10 a.m. and 4 p.m. MAC will add a ten percent sales tax and take a 20% commission on work that is sold. Checks will be mailed at the end of the month.
The Mobile Arts Council reserves the right to post images of your work to promote the exhibition, with credit given to the artist, unless otherwise requested.
For more information, alternate drop off arrangements, or questions regarding our hanging system, contact Amber Swain at aswain@mobilearts.org or 251-432-9796.