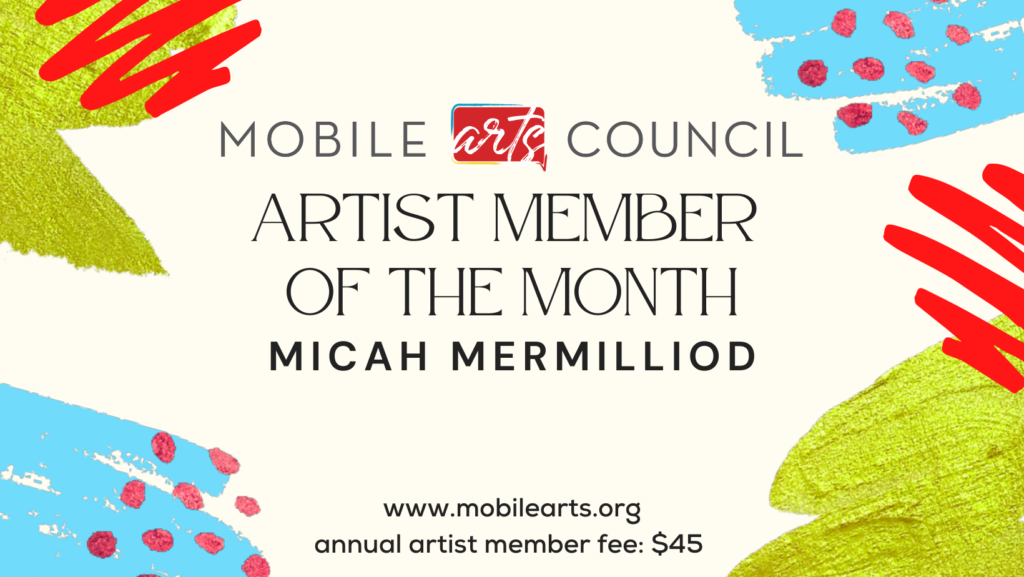 August Artist Member of the Month
Congratulations to our August Artist Member of the Month, Micah Mermilliod!
Micah Mermilliod (he/him) creates work that often incorporates elements of collage, both in the mediums used and the ideas at play.  He is most interested in adaptive changes that humans make, especially in an environment that is rapidly changing due to catalysts such as technology, socioeconomic status, and environmental change.  Much of his work from the past few years has explored his experience with quarantine and the new normal which has followed. Micah received his MFA from the University of South Alabama in 2022 in Creative Technologies and Practice, and he currently resides in Mobile, AL, where he works as a curator for the Alabama Contemporary Art Center.  
Some of Micah's work is currently on display in Mobile Arts Council's gallery on 6 S Joachim Street, with one of his pieces winning Best of Show in our juried Annual Members' Show. If you would like to view this work in person, the gallery is open from 11 a.m. to 5 p.m. Tuesday through Friday, and 11 a.m. to 2 p.m. on Saturday. The Members' Show will be on display through the month of September.
If you'd like to get in touch with Micah or view more of his work, you may do so here:
Email: Mermilliod.micah@gmail.com
Instagram: @Micah.mermilliod
Website: www.MicahMermilliod.com