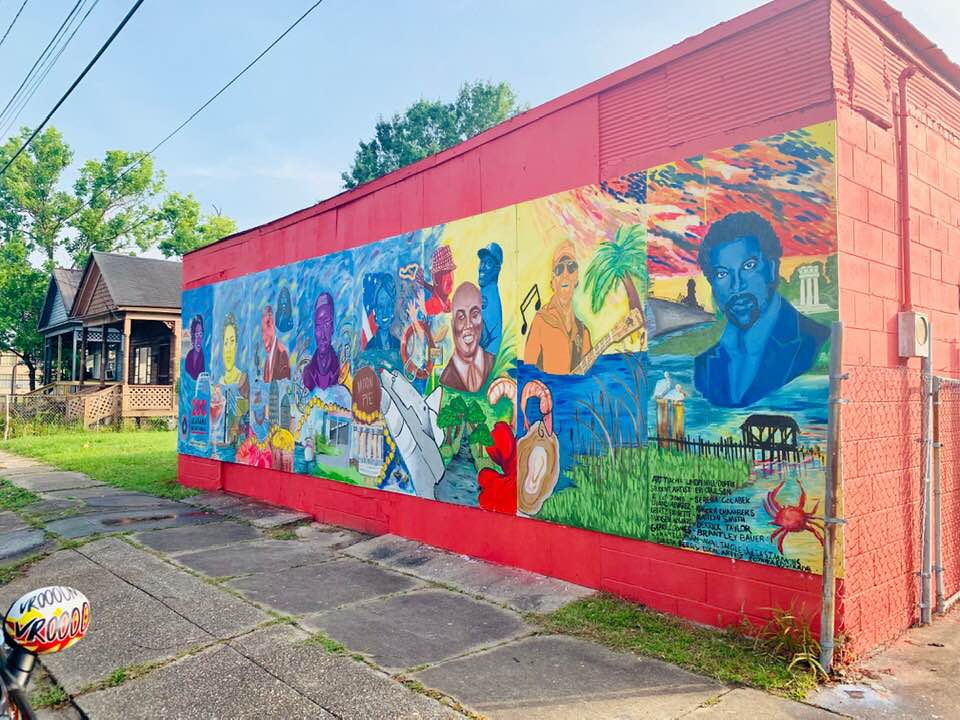 Art as revitalization in AL 200 mural project
Mobile, Ala. – A corner in downtown Mobile is more colorful, thanks to an AL200 project grant.
"Faces of Alabama" is colorful mural featuring famous Alabamians who have positively impacted the state, painted by the talented students of Dunbar Magnet School. Dunbar was selected as a bicentennial school this year as part of the state's bicentennial celebration. Students learned about the impact of each individual while also creating art panels that honor the individual.
Art teacher Linda Duffis worked with Mobile Arts Council to coordinate the the people chosen and identify areas of downtown in need of revitalization. Duffis worked with her students throughout the year to create wood panels that honored those chosen for the project, including Lionel Ritchie, Condoleeza Rice, Tim Cook, Rosa Parks, Bo Jackson, Paul "Bear" Bryant, Jimmy Buffet, Robin Roberts, Nat King Cole, Charles Barkley, and Martha Reeves . The Downtown Mobile Alliance helped with the location selected to install the mural.
"The area identified for the mural is an entrance to Dunbar, so these students and parents get to see their work on display on their way to school," said Shellie Teague, executive director of Mobile Arts Council. "The building on which the art is installed is now much brighter. We believe that communities and areas can be transformed in this way all around Mobile through art."
Members of the community are invited to the ribbon cutting at the new mural, located at the corner of Congress and Cedar Street on Tuesday, May 21st at 9:30 a.m.
The "Faces of Alabama" mural was made possible through a partnership between Alabama 200, the Alabama License Tag Grant Program, Dunbar Creative & Performing Arts Magnet School, the Downtown Mobile Alliance, and the Mobile Arts Council.