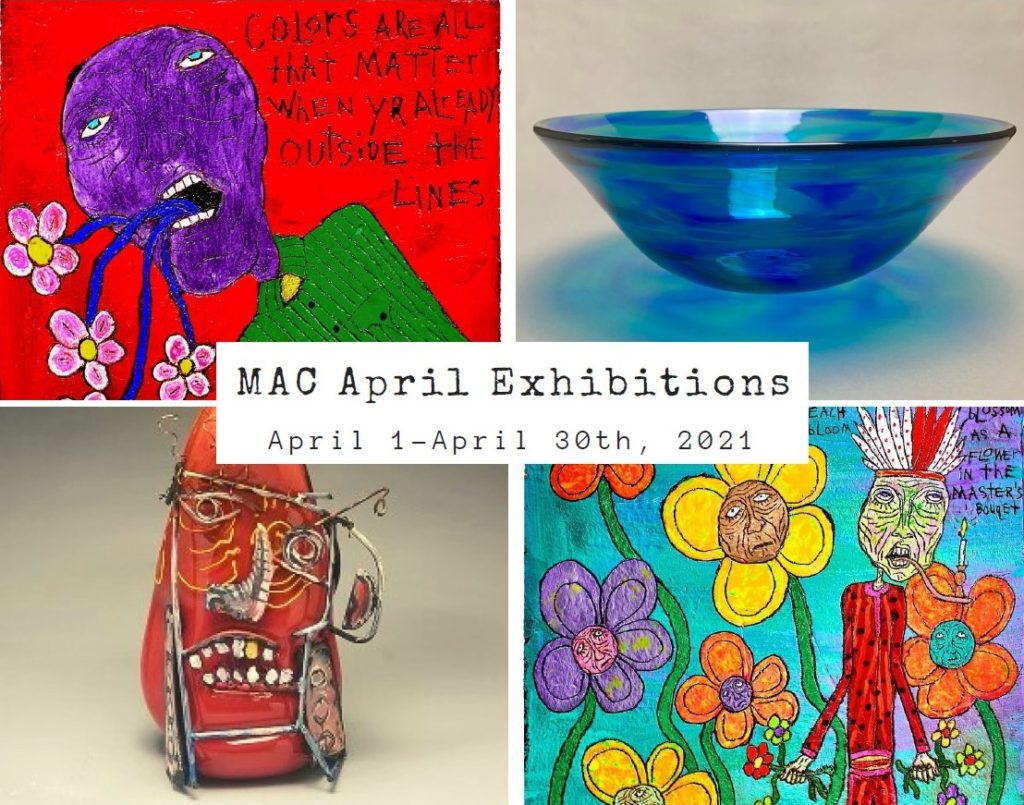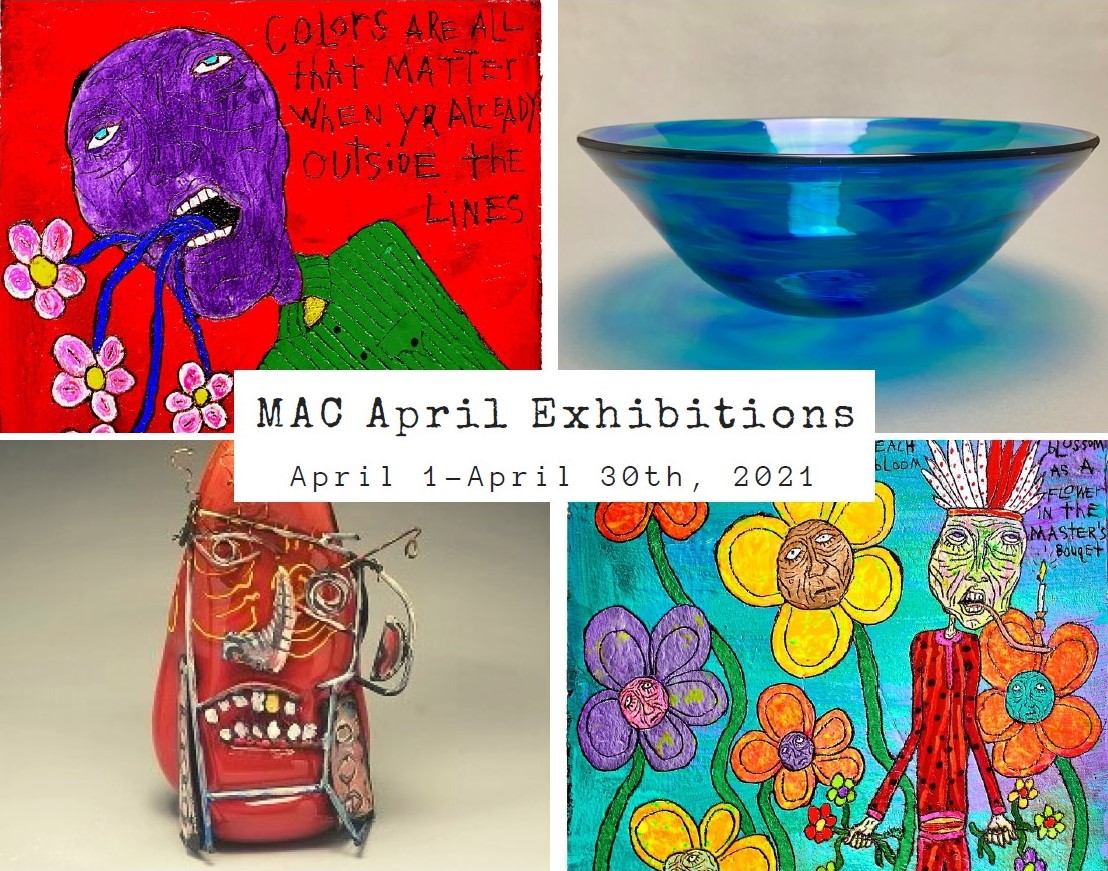 April Exhibitions: "The Folk Art of Abe Partridge" & "L'inizio"
The Mobile Arts Council will be hosting two exhibitions this April – "L'inizio" and "The Folk Art of Abe Partridge."
L'inizio: Works by Freddie Blache, Tres Johns, and Gage Nobles
Freddie Blache was born and raised in Mobile Alabama. He began working with glass in the fall of 2013 at the University of South Alabama. After his first semester of the glass blowing elective, Freddie switched to a full-time pursuit of a B.F.A. with a concentration in glass and secondary concentration in sculpture which he received in the fall of 2017. Freddie's personal style of glassblowing is derived from the Venetian techniques with a funky, southern twist. Most of his work is influenced by the natural surroundings on the gulf coast. While learning glassblowing in school, Freddie teamed up with his better half, Caroline, and their friend's Gage Nobles and Tres Johns to form Muffinjaw Designs.
Gage Nobles was born and raised in Mobile, AL, and started blowing glass in 2015 at the University of South Alabama. Primarily focusing on Venetian style works, he specializes in goblets and stemware, attempting to go as thin and light as possible, while maintaining a straight and centered body of work. Though Gage does not consider himself as an advanced glass blower, he hopes to one day be as good as the master glassblowers such as Dante Marioni, James Mongrain, and William Gudenrath.
Tres Johns is a glass artist and sculptor from Mobile, Alabama. He received a B.F.A. from the University of South Alabama in 2017 with a concentration in glass blowing and a secondary concentration in sculpture. His artistic taste centers around abstract expressionist works and street art. Most of his work is hot, sculpted glass objects with gestural, sometimes crude-looking painting and sculpting techniques on top of the glass. The juxtaposition of the traditional thinking that glass is an elegant, beautiful form and the abstracted, gestural painting often reserved for expressionist and street art is important to his work. He desires for people to carefully examine his work, so they see past the crudeness and find the beauty.
Muffinjaw Designs makes functional and decorative glass art for home and garden as well as seasonal products. The collaborative team also preforms live glassblowing demonstrations with their portable glass studio.
Alabama Astronaut: The Folk Art of Abe Partiridge
Abe Partridge is from Mobile, Alabama. He left Mobile when he was 18 in pursuit of a Theological education. After attending 4 bible colleges in 4 years, he became the pastor of a small Independent Baptist Church in the Appalachians of Eastern Kentucky at only 25 years old. When he was 27 years old, Abe became acquainted with a horrible depression, left the ministry, and turned to Art. Abe has written songs, and made paintings like the ones in this exhibition ever since. Only after joining the military and going to war did he decide to begin sharing his art with the world. Abe has never taken even one songwriting class or art class. His artwork is made with roofing tar that is thinly applied to plywood, musical instruments, old, damaged, vinyl records, and whatever else he can stick tar on. It is cured for 30 days before he carves his images in the tar with a screwdriver or an ice pick. Finally, he paints the tar with acrylic paints and seals it with a clear gloss acrylic sealer.
"Rethink preconceived notions. Question authority. Create new methods of survival. See beauty."- Abe