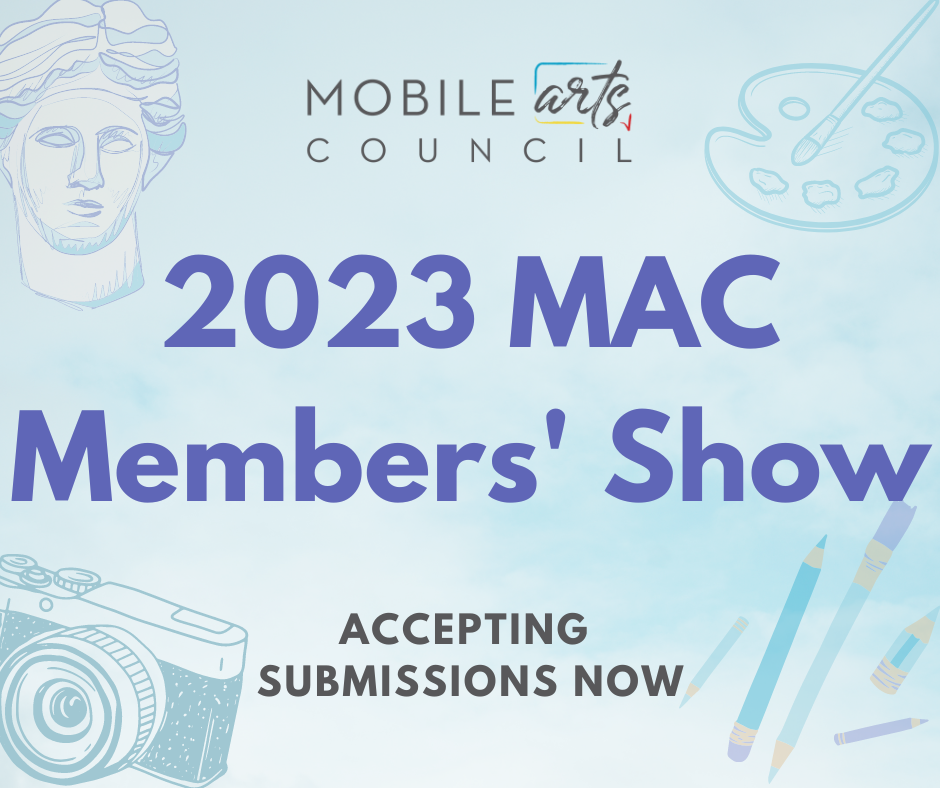 Call for Artists – 2023 MAC Members' Show
The Mobile Arts Council (MAC) will feature works by our Artist Members for the months of August and September 2023. Artwork can be 2D or 3D, as well as audio/video. Artists may submit up to two pieces of work that are no larger than 3'x6′ in area total (combined). Artists with more than one entry are subject to have a piece juried out, depending on the number of entries received. All submissions must be digitally entered online by 11:59 P.M., MONDAY, JULY 17TH!
2D works must be equipped to hang with a wire, sawtooth hanger, etc. (something that is compatible with our hanging system).
We will follow up with all applicants via email with juried results on the morning of Tuesday, July 25th. Artwork drop off will take place on Tuesday and Wednesday, August 1st and 2nd from 11 a.m. to 5 p.m. at MAC's gallery @ Room 1927 (6 South Joachim Street).
Artists are requested to be present for the ArtWalk reception and awards ceremony on Friday, August 11th at 6:30 p.m. The Members' Choice winner will not be awarded until September ArtWalk, Friday, September 8th.
Works must remain on display through Thursday, September 28th. Take down will take place Friday, September 29th from 11 a.m. to 5 p.m., and Saturday, September 30th from 11 a.m. to 2 p.m.
Prizes for the MAC Members' Show will be awarded as follows:
Best in Show – $500 & winning piece featured in MAC 2024 exhibition schedule
2nd Place – $300
3rd Place – $250
Dempsey & Litchfield Award – painting, photography, or drawing specifically focused on the greater-Mobile area – $200
Members' Choice Award – $150
Honorable Mention – $75
Honorable Mention – $75
Images submitted be high quality, centered, cropped appropriately, free from glare, and absent of anything that will detract from the artwork itself. We will follow up with all applicants via email with juried results on the morning of Tuesday, July 25th. If you have any additional questions, email Sydney Cramer at scramer@mobilearts.org.
This year's judge is Paulette Dove. Paulette is a native Biloxian and has been painting and exhibiting on the gulf coast for many years. She is a member of the Ocean Springs Art Association the Singing River Art Association, President of the South Mississippi Art League and board member of Mississippi Art Colony. Her work has been displayed throughout the South.
Paulette received her B.F.A. And M.Ed. from Miss. University for Women and William Carey College. Additional education includes Water Media Encounter at Louisiana Tech University, Savannah College of Art and Design, and the Mary Todd Bean workshop at the Bascom Museum in Highland, N.C. She has taught for many years in Biloxi, West Virginia, and Mississippi Gulf Coast College. Paulette has also served as an educator at the Ohr-O'Keefe Museum of Art and Walter Anderson Museum of Art.
Paulette prefers to work mostly in acrylic, mixed media and pottery. She currently works from her "Side Door Studio" located in Biloxi, MS.
"…pattern and texture found in my work is meant to evoke images and thought of untold stories. I paint, literally and figurative from past experiences using symbols as central figures to create a common language…"