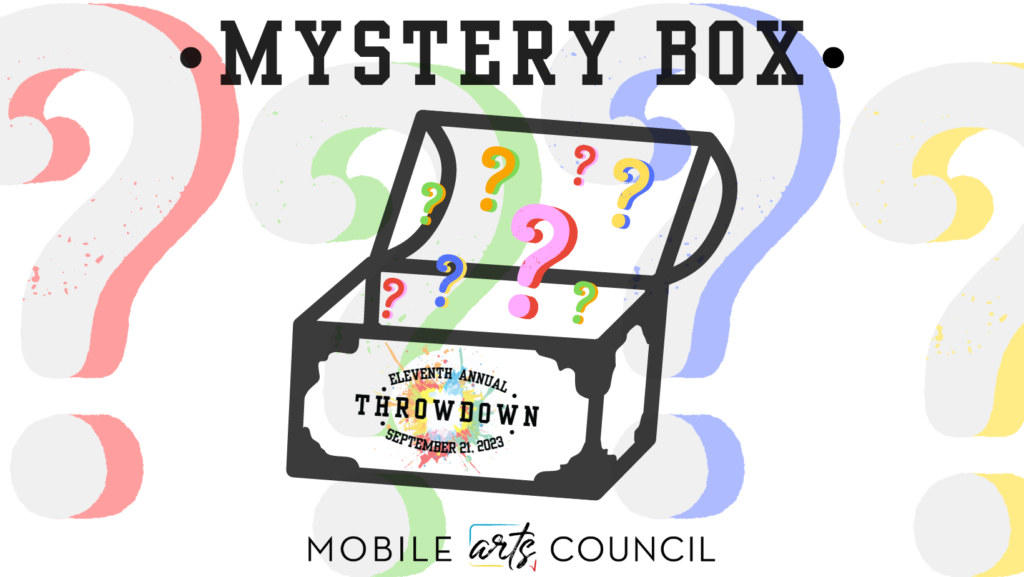 11th Annual Throwdown Mystery Item Surprise
The Throwdown, Presented by Hackbarth Deliveries, is the Mobile Arts Council's largest annual fundraising event. Proceeds go towards supporting our mission: to enrich the quality of life in the greater Mobile area through increasing accessibility to the arts and promoting a vibrant cultural community.
For the past eleven years, local artists have sought out to compete in this unique live art competition. The event features ­five competitors that have 90 minutes to create original works of art from a shared supply table and a mystery item.
Throwdown artists must incorporate the mystery item into their work of art. Historically, artists have not known the identity of the item until they arrived the day of the competition, and found it at their stations. Last year, each artist was tasked with incorporating a wooden airplane into their Throwdown piece.
This year, we wanted to take the mystery box to a new level! Instead of every artist being tasked with the same mystery item, they will now be encouraged to get attendees to make a donation in their name, and the artist with the most donations will be allowed to choose first from the mystery box. Items in the box will vary, within reason, in difficulty to incorporate.
Click on your favorite artist below to be taken to their individual fundraising page, and help them win the race to choose out of the mystery box first!