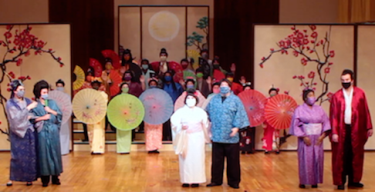 University of South Alabama: Opera Theatre presents "The Pirates of Penzance"
Date/Time
Date(s) - April 24, 2022
3:00 pm - 5:30 pm
Location
Laidlaw Recital Hall
Categories
Event Description
USA Opera Theatre presents
Gilbert & Sullivan's "Pirates of Penzance"
Thomas L. Rowell, director
Friday, April 22, 2022 — 7:30 p.m.
Sunday, April 24, 2022 — 3:00 p.m.
Laidlaw Recital HallUSA Opera Theatre presents "Pirates of Penzance" April 22 & 24
USA Opera Theatre will present two performances of "The Pirates of Penzance" on Friday, April 22 at 7:30 p.m. and Sunday, April 24 at 3:00 p.m. in the Laidlaw Performing Arts Center Recital Hall. USA Opera Theatre is directed by Dr. Thomas Rowell.
(No MAS passes for this event. See below for special ticket information.)
Advance tickets for this Musical Arts Series event may be purchased in April. Info at www.southalabama.edu/music. (NO PASSES) Admission is $15 general and $10 for USA faculty & staff, USA students, youths under 18 and all senior citizens (cash or check only). Tickets will be sold at the door before each performance as available only. Persons needing more information about this event or in need of special accommodation may call 251-460-7116 or 251-460-6136.
Please note that this concert will not be available on the Music Department Live Stream.
Need directions to Laidlaw? Just go to Google Maps at maps.google.com and enter "USA Laidlaw Performing Arts Center." We're actually on the corner of University Blvd. and USA Drive South.
For information about the Department of Music at the University of South Alabama, proceed to our website — www.southalabama.edu/music
For information on how to become a member of the Musical Arts Society, visit our Musical Arts Series website at https://www.southalabama.edu/colleges/music/mas.html — On that page, you'll see everything you need to know about the Musical Arts Concert Series and USA's Musical Arts Society.
Covid-19 information — While on campus, students, employees, and visitors are required to follow all USA COVID-19 policies and practices. These policies can be found at https://www.southalabama.edu/coronavirus/. Be advised that policies may change during the semester, so check the University's Coronavirus Update page regularly. Furthermore, this event is subject to specific USA safety protocols in place at the time of the concert, including mask mandates, audience limitations, and even possible cancellation.